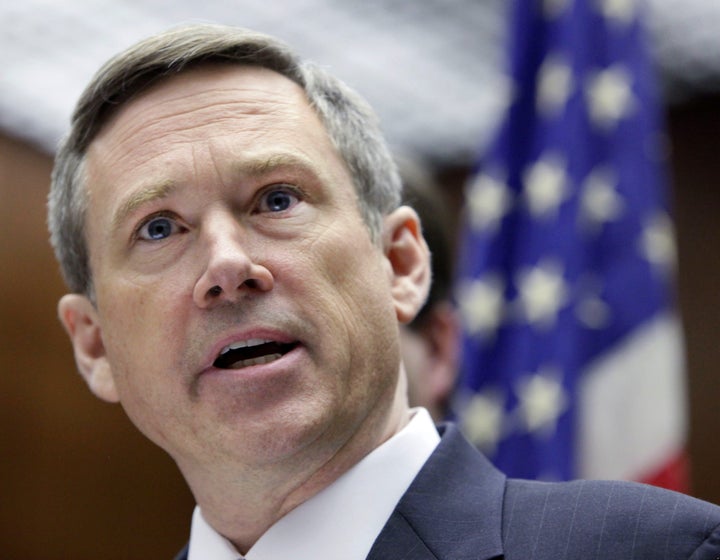 Is Mark Kirk planning a Karl Rove-inspired voter intimidation program in Chicago this November? His opponent Alexi Giannoulias thinks so--and MSNBC's Keith Olbermann linked a key figure in Kirk's "voter integrity squad" to voter intimidation that occurred in black communities while President Bush was in office.
"These are lawyers and other people that will be deployed in key, vulnerable precincts, for example, South and West sides of Chicago, Rockford, Metro East, where the other side might be tempted to jigger the numbers somewhat," Kirk says on the tape. While the Kirk campaign says this strategy will keep the election honest, others are crying foul.
In an interview with Talking Points Memo this week, Michael C. Dorf, a lawyer for the Giannoulias campaign, said these "voter integrity squads" are actually scare tactics, being used by Republicans on a national level to frighten voters in minority and low-income areas out of casting a ballot.
Also, as Olbermann pointed out Thursday on his show, Hans von Spakovsky was in Chicago this week recruiting Republican attorneys for "voter integrity" efforts. In 2006, von Spakovsky, according to the Washington Post, pushed to require Georgia voters to provide photo identification that had to be purchased--basically creating a poll tax that disproportionately affected the black community.
"Congressman Kirk, Karl Rove and Hans von Spakovsky are three peas in a pod when it comes to suppressing the vote but this time we will be ready for them," Michael Rendina, Alexi for Illinois Campaign Manager said in a statement. "This type of Florida-style voter intimidation is despicable, and we will not let them steal this election. Everyone who wants to and is eligible to vote will cast a ballot on Election Day, despite Congressman Kirk¹s plan to stop them."
Kirk's campaign confirmed his comments about the voter integrity squad to the Chicago Tribune, but "rejected Democrats' suggestion that black voters would be targeted."
Giannoulias' attorneys have contacted the Cook County State's Attorney's office about his efforts, accusing the campaign of violating state and federal voter protection laws.
WATCH Olbermann's coverage of the conflict here:
Related
Popular in the Community