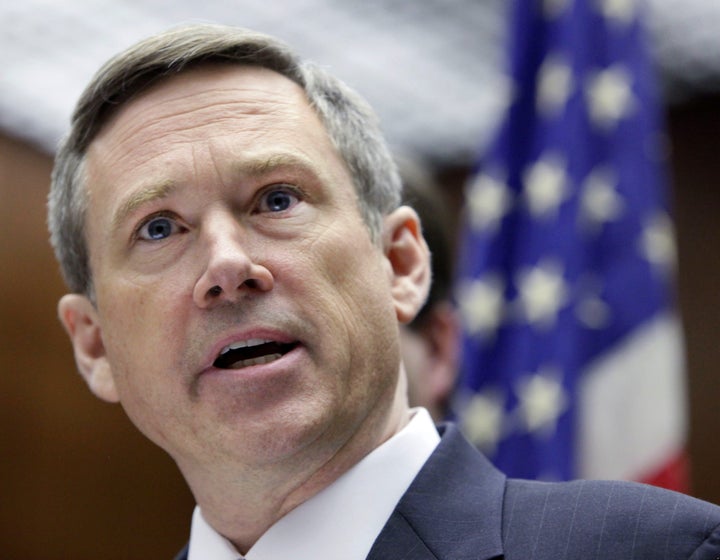 In the latest twist in the ever-growing Mark Kirk military service fiasco, the Illinois Senate candidate appears to have violated military regulations by campaigning while on active duty.
If Kirk did indeed campaign while serving, as a newly released Department of Defense memo suggests, the offense would be punishable by up to two years of confinement and dishonorable discharge from the military.
The memo was released to the Nitpicker blog, which has played an instrumental role in investigating Mark Kirk's embellished military record. Kirk required the document, an "exception to policy" memo, in order to serve in the military while a member of Congress, which is illegal unless such an exception is issued.
As a candidate for the vacant Senate seat in Illinois, Commander Kirk must complete the appropriate acknowledgment of limitations required for all candidates on active duty (DoDD 1344.10, paragraph 4.3.5.). Ordinarily this acknowledgment must be completed within 15 days of entering active duty. Because of the short period of active duty and concerns arising from his partisan political activities during his last two tours of active duty, Commander Kirk must complete this form prior to his entry on active duty.

Rich Miller of The Capitol Fax blog pointed last summer to tweets on the Kirk campaign's Twitter account, posted while Kirk was participating in a drill weekend at the National Military Command Center.
"Back on duty in the National Military Command Center - lets hope for a calm day for our troops," Kirk tweeted.
At first, the campaign claimed staffers were posting pre-approved tweets while Kirk was on duty; later, Kirk seemed to take responsibility for them, saying, "It's something that I will not do again."
But tweets from a drill weekend are one thing, as Miller writes today. The DoD memo points suggests that similar incidents took place during not one but two tours of active duty.
And Nitpicker points out just how severe a violation of the rules mentioned in the memo would be:
Those violations are, in fact, a prosecutable offense. As the regulation states, "Violations of paragraphs 4.1. through 4.5. ["concerns" about Kirk pertain to paragraph 4.3.5] of this Directive by persons subject to the Uniform Code of Military Justice are punishable under Article 92, 'Failure to Obey Order or Regulation...'" A violation of Article 92 is punishable by up to two years of confinement and a dishonorable discharge. Mark Kirk broke the law at least twice according to this memo and seems to have escaped any punishment at all.

Nitpicker and The Capitol Fax have both contacted the Kirk campaign for a response to the memo, and neither has heard back thus far. HuffPost Chicago also got no reply from the Kirk campaign.
Calling all HuffPost superfans!
Sign up for membership to become a founding member and help shape HuffPost's next chapter