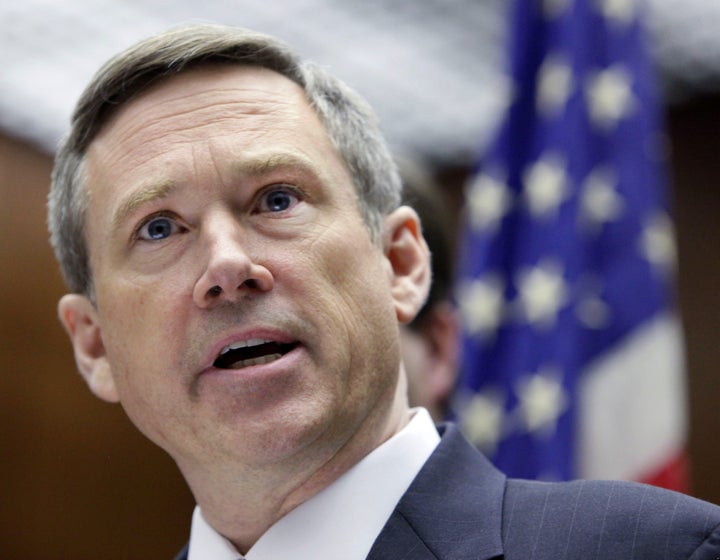 It has been a rough week for Republican Illinois Senate candidate Mark Kirk. At first, he wrote off the Washington Post story about his touted but never received Navy award as an effort by his opponent to feed the media a "desperate" news story. As more instances of mistakes regarding his military record surface, however, he has stepped up and is trying to quiet the storm.
Kirk met with the editorial boards of local newspapers on Thursday, where he apologized to the staff and readers for misstating his military service record. "I simply misremembered it wrong," he said. The Chicago Sun-Times reports:
"I want to be very contrite and say there is a casualness with which I sometimes describe military details," Kirk conceded. "And if it gave the impression that my military record is larger than it was, I want to apologize."

Kirk's military record -- his ability to speak authoritatively on conflicts such as Afghanistan because he is the first congressman since World War II to deploy in an active war zone -- could now become a liability: "This has hurt me when it was absolutely unnecessary," he said.
While an apology was certainly a better call than blaming his Democratic opponent Alexi Giannoulias (like he did earlier this week,) the number of untrue claims in his record seems to keep rising.
First, there was the award. Kirk touted both on the House floor and in campaign ads that he was named "Navy Intelligence Officer Of The Year" in 1999. He did not, though his unit won the Vice Admiral Rufus L. Taylor Award while in Italy.
Kirk's previously disputed claim of "In my role in the military, I command the war room at the Pentagon," was also a bit of a stretch.
Well, he commands one of two rooms -- the intelligence unit -- for eight hours at a time on his once-a-month weekend Naval reserve duties, and he was trying to explain that to a civilian audience, he said.
Kirk served stateside as a reservist in Maryland during Operation Desert Storm and Operation Enduring Freedom, but in recent days his staff sent out a letter to voters saying he was a veteran of both wars.
Kirk said a staffer wrote the letter, and he wouldn't have phrased it that way, and apologized multiple times to the Sun-Times and Chicago Tribune editorial boards on Thursday:
"You should speak with utter precision. You should stand on the documented military record," Kirk told Tribune editors. "In public discourse, for high office, you should make sure that there is a degree of complete rigorous precision."
WATCH Kirk's meeting with the Sun-Times here:
Calling all HuffPost superfans!
Sign up for membership to become a founding member and help shape HuffPost's next chapter