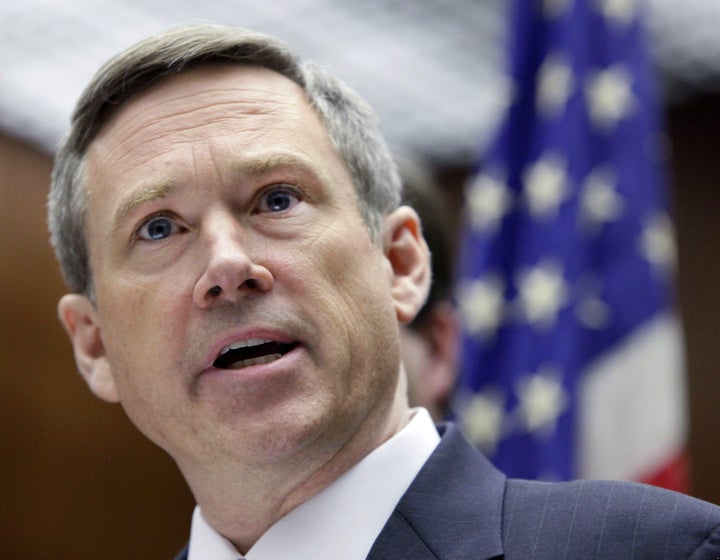 After addressing the Metropolitan Planning Council Monday, embattled Republican Senate candidate Mark Kirk allegedly ran from reporters and slipped out a back door--avoiding questions about the accuracy of his resume.
NBC Chicago reports that members of the media "chased" Kirk to ask him questions, but he allegedly ran through a kitchen at the downtown Hyatt ballroom, out the back door and hopped into a waiting SUV. From NBC Chicago:

After speaking for about 20 minutes, Kirk walked down from the dais in the Hyatt ballroom and then quickly exited through the back kitchen door. A pack of about 20 reporters at the event, expecting Kirk to stay for questions (as his opponent, Alexi Giannoulias did), ran after him through the crowded lunch tables, shouting his name.

The longtime congressman from Chicago's northern suburbs has been on the defensive after acknowledging he exaggerated his military record, and last week the New York Times reported inaccuracies regarding his teaching record as well. The Associated Press reports that he vaguely agknowledged the controversy Monday:
He seemed to hint at the controversy when he addressed the Metropolitan Planning Council. Kirk recited a list of facts about the tough economy and then wondered aloud if some might think he had "exaggerated" those points.
"Kirk was there to answer very specific issue-oriented questions at the invitation of MPC - he did," a campaign spokesman told NBC.
Crain's columnist Greg Hinz reports that the Giannoulias campaign called Kirk's speedy exit "unfortunate," because voters deserve to hear his response now after three weeks of public questions. From Hinz's column:
Frankly, I'm kinda stunned about this. Bad publicity is bad publicity, but there's a way not to make it worse. Given that the congressman can't hide until November, he's going to have to confront those nasty reporters sooner or later.
REAL LIFE. REAL NEWS. REAL VOICES.
Help us tell more of the stories that matter from voices that too often remain unheard.