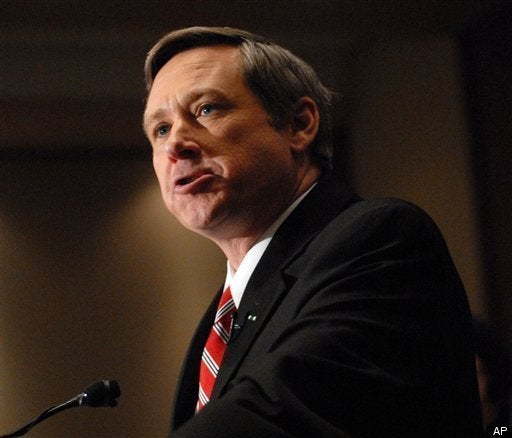 UPDATE BELOW: The Kirk campaign says that the congressman made no misstatement when talking about his service in Afghanistan.
Rep. Mark Kirk (R-Ill) has been savaged in recent days over an ever-expanding list of incidents in which he misled, embellished, or simply lied about his service in various military outposts and units.
Another one may soon be added to the list. In a questionnaire he filled out for the Chicago Sun-Times this past January, the Illinois Republican was asked to describe the "wildest thing" that he had ever done in his career.
Kirk, who coasted with relative ease to the Republican senatorial nomination, replied: "Last year, I was with a Dutch armor unit in Kandahar, getting shot at."
Such a recollection of his trip to Afghan outpost seems a bit more dramatic than the one Kirk gave to the Lake County News Sun one year prior, in which he explicitly said that "getting shot at" didn't happen.
"It was very much of a combat environment," Kirk told the paper. "Our base got shelled once. We heard small-arms fire. I never got shot at, but it was a very tense situation."
It's not entirely clear which statement is correct. There is little else Kirk has said about the gunfire he personally faced while in Kandahar -- where he had been deployed on a tour of duty (the first time a sitting congressman reservist had been sent to a war zone of "imminent danger" since World War II). His campaign, meanwhile, did not return a request for comment.
But it stands to reason that the embellishment here is Kirk saying he was targeted with gunfire (as opposed to erroneously telling the Lake County News that he wasn't, in fact, shot at). On Thursday, Kirk acknowledged to the Chicago Tribune that he may have been untruthful when he said that he came under enemy fire while flying reconnaissance missions over Iraq in 2000. There were no records of whether that actually took place even though Kirk had insisted on the floor of the House of Representatives in 2003, that:
"The last time I was in Iraq, I was in uniform flying at 20,000 feet and the Iraqi Air Defense network was shooting at us."
The extent to which Kirk has been caught in a variety of embellishments is getting to the point of parody. But the congressman does have one thing going for him. When then-Sen. Hillary Clinton was caught lying about taking sniper fire while traveling as first lady in Bosnia, subsequent video showing a peaceful landing gave cable news and the late night shows the fodder they needed for non-stop ridicule.
A variety of Kirk mistatements have been caught on tape. But there won't be a video of him flying peacefully through Iraq and spending time uneventfully at a base in Kandahar to make those fibs go viral.
UPDATE: Eric Elk, a spokesman for Kirk, said that there is no contradiction in the statements. The Congressman, he says, was referring to two different instances in which he was in Kandahar.
"He there was there in December 2008/Jan 2009 and then December 2009/Jan 2010," said Elk.
Elk's explanation would seemingly absolve Kirk of misleading about being shot at. But it's worth noting that the language Kirk used in both instances does seem to suggest he was talking about the same experience in Afghanistan (at the turn of 2009).
The article in the Lake County News Sun, which was published on January 6, 2009, said Kirk had returned from Kandahar the previous Monday. And when speaking to the Chicago Sun Times in January 2010, he referred to being in Kandahar "last year" -- not "last month" or "several weeks ago."
Calling all HuffPost superfans!
Sign up for membership to become a founding member and help shape HuffPost's next chapter