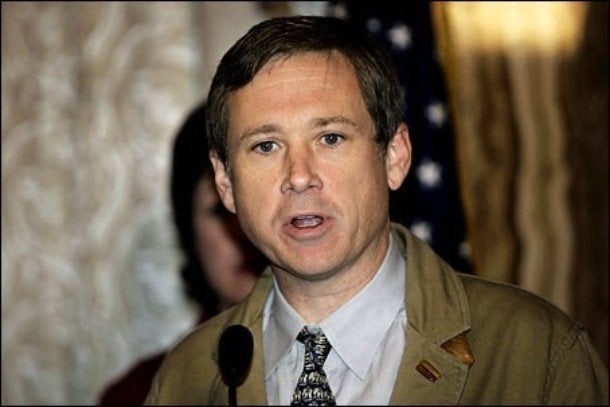 Congressman Mark Kirk, representative from Chicago's north suburbs and Republican candidate for U.S. Senate, joined Pennsylvania Democrat Christopher Carney in criticizing the Obama administration's alleged posturing toward Israel.
"To promote Middle East peace and defend America and Israel's national security," reads a letter by the two congressmen, "we urge your Administration to refrain from further public criticism of Israel and to focus on more pressing issues affecting this vital relationship."
The fracas started last week, when Vice President Joe Biden visited Israel to restart peace talks in the region. While he was meeting with Israeli leaders, that country's interior ministry announced plans for new settlements in disputed territory in East Jerusalem.
Biden expressed his displeasure at the timing of the announcement several times during his trip. White House officials have echoed his complaint; David Axelrod called the announcement an "affront" and an "insult."
The settlements have long been a point of tension between the Obama administration and Israel's leaders. Announcing the construction during Biden's visit is seen as undermining the U.S. attempts to reignite the peace process.
But some now say the administration has gone too far in its rebuke of Israel, including much of the strongly pro-Israel New York Democrat delegation, and Mark Kirk was one of many Republicans to make a similar point.
The letter from Kirk and Carney "reaffirms" a few points about the United States and Israel's "extraordinary relationship," including: "Under the Jerusalem Embassy Act of 1995, official United States policy recognizes Jerusalem as the undivided capital of the State of Israel."
It goes on to remind President Obama of the grave threat of a nuclear-armed Iran, urging the administration not to let the settlement dispute distract it from that issue. "A zoning dispute over 143 acres of Jewish land in Israel's capital city should not eclipse the growing threat we face from Iran," it reads.
Kirk will face Democrat Alexi Giannoulias in November's election for the U.S. Senate seat once held by the president and currently occupied by Roland Burris.
REAL LIFE. REAL NEWS. REAL VOICES.
Help us tell more of the stories that matter from voices that too often remain unheard.