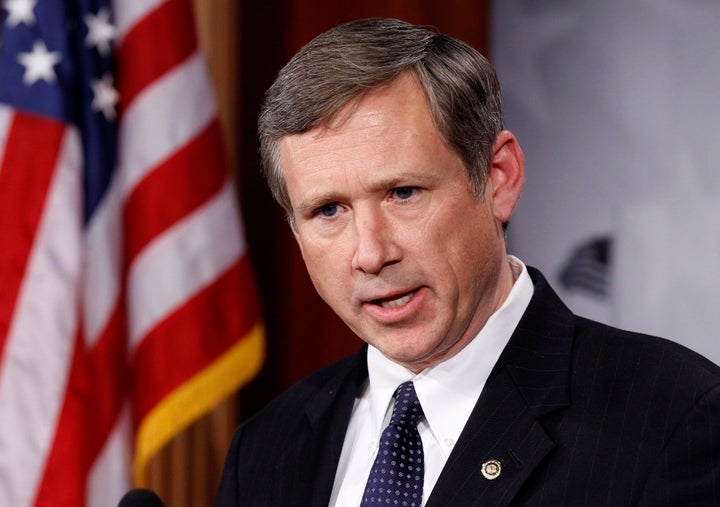 WASHINGTON -- Illinois Sen. Mark Kirk (R) suffered a stroke over the weekend and is being treated in a Chicago hospital where he underwent emergency brain surgery, his office and doctors said Monday.
Kirk, 52, checked himself into the local Lake Forest Hospital Saturday after suffering dizziness and headaches, doctors said.
Doctors discovered a "carotid artery dissection," his office said, referring to a condition that involves the separation of the artery walls and that is a common cause of stroke in adults around Kirk's age.
Kirk was "transferred to Northwestern Memorial Hospital in Chicago, where further tests revealed that he had suffered an ischemic stroke," Kirk's office said in a statement.
"Early this morning the Senator underwent surgery to relieve swelling around his brain stemming from the stroke. The surgery was successful," the statement said. "Due to his young age, good health and the nature of the stroke, doctors are very confident in the Senator's recovery over the weeks ahead."
Dr. Richard Fessler, a neurosurgeon at Northwestern, said that doctors removed an 8-inch by 4-inch section of bone from the right side of Kirk's skull in the operation to relieve pressure and prevent further injury.
It may take several weeks before the swelling goes down and the bone can be replaced, Fessler said, adding that Kirk's chances of recovery are good, at least as far as his mental faculties are concerned.
As far as returning to work, it's "way too soon to try and predict that," Fessler said.
He noted that since the stroke was on the right side of Kirk's brain, it affected the left side of his body. Fessler predicted that Kirk will have a difficult time regaining full use of his arm and leg on that side.
But he added that most of the higher cognitive functions are processed on the left side of the brain -- the side that was not immediately harmed by the stroke.
"I believe that when we are all through this, the left side will be fine," Fessler said. "I believe that the functions that are required to do his job are going to be fine."
In part, he was optimistic because Kirk was aware of the people around him in his hospital room, which shows he still has at least basic mental faculties. Fessler cautioned, however, that it would be weeks or months before doctors would have a better idea of how Kirk would recover.
"Since it's the right side of the brain and not the left side, he's got a pretty good chance," Fessler said. "Senator Kirk was young, very health and in good shape," he added. "He's got a pretty good chance of continuing a vibrant life."
South Dakota Sen. Tim Johnson (D) suffered a stroke in 2006 and managed to return to work after lengthy rehabilitation.
Kirk, a former House member, won his office -- President Obama's former seat in the Senate -- in the election of 2010, narrowly beating Democratic then-State Treasurer Alexi Giannoulias.
REAL LIFE. REAL NEWS. REAL VOICES.
Help us tell more of the stories that matter from voices that too often remain unheard.
BEFORE YOU GO