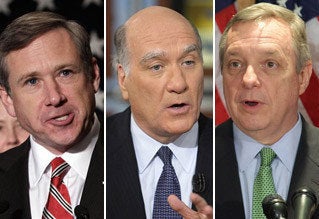 Some Illinois politicians joined the chorus of pundits this week, chiming in on whether they think former Commerce Secretary Bill Daley should be President Obama's next chief of staff.
Daley is the Midwest chairman for JPMorgan Chase and head of corporate responsibility at the bank. The Chicago native is also Mayor Richard M. Daley's brother and a close friend to White House Senior Adviser David Axelrod, Lynn Sweet of the Chicago Sun-Times reports. He would also be replacing Rahm Emanuel, the frontrunner in the race for Chicago mayor.
"The Chicago mayoral race is definitely not a local race," WVON-AM's Santita Jackson told Politic365.com, adding that White House reshuffling and "the convergence of political players in the Windy City" has major implications for 2012 and beyond.
"The most important thing is what the president wants from a chief of staff and every president is different and during their presidency, there are different things you would want out of a chief of staff and that is what's important," Emanuel told WBEZ.
Republican Sen. Mark Kirk also had kind words for Daley, mentioning his bipartisan appeal.
"I hope the president does choose Bill Daley as his chief of staff," Kirk told NBC Chicago. "He has a good working relationship with Democrats and Republicans."
Daley has not been formally offered the position yet, since interim chief of staff Pete Rouse has not decided whether he will stay. Sen. Dick Durbin spoke highly of Daley, but made it clear that he would prefer to have Rouse stick around.
"Bill Daley is a great fella, and I've worked with him in so many different capacities," Durbin said. "I hope that whatever the president's final decision that Pete Rouse is an important part of his administration."
"I don't agree with [him] on a lot of stuff politically, but I do think -- A, he is a grownup and B, he gets that you don't treat people like you know everything and they don't," said Dean. "If Bill Daley becomes the chief of staff, that is going to be a huge plus because he is outside of Washington, he sees things the way people outside Washington do. It is not a left or right issue."
Even with the White House reshuffling, the president could once again be surrounded by familiar Chicago faces.
The National Journal's Marc Ambinder wrote Monday that a Daley appointment could leave voters with "the perception that Obama remains stubbornly cocooned and comfortable only with a small coterie of longtime loyalists with Chicago connections," but adds that Daley's respect in the American business community could be a plus for the president.
REAL LIFE. REAL NEWS. REAL VOICES.
Help us tell more of the stories that matter from voices that too often remain unheard.