WASHINGTON -- Sen. Mark Kirk (R-Ill.), one of the most at-risk GOP incumbents this cycle, has broken with his party and said he's open to considering a Supreme Court nominee put forth by President Barack Obama.
"I recognize the right of the president, be it Republican or Democrat, to place before the Senate a nominee for the Supreme Court and I fully expect and look forward to President Barack Obama advancing a nominee for the Senate to consider," Kirk writes in a Chicago Sun-Times oped posted Monday afternoon.
"I also recognize my duty as a senator to either vote in support or opposition to that nominee following a fair and thorough hearing along with a complete and transparent release of all requested information," he added. "The Senate's role in providing advice and consent is as important and significant as the president's role in proposing a nominee."
Kirk's comments represent a stark departure from those made by Republican Party leadership. Senate Majority Leader Mitch McConnell (R-Ky.) has warned Obama not to even nominate a replacement for the late Antonin Scalia, because the GOP-controlled Senate will not act on it. McConnell, and the vast majority of his party, argue that the next president should get to choose the nominee -- in hopes, of course, that the next president will be a Republican.
But cracks have started to emerge. Sen. Ron Johnson (R-Wis.), another vulnerable incumbent, initially came out in support of McConnell's position. But since then, he has said he'd be willing to vote on an Obama nominee -- although doing so is still not his preference.
Even if Republicans allow Obama's nominee to get a full floor vote, that nominee will face an uphill battle to confirmation: he or she will need the vote of at least 14 Republicans, as well as every single Democrat and the Independents who caucus with them.
"As a 23-year veteran of the U.S. Navy Reserve and as a United States senator, I swore an oath to protect and uphold the constitution," he added. "That oath is to our constitution, not to a party or any one individual, but to the ideals that bind our nation."
Kirk is facing a tough re-election race in a state that leans Democratic and several Democrats are vying to replace him, including Rep. Tammy Duckworth (D-Ill.), the frontrunner. Kirk is also facing pressure from conservatives to obstruct a potential nominee from Obama.
Influential conservative talk radio host Hugh Hewitt has threatened Kirk and other vulnerable GOP Republicans, urging them not to waiver in the Supreme Court fight.
"I know for certain that if Sen. Mark Kirk, R-Illinois, votes in any way to advance President Barack Obama's nominee to replace Scalia I will actively support his Democratic opponent," Hewitt wrote in a recent CNN op-ed. "I'd rather lose the Senate majority with a fight over first principles than the Supreme Court of the United States without a fight."
UPDATE: 4:35 p.m. -- Sen. Jeff Flake (R-Ariz.), the final GOP member of the Judiciary Committee to weigh in, said Monday that he will not support a Scalia replacement this year.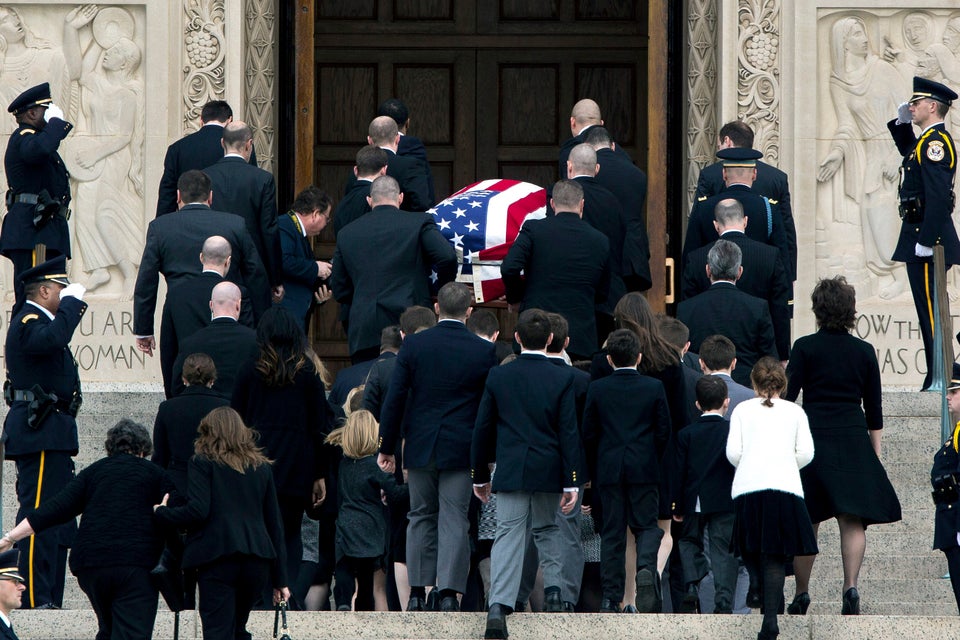 Funeral Of Supreme Court Justice Antonin Scalia
Popular in the Community