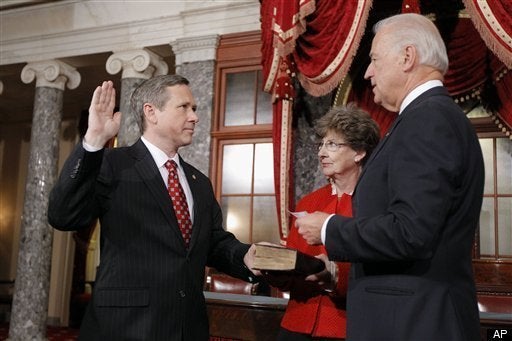 During his race for Illinois Senate, Mark Kirk often touted an appellation given to him by the suburban Daily Herald newspaper: "Mr. Independent."
In his first weeks in office, he's shown some willingness to live up to the name.
Kirk broke with his party on a crucial vote this weekend, supporting a repeal of the military's "Don't Ask, Don't Tell" policy. He had been aggressively targeted by the Obama administration and progressive groups in days leading up to the vote.
He was one of eight Senate Republicans to vote for repeal, with the bill passing by a vote of 65-31. Fellow moderates like Scott Brown, Lisa Murkowski, George Voinovich and the Senators from Maine joined Democrats in supporting the bill, as did the normally conservative Richard Burr of North Carolina.
In another major vote this weekend, though, Kirk toed the party line, killing the biggest prospect of immigration reform to surface in recent years. The Development, Relief and Education for Alien Minors Act (or Dream Act, as it's commonly known) would have allowed certain students who immigrated illegally as children to obtain citizenship by attending universities or serving in the Armed Forces.
Kirk stayed with the Republican bloc on the Dream Act; while supporters of the bill were able to peel away three moderate Republicans, five Democrats went over to vote "No" with Kirk and 35 other Republicans, effectively killing the bill.
The newly elected Senator from Illinois started his term during the lame-duck session, replacing Roland Burris two months early in a sort of Constitutional fluke. The Senate's newest vote may prove decisive in at least two other major bills coming up before this session ends.
One such vote will be on the so-called 'New START' Treaty, which President Obama negotiated with Russians to reduce both sides' nuclear stockpiles. Kirk has expressed some reservations about the treaty's limiting U.S. missile defense networks. By law, treaties require approval by two thirds of the Senate, meaning several Republicans would have to cross the aisle and support it.
Vice President Biden and the Obama White House have apparently lobbied heavily for Kirk's vote on the issue.
He will also face pressure to support the Zadroga Act, which would guarantee health care for 9/11 first responders suffering from ill effects of breathing the crash site's toxic ash. That bill, too, has stalled due to monolithic Republican opposition. Kirk has said he would support the bill, but also signed a pledge to block all legislation until the tax break extension passed.
Now that it has, Kirk has a chance to earn that nickname yet again.
Calling all HuffPost superfans!
Sign up for membership to become a founding member and help shape HuffPost's next chapter