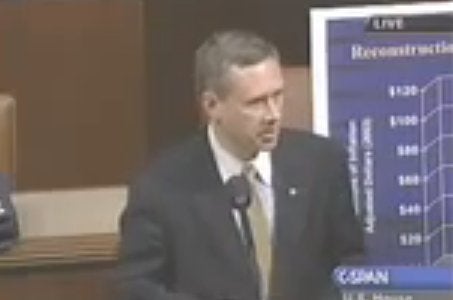 Archived video of Rep. Mark Kirk surfaced Wednesday showing the Illinois Senate hopeful claiming that he was shot at while flying aboard an aircraft in Iraq.
The video, posted on the YouTube account of Kirk's Democratic challenger, Illinois state Treasurer Alexi Giannoulis, is the latest instance of "misleading" and erroneous claims by Kirk about his military service.
Kirk, the Republican candidate for President Obama's former Senate seat, apologized this week for saying that an award he once touted as his own, was instead given to his unit. He also apologized for listing service in "Operation Iraqi Freedom" on his resume. He did not serve in Iraq during that operation. and that contrary to his resume, he did not serve in Iraq during "Operation Iraqi Freedom."
The video shows Kirk speaking on the floor of the U.S. House in October 2003.
Kirk argued that months into the Iraq War, conditions were improving. To prove his point, he contrasted his Iraq visits, "I just returned from Iraq and the trend is for the better," Kirk said. "The last time I was in Iraq, I was in uniform flying at 20,000 feet and the Iraqi Air Defense network was shooting at us."
What Kirk failed to mention is that his prior visit to Iraq was not during the Iraq War, which began March 20, 2003, but rather three years before the effort began, in 2000.
Kirk has apologized for the previous instances, saying "I need to be humble about my military record," and, "Going forward, the way I should conduct myself is to understate, and downplay."
The 2003 video can also be found in C-SPAN's archives.
Popular in the Community