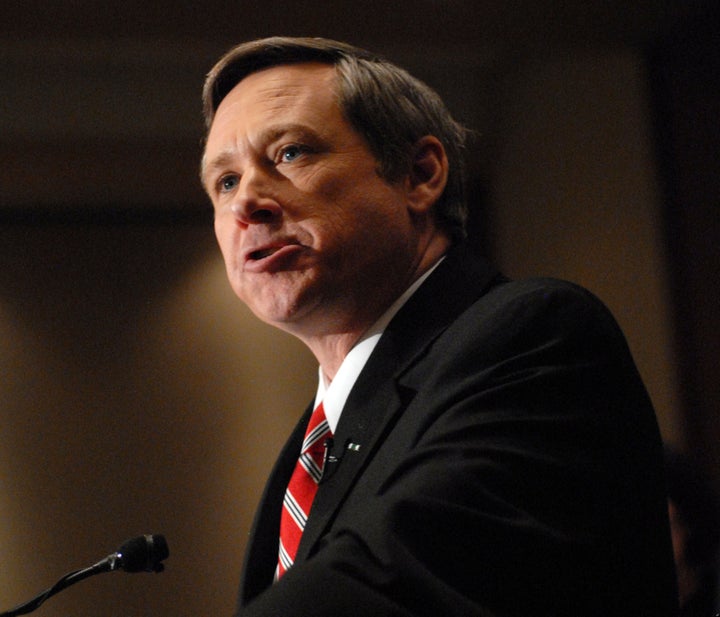 After Mark Kirk's campaign dismissed the story published in The New York Times this week regarding exaggerations about Kirk's teaching experience, a representative from the school in question came forward--and said Kirk was "an assistant who played with the children."
On Wednesday, the New York Times published a story examining Kirk's teaching experience, which he has touted in campaign ads and on the House floor. Reporter Jeff Zeleny explained that Kirk has been less than forthcoming about how brief his teaching experience was, and had trouble confirming his alleged employment at a New York nursery school.
A follow-up story featuring an interview with a representative from the nursing school, however, written by NYT reporters Emma Graves Fitzsimmons and Zeleny, confirms the paper's suspicions:
The leader, Sally Grubb, a member of the administrative council at Forest Home Chapel, said Mr. Kirk, a Republican candidate for the United States Senate, had a limited role as a student while working part-time in a work-study program at Cornell University.

"He was never, ever considered a teacher," Ms. Grubb said in a phone interview after spending two days researching the history of Mr. Kirk's association with the nursery school. "He was just an additional pair of hands to help a primary teaching person."
Kirk did teach for one year at a private school in London, after getting his master's degree at the London School of Economics. But, as the Times points out, his nursery school teaching experience has been touted by the Illinois Senate candidate.
"As a former nursery school and middle school teacher," Kirk said in a March speech to the Illinois Education Association, "I know some of what it takes to bring order to class."
Grubb, however, said Kirk was not responsible for "bringing order" to the nursery schoolers:
Ms. Grubb said she had spoken to the teacher who led what was then a play group organized by parents that met in the church basement. The teacher had a "vague recollection" of having Mr. Kirk as a work-study student, Ms. Grubb said, but she did not remember his name. She added that Mr. Kirk did not have any major responsibilities at the play group, like creating lesson plans, and he was only an assistant who played with the children, Ms. Grubb said.
The questions about Kirk's teaching record come after a series of statements the Republican candidate has made about his military career proved to be false.
He said he won an award he didn't win, said he came under enemy fire during reconnaissance flights over Iraq in 2000 when there are no records of such events occurring, claimed in a campaign letter to have served in the Gulf War--which didn't happen. He also said he commanded the War Room in the Pentagon, which was an "embellishment," and claimed to have fought in Operation Iraqi Freedom--when he was never deployed.
REAL LIFE. REAL NEWS. REAL VOICES.
Help us tell more of the stories that matter from voices that too often remain unheard.