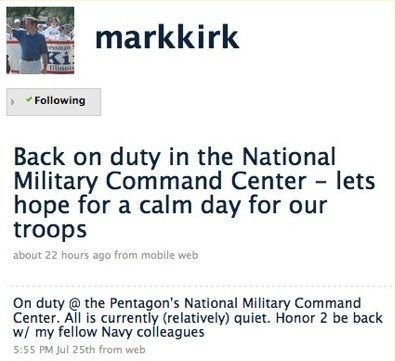 Mark Kirk may have Tweeted himself into trouble last week.
The Republican Congressman and Navy Reservist running to replace Roland Burris in the U.S. Senate committed two potential violations of military regulations thanks to Twitter: engaging in campaign activities and revealing his location while on active duty.
On July 25, Kirk (or a staff member) Tweeted:
On duty @ the Pentagon's National Military Command Center. All is currently (relatively) quiet. Honor 2 be back w/ my fellow Navy colleagues.
A similar Tweet came the following day:
Back on duty in the National Military Command Center - lets hope for a calm day for our troops.
The posts caught the eye of Capitol Fax's Rich Miller, whose parents worked for the Department of Defense, and led him to wonder if Kirk violated military rules by revealing his location and campaigning while on-duty (Kirk's Twitter feed is draped in campaign imagery).
A Department of Defense directive prohibits active duty military from participating in campaign activities:
Any member on active duty who is permitted to be, or otherwise not prohibited from being, a nominee or candidate for office as described in subparagraph 4.2.1. may NOT participate in any campaign activities.
Kirk's campaign said a staffer -- rather than the Congressman -- updated the feed with a pre-approved Tweet, though that calls into question a time-sensitive post like "All is currently (relatively) quiet."
The Pentagon told Miller it is "aware of the tweets by Congressman Kirk during a recent drill weekend here at the Pentagon and we're going to be looking into the matter." They expect to issue a statement this coming week.
Kirk's office, meanwhile, said it will "refrain from future posts while he is on duty."
REAL LIFE. REAL NEWS. REAL VOICES.
Help us tell more of the stories that matter from voices that too often remain unheard.