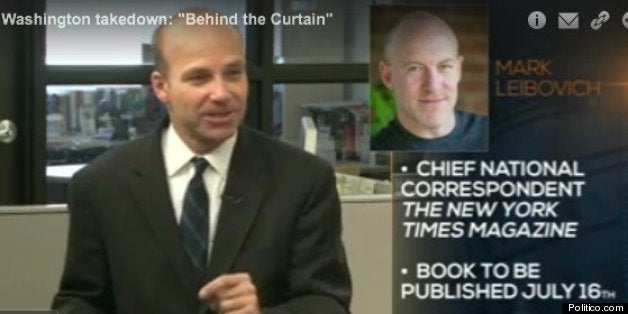 Will Tammy show up? Oh, she did! What about Mikey? Doesn't look like it. Because of the piece? Maaaayybbee. What was Politico thinking? You know how they are. Is Leibo coming? Yeah, there he is, talking to Sally. What could they be talking about for so long? Good question!
And so went countless conversations at The New Yorker's pre-White House Correspondents Dinner party atop the W Hotel on Friday night.
Politico's strangely personal, pre-emptive strike against Mark Leibovich's forthcoming book chronicling Washington's incestuous media-political industrial complex, "This Town," was the first thing fellow journalists emailed and called me about Friday morning. It was the same thing journalists were talking about as midnight approached.
If Politico's Mike Allen and Jim VandeHei wanted to get tongues wagging about Politico to kick off Correspondents Dinner weekend, they succeeded.
If Leibovich's thesis is that Washington's political and media elite is self-obsessed, he also succeeded -- months before the book hit shelves, thanks to Politico.
To say the town's overheated reaction to "This Town" is "just like high school" doesn't do it justice -- unless, perhaps, you went to high school on "Gossip Girl" or in some such cloistered world where status-seeking, scheming characters write about one another online during the day and then inevitably appear at the same swanky, rooftop party that night. Also, unlike most people you went to high school with, the gossiping attendees on Friday night -- veteran political journalists, cable hosts, government officials -- help shape the nation's political and policy debates.
As I tried asking Leibovich about the piece in Politico, where -- speaking of conflicts, I worked at for a few years and now cover -- former Washington Post editor Marcus Brauchli cut in. Brauchli, who was the subject of media gossip months back, unsurprisingly wanted to talk about the Politico piece, which they did.

Leibovich, however, had little to say about the Politico piece -- at least when asked on the record.
"I don't know. I mean, I honestly, I actually don't really have a reaction," he told me. "It's a really boring answer, but I don't have a reaction. And I'm not being coy, and like, stonewalling. I just never really figured it out. What was I supposed to do?"
Leibovich said a lot of people were emailing him about the Politico story or sending links to posts about the story. In a few weeks, Leibovich said maybe he'll "think about what it means, to like, have people write stuff about you."
Then Chris Matthews, who wasn't too pleased with the stuff Leibovich wrote about him a few years back, strolled over. Leibovich turned to him and the two men began to chat privately against the railing of the W hotel roof, with the White House down below.
Popular in the Community