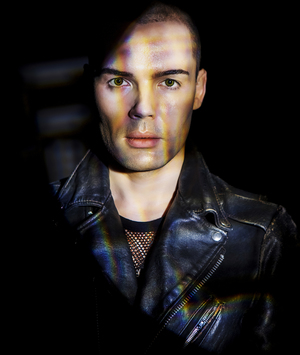 Artist: Mark Maze
Album: Uncomfortable Truths
Genre: Pop, Electric, R&B
Release Date: January 2, 2015
Reviewer: Brandi Andres
Just as an architect quietly evaluates the structural design of a fellow colleague's work or a web designer secretly considers the different ways to approach a company's website built by another, many vocalists — professional and unknown — listen intently for a certain precision in tone when hearing a singer for the first time; a trial that often ends in disappointment. A sharp pitch sounds like nails on a chalkboard, and a flat note, by contrast, is like listening to a cat in heat. It's not that we're looking for people to sing out of tune, or that we expect perfection, or even that we want to harshly critique someone who's bravely putting himself out there, we just can't help what we hear. That's why I was pleasantly surprised when I heard the first few appealing notes of the lead single on Uncomfortable Truths, an independent release by British pop artist Mark Maze.
Don't get me wrong, I wanted him to sound as good as he looks in his headshot. Plus, he's British. So he has that going for him. But, as with listening to any relatively unknown artist, it's difficult to know what you're going to get until you get it. And for the most part, I got it -- the electronic-pop heartbeat of this album, that is.
The uncanny similarity of Maze's vocal intonation to that of the (former) King of Pop, Michael Jackson, is remarkable. There's a uniqueness to his voice that makes it easy to get wrapped up in. With that said, it would be nice to hear Maze's vocals leading the music throughout the album, as in the opening arrangement of "The Devil May Cry," an eloquently written song about forbidden love. The fact that the large, driving electronic sound overpowers his voice is par for the course, I guess, with this genre of music. So it's not a deal breaker. Just a thought.
The track "2nd Best" comes a very close second best to the lead single, and is a resounding power song for anyone who's ever felt the sting of being left for another. When the hook hits and Maze sings with an impassioned stand, "Don't give me second best 'cause you know I'm better," the confident vibe catches on, and it keeps building through the lyrics, "I'm not changing for anyone, anyway." The song is a perfect anthem for the kind of short-lived romance that comes and goes on many a summer's eve.
From a ballad that remembers the better days of love, "Your Bite Was Beautiful," to the smooth, mid-tempo "Crying Game," which focuses more on a loss of innocence, than a loss of love, Maze's poetic lyrics are the soul of Uncomfortable Truths. A true artist doesn't get much more authentic than that, and this one deserves his shot.
Calling all HuffPost superfans!
Sign up for membership to become a founding member and help shape HuffPost's next chapter