On Thursday morning, a creative consultancy company called Prismatics sent out a release informing media that former "Extra" host had been killed:
Musician Mark McGrath has died at the age of 46. McGrath was on set filming the second season of entertainment show Hot Package, when he was confronted by a masked gunman and shot several times. The former Sugar Ray frontman died in the arms of his co-host Derrick Beckles on the Hollywood set of the show.

In honor of Mr. McGrath's legacy, his team is asking in liu [sic] of flowers, fans post a Sugar Ray Selfie, holding a packet of sugar over their heart. #RIPMARKMCGRATH
But as it turns out, the press release is part of a marketing scheme for a show on Adult Swim. In the days leading up to McGrath's death hoax, multiple HuffPost Entertainment editors received emails from Prismatics about "Hot Package," one of which teased McGrath's forthcoming demise. "On the first episode, Hollywood goes on strike, Mark McGrath gets killed ... and lots more insanity ensues," read the email, which was sent out on Feb. 24. (A screenshot of the release is below.)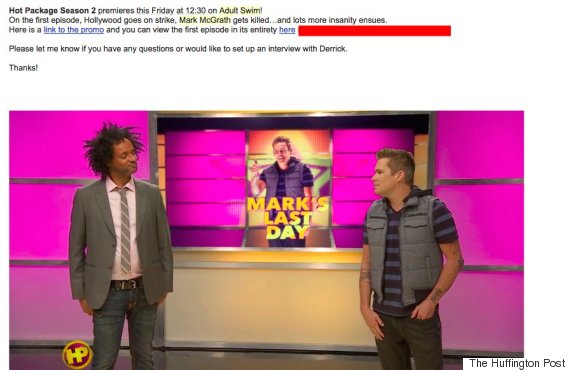 Tomorrow night on the Season 2 Premiere of Hot Package, Mark McGrath is killed by a masked gunman and dies in the arms of his co-host Derrick Beckles.

It's important to note that Mark McGrath is alive and well in real life.

The Season 2 premiere of Hot Package airs tomorrow at 12:30 AM on Adult Swim.

#RIPMARKMCGRATH
In a statement to HuffPost Entertainment a representative for Adult Swim wrote that the network had nothing to do with the Prismatics releases:
This press release did not come from Adult Swim and is not part of any network PR or marketing campaign for the show Hot Package.
UPDATE: In a press release sent Thursday afternoon, Prismatics stated that McGrath was not involved in the hoax:
Please be advised that Mark McGrath and his team have had no involvement in or knowledge of the media alerts sent earlier this morning.

Mr. McGrath is a guest on the show, and his death is merely a plot line in the premiere episode. PRISMATICS take full responsibility for any confusion.
Watch a promo for "Hot Package" below: