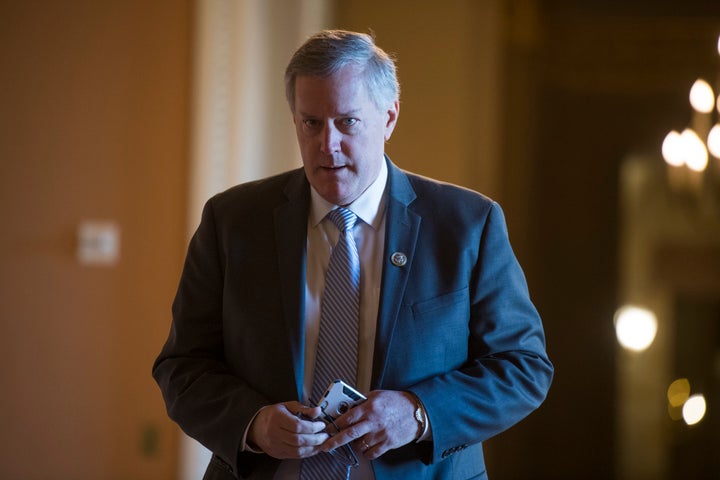 WASHINGTON ― As senators get closer to producing a bipartisan immigration bill, House Freedom Caucus Chairman Mark Meadows (R-N.C.) is warning Speaker Paul Ryan (R-Wis.) to think twice about putting whatever comes out of that chamber on the House floor.
Meadows seemed to put the speaker on notice Wednesday morning during the monthly Conversations with Conservatives event, telling reporters that while he doesn't "really" think there are any conversations happening about a new speaker, "there are certainly new conversations that would involve new leadership."
In an interview in his office Wednesday afternoon, Meadows said he wasn't threatening Ryan, but intimated that there very well could be repercussions for the speaker if he moves forward with an immigration bill conservatives don't like.
"Immigration is a defining moment for many of our members," Meadows said. "To not recognize that, and think you're gonna be able to make excuses on why a bad bill gets sent to the president, is not going to be accepted by the people we represent, and certainly not going to be accepted by a number of members."
When HuffPost asked Meadows if that meant he would put forward a motion to remove Ryan ― something Meadows did in 2015 with then-House Speaker John Boehner (R-Ohio) ― if Ryan put up an immigration bill largely relying on Democrats, Meadows said he had not "entertained putting in a motion to vacate in well over two and a half years."
Did he know of any other members who have entertained that idea?
"I have certainly not encouraged other members who have mentioned that," Meadows said. "How's that?"
Ryan's office declined to comment for this story.
Meadows seems to want to avoid a direct threat to Ryan, preferring to speak of general repercussions in November if Ryan passes a bill addressing the Deferred Action on Childhood Arrivals immigration program that some Republicans deem insufficiently conservative. When asked whether there would be immediate repercussions, Meadows was silent for a moment before saying, "November."
But it's difficult to hear Meadows's cryptic warnings and not think Ryan may have more trouble with the Freedom Caucus and other conservatives than he previously anticipated.
"Leadership continues to have one agenda that gets communicated to a certain group of people, and another agenda that gets communicated to a different group of people," Meadows said. "And ultimately, we would all be better served if we were just open and transparent about the negotiations that are going on."
Meadows claimed he had heard the budget deal numbers for roughly two months ― indeed, speaking to HuffPost in late December, Meadows correctly predicted exactly what the numbers would be ― and said leadership wouldn't confirm the spending increases until the very last minute.
Meadows said leadership has used an "open process when it's convenient, and a closed process when it's not."
But that approach itself is similar to what Meadows and other conservatives would take. Meadows wants to make sure Republicans can get votes on amendments when it's advantageous to them, but they want to prevent votes on amendments and bills when it's not in their favor ― like with an immigration proposal that could pass the House with all Democrats and the support of a small number of Republicans.
Meadows acknowledged what he and other conservatives want isn't a true "open process." But he argued that Republicans should abide by the informal convention of only giving votes to legislation that has the support of a majority of the majority ― the so-called Hastert Rule ― a promise Ryan made to the Freedom Caucus for any immigration bill when he became speaker in 2015.
"There is not a bill that would garner the majority of the majority other than Goodlatte," Meadows said, referring to the hard-line immigration measure proposed by Judiciary Chairman Bob Goodlatte (R-Va.).
Conservatives feel GOP leaders have made less than a full effort to secure support for that legislation, despite promises during one of the continuing resolution fights that leadership would whip the bill and put it up for a vote.
Leadership is currently whipping that Goodlatte bill, but it faces an uncertain fate in the House, as almost every Democrat is certain to vote against it, along with a number of Republicans.
Meadows argued that if leadership's job depended on getting 218 votes to pass the Goodlatte bill, they would indeed get to 218. "But their job does not depend on that, and so whipping that bill has been less than a priority for our leadership team," he said.
Leadership has certainly been slow to whip the bill ― something they told the Freedom Caucus they would do the week after conservatives voted for a bill to keep the government open in January ― but Majority Whip Steve Scalise (R-La.) has made an effort in recent days to at least seem like he's pushing for passage of the Goodlatte proposal. Scalise aides note they've been holding member briefings, and have been getting member feedback for weeks.
Ryan has also been careful to not anger conservatives worried about immigration. He's avoided promising Democrats that he'll put up a bill just because it passes the Senate or could pass the House. Ryan's standard, stated over and over again, is whether President Donald Trump will sign it.
On that front, conservatives seem to worry Trump could be talked into supporting a bill that has limited GOP support ― out of a desire to secure funding to build a border wall and to provide a legislative fix for DACA. They also worry that Ryan will use Trump's support to put up a bill that has less than the support of a majority of the majority.
Thus far, though, there's been little movement on any sort of immigration bill like that. The Senate can't find 60 votes for the sort of proposal that all Democrats would support, and without Senate action, there's little threat of the House moving forward. Ryan's job may be safe by virtue of inaction.
But if the Senate could get its act together, and if Trump decided to support a bill coming out of the Senate and Ryan put it on the floor, there very well could be repercussions for the speaker before November.
Asked if he anticipated someone else putting forward a motion to vacate, Meadows replied: "I'm only one member."
REAL LIFE. REAL NEWS. REAL VOICES.
Help us tell more of the stories that matter from voices that too often remain unheard.