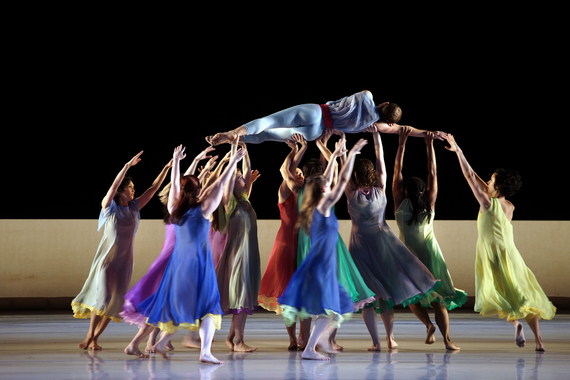 Mark Morris Dance Group in Mark Morris' L'Allegro, il Penseroso ed il Moderato (Photo: Javier del Real)
Spring is tiptoeing in, but you would never know it from the winter storms that have battered the San Francisco Bay Area. El Niño has taken its sweet time to get here this year, and the Bay Area -- though beset by mudslides, floods and power outages -- has christened its late arrival the "March miracle." After a four-year drought, reservoir levels and snowpack in the Sierras are approaching 15-year averages. California's water managers have decreed that both rain and snow must hit 150 percent of average in order to break the drought.
Spirits have been buoyed by two other massive weather systems that hit the Bay Area this past week: Mark Morris' L'Allegro, il Penseroso ed il Moderato, and Jerome Robbins' Dances at a Gathering -- the former made landfall at CalPerformances in Berkeley, the latter at the War Memorial Opera House via San Francisco Ballet.
Both are a series of pastoral encounters in a fluid place and time, bathed in spills of color on a bare stage. Storm clouds occasionally menace, but these are resilient dancers, possessing an all-American can-do.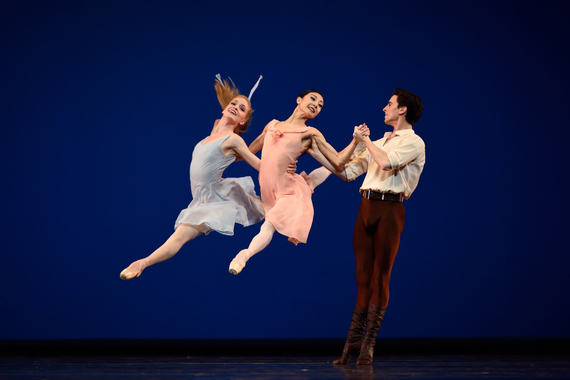 San Francisco Ballet's Sasha De Sola, Yuan Yuan Tan and Joseph Walsh in Jerome Robbins' Dances at a Gathering (Photo: Erik Tomasson)
Rather like El Niño's oscillation between warm and cold in the Pacific, Morris' monumental work cycles between two temperaments -- the one irrepressibly gay (l'Allegro), the other pensive and introspective (il Penseroso). The poet Milton's musings, richly ornamented by Handel, are brought to vivid life by Morris -- though the cheeky choreographer doesn't confine himself to any one method of word painting.
One minute this heroic company of 24 are enacting a scene word-for-word: "to listen how the hounds and horn/ cheerly rouse the slumb'ring morn" produces a detailed hunting scene worthy of Downton Abbey, that casts dancers in the roles of shrubbery, foxes, hounds and hunting party.
Elsewhere, Morris' dancers give physical shape to an idea underlying the score: to a four-part fugue, dubbed 'Melancholy Octet,' two male-female couples, one male couple and one female couple echo the fugal voices. When one voice pauses, that couple freezes in a tight embrace. Momentum builds in the music and in the intensity of movement but toward the end, when the four voices are momentarily stilled, the four couples are locked in a clinch. This is choreography as pure abstraction, and yet the dancers convey waves of emotion hinted at by il Penseroso: "These pleasures, Melancholy, give / And we with thee will choose to live."
Robbins more than Morris makes use of classical ballet vocabulary, but movement in both L'Allegro and Dances at a Gathering springs from the pedestrian activities of walking, skipping and running. Both capture a childlike joy in expansive movement that looks deceptively simple, as if anyone could do it, but underpinning the seemingly carefree, almost improvisatory whirling and hopping are a rigorous technique and split-second timing.
Though Morris abandons many of the classical ballet strictures, he makes a formal, lavish bow to classical tradition by tucking a ballet about enchanted birds into Part I, triggered by Milton's reference to the cheerful man's lark and the pensive man's nightingale (the spirited Dallas McMurray and ravishing Maile Okamura on Friday night). When the two birds meet, they eye each other suspiciously -- as birds of different species, or swans and princes, are wont to do. Their interaction consists of little more than craning their necks and tilting their heads; yet as they slowly retreat we sense a connection as deep and mysterious as if they had given us the whole white swan pas de deux. In their wake, a formidable flock of birds zooms on and off stage, rather like the Blue Angels. Sometimes they soar; at other times they are bird-wannabes, reaching for "the wand'ring moon/ riding near her highest noon." The moon itself is embodied by a slowly revolving procession of dancers out of reach behind a scrim. The dancers desperately attempt flight, catapulting themselves into the air only to be thwarted by the outstretched hands of spotters. Morris piles on the metaphors, including man's desire to conquer space.
Robbins in contrast turned his back on Swan Lake. He privatized ballet, stripped it of its grand gestures and pretensions. These dancers are not dancing for us, only for each other. They seem to represent a community whose days are numbered, their scenes a jumble of memories and impulsive attempts to make up for past rifts. As in L'Allegro, dancers drift in and out of each other's 'episodes,' echoing the movement or taking control of the stage at random moments. Groups coalesce and evanesce -- no alliance lasts. Similarly, sparks of affection, signs of intimacy, flashes of animosity are quickly extinguished. Movement doesn't seem to come from the dancers, it passes through them, like a weather system. The unnamed dancers, identified only by the color of their unassuming clothes, like the dancers in L'Allegro, appear to stand in for larger ideas encompassing not just humanity but all things living and inanimate -- including the vast manmade spaces and fields stained by calamity and war, as suggested by set designer Adrianne Lobel's backdrops for L'Allegro, seemingly inspired by Mark Rothko's heroic color field paintings.
This enmeshing of all things is at the heart of ecocritic Timothy Morton's philosophy of 'dark ecology,' which renounces the Romantic idea of Nature as "humans-and-their-cattle-over-here, nature-over-there" and the trendy "fascist" thinking of environmental activists whose leave-no-footprint agenda and 'green' initiatives often wreak more havoc on the planet. Morton traces the beginning of humans messing with the environment much further back than the Industrial Revolution, to the start of the Anthropocene, when hunting and farming imposed their own periodic cycles on the earth. How far back do we have to go to identify a time in history when the environment was in a pristine state, Morton asks. From this unanswerable question, he proceeds to make the case for a non-human-scaled vision of the ecosphere. He offers a framework for thinking about nonviolent coexistence and for grappling with 'hyperobjects' -- like global warming, styrofoam, and radioactive nuclear waste -- that threaten most forms of existence on the planet.
The dancers of DAAG, as Dances at a Gathering is affectionately known, and L'Allegro, with their seemingly superhuman/inhuman powers of movement, embody different aspects of what Morton terms the "mesh."
L'Allegro opens with 'Mad Crossing,' suggestive of the bombardment of the planet by comets carrying the first organic compounds. Fast forward to 'Three Graces,' which opens with one dancer dragging a cluster of other dancers across the stage. They mimic an inanimate form, like a plow or some form of early transport, heralding the early stages of the Anthropocene. Evidence of man's more sophisticated handiwork appears in 'Populous Cities,' featuring a Howard Roark-like figure who appears bent on destroying one of the skyscrapers he designed. 'Crickets' ("Far from all resort of Mirth / save the cricket on the hearth / Or the bellman's drowsy charm / To bless the doors from nightly harm") sets half the ensemble bounding madly around the stage while the other half wind their way through the chaos in a stately baroque dance -- suggesting man's efforts to tame, or avoid, the wilderness.
In DAAG, hyperobjects loom in Scherzo No. 1. The dancers whip on and off stage with implacable fury -- until a sad, wistful melody emerges suddenly from the chaos, and Pink (Yuan Yuan Tan) and Purple (Davit Karapetyan) reveal themselves in human guise once more. Overcome with despair, they try to comfort each other, but the darker, anarchic theme returns and the ensemble transfigures once again into the forces of climate change.
DAAG dancers are not buttressed by the immense scaffolding of L'Allegro's Handel score -- so brilliantly executed by the Philharmonia Baroque Orchestra and Chorale, and by sopranos Sherezade Panthaki and Yulia Van Doren, tenor Thomas Cooley and baritone Douglas Williams. Instead, the dancers in DAAG seem to create the Chopin score with every smoldering glance, every click of the heels, every flick of the shoulder, every whoosh of air as a ballerina is tossed skyward, inciting Roy Bogas to spin mazurkas, waltzes, etudes, and that turbulent scherzo from his lonely piano in the pit.
Opening night was a little rough: the dancers and Bogas seemed to throw each other off at times. But that's why we go to see live dance -- for the thrill of watching dancers and musicians spar. Last season's opening night cast with Bogas was perfection. The splendid Vanessa Zahorian as Mauve anchored the ballet then and now, variously tender, gallant and impassioned in her encounters with Green (Carlo Di Lanno), and fearsome as the harbinger of doom in the Scherzo. Mathilde Froustey has acquired some new tics since her winsome turn as the zephyr in Yellow last season; her excessive coquetterie distracted from the otherworldliness of the ballet. Joseph Walsh, superb last season in Brown, dispatched the bravura challenges of his role with even greater ease, finding an exemplary balance of elegance and humility as the man whose reverie kicks off the ballet.
Eastern European folk dance is a vital element in both L'Allegro and DAAG. The mazurka is the main currency of DAAG for which Chopin took themes from the dance of Polish peasants, who worked the farms of feudal landlords. The rhythm of the mazurka is the rhythm of their work. Robbins adopts the foot stamping, the flexed foot, the hand behind one ear in a gesture of pride. Morris assigns a limping walk from Bulgarian folk dance to dancers hitched together in two long lines, who spin an extraordinary series of shifting patterns. In this scene known as 'The Walking Duet,' the dancers eventually break free from their lines to execute a breathtaking set of whirling jumps, springing out from the wings then immediately retreating back. At the height of the jump, they reach skyward, but their gaze returns immediately to the earth. DAAG as executed by San Francisco Ballet also emphasizes the dancers' connection with the ground, a weightiness evident even in their jumps and spins. The proud yet self-effacing gait of both troupes evinces the South African concept of Ubuntu ("I am; because of you").
This season San Francisco Ballet pairs DAAG with Swimmer, which premièred last season. Resident choreographer Yuri Possokhov's riff on John Cheever's short story takes us on the surreal journey of a jaded suburbanite who, after one too many martinis, decides to swim home via his neighbors' pools. The virile, explosive Taras Domitro is practically impaled on the elaborate multimedia installation, cleverly designed to appeal to a demographic weaned on South Park and Minecraft. Kate Duhamel's sophisticated cartoon projections make up for the clichéd scenes of Hollywood pool parties and nightclubs. A couple of moody songs by the perennially down-and-out Tom Waits ("remember when you loved me") are set adrift in the sea of an insipid commissioned score. Go to see the magnificent men of San Francisco Ballet set the stage on fire in their tighty-whities. And to watch the sensational Lorena Feijoo and Vitor Luiz crash and burn as the woman in red and the man in a grey fedora from Edward Hopper's Nighthawks.
Calling all HuffPost superfans!
Sign up for membership to become a founding member and help shape HuffPost's next chapter