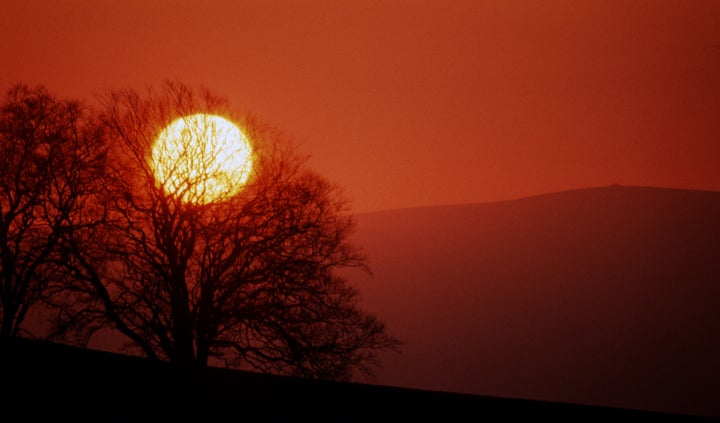 Tune in to "Super Soul Sunday," January 22 from 8-11 a.m. ET/PT and an encore at noon ET/PT on OWN: Oprah Winfrey Network to see Mark Nepo and Oprah's inspiring conversation.
In the interviews I've been blessed to have with Oprah, we seem to enter what I would call the One Conversation, the one ongoing story of how we spend our time on earth. All our lives contribute to this conversation. All our stories contribute to the one ongoing story. Let me share some reflections on where that conversation has been taking me.
I keep returning to the ever-present riddle that being who we are is the necessary adventure. It unlocks everything, not because our self is so important but because our essential nature that our self carries is the immediate doorway to everything that is life-sustaining. We learn early on that being who we are means fending off unwanted influence without cutting ourselves off from the chance to learn from others. Regardless of the culture we are born into, it isn't long after we arrive that everyone starts pointing and telling us where we need to be and what we need to do to get there. There's no time to really ask why. Soon, things happen and we are thrown off course and now there's all this effort to win their approval, no matter who "they" are. If lucky, love will distract us more than suffering. If blessed, we are broken of everyone's plans and regrets and thrown like a hooded bird into a sea of light. If trusting the fall, we find our wings.
Beneath everyone's expectations, I've learned that there's this energy that flickers under all our trouble. When I exhaust my worries, it makes me gasp to even be here. Sometimes I see it behind your eyes and we recognize each other. That small lightness carries us through what we can't bear. It stands us up when the sun comes out and things seem right for no reason. Under our trouble, it's clear that being who we are not only unfolds our integrity and deepens our relationships, but being true to our own nature allows us to experience the unity of things. Regardless of the names we give to that unity, touching into it cleanses our minds and hearts and we see the world differently.
Growing in my authenticity has deepened my vision. Now I can see that tranquility is the depth of being that holds what we think and feel, not the still point after we've silenced what we think and feel. Serenity is the depth of being that holds all difficulty, not the resting point after we've ended all difficulty. And peace is the depth of being that holds all suffering and doubt, not the raft we climb on to avoid all suffering and doubt. This leads us to joy, which is much deeper and larger than any one feeling. Happiness, fear, anxiety, contentment, doubt, regret, unworthiness, anger, despair--all these and more are the waves that rise and fall in the sea of being. Joy is the ocean that holds all feelings.
This spiritual law reveals the truth that though we can quiet our mind and heart, there is no end to what we think and feel. Though we can solve and lessen the difficulties we face, there is no end to difficulty. And though we can endure suffering and engage our doubt, there is no end to suffering and doubt. This would be devastating if not for the living truth of wholeness. For neither is there an end to tranquility, serenity, and peace. It is important to accept these fundamental notions of reality. Otherwise, we can waste our energy trying to bring an end to things that have no end, rather than develop the inner skills to navigate these timeless currents.
All this has led me to another paradox. It seems we are each born with a gift and an emptiness, and given a life to be in conversation with them, to have one fill the other. It doesn't matter where the emptiness is in our life or what the gift is, it is always the journey of a life on earth to discover how they meet and complete each other. We waste so much time trying to hide our emptiness, feel ashamed of our emptiness, eliminate our emptiness, feel victimized because we have an emptiness, or feel we are entitled not to have any emptiness, that we are diverted from our soul's journey. This diversion gives rise to the blame game and keeps us from inhabiting the depths opened by the emptiness that can only be illumined by the light of our gift.
I admit I am still learning how to use my gift and how to listen to my emptiness. Still trying to let all my feelings meet and rest in the sea of peace. Our learning never ends. And after burning dream after dream to light my way, I sit sometimes in the unknown and wait; which feels both awkward and courageous. But waiting in this way, with as little as possible between life and me, I realize all I have to do is still my troubled self to a lake, and below, there is poetry. All I have to do is weed the thatch of difference between us and there is miracle.
For more programming to nourish your mind, body and spirit tune in to OWN: Oprah Winfrey Network's new "Super Soul Sunday," airing Sundays from 8-11 a.m. ET/PT and visit: please visit www.oprah.com/supersoulsunday.