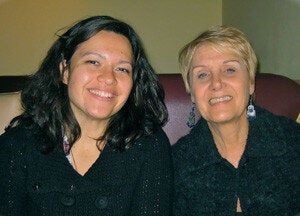 Thirteen years ago, I could have never imagined the impact my mentor would have on my life.
I was one of thousands of students at my high school with the drive to succeed, but no real vision for formulating a plan. I was shy and insecure and tried my best to get by without asking for help.
That all changed when I met my mentor, Janet Schulman, through the Fulfillment Fund. She was a true East Coast character with professional status and a way of getting things done. She had a background in social work and had headed several successful organizations. I was her first attempt at taking on a youth one on one.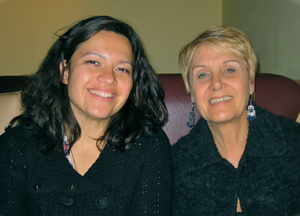 It's impossible to quantify the influence my mentor had on me. Spending time together once a month, no matter what the activity, made me feel valued, important and worthy. In a school and home that lacked the means to provide resources, my mentor taught me how to ask for help and advocate for myself. It was with her guidance that I became involved in extracurricular activities and programs that expanded my knowledge. She served not only as inspiration but motivation to remain accountable for what I wanted.
Because I attended a large inner-city high school, students attended school on a multitrack schedule. In order to alleviate overpopulation we'd be assigned a track with particular months in which we'd attend and when others wouldn't. This meant that I was out of school for more than two months in the winter and two months in the summer. I never knew any different growing up but this was a red flag for my mentor, so she made sure my winters and summers were well spent advancing my education or volunteering.
One of the most memorable outings I had with my mentor was early on in our match, during one of my long winter breaks. She asked me if I'd like to go volunteer with general office duties at the nonprofit she was directing at the time. Before then, I had only spent time with my mentor one on one and knew things about her that starting friends knew, personal history. That first day at her office was the first time I had stepped foot in such a place and, what's more, I was with the boss.
I watched as people greeted her from their cubicles and offices as she walked in and how they brought all kinds of reports and pressing questions for her review. I just stood back and soaked it all in. On our drive home, after shadowing her and helping with copies and filing, I turned to her and asked what she's claimed was one of the most poignant questions I had asked until then: "How did you get to where you are?"
Naturally, I wanted to know what steps I had to take, not only to be in charge in a professional environment, but also live a lifestyle much like hers. This moment was important for her because it gave her a sense of validation in working with me. It gave me the ability to visualize myself in her shoes and create a plan to attain such a goal.
Several years later, I drove into the campus of Smith College. I remember seeing my fellow classmates with all of their family members helping them carry boxes up to their houses. I felt a little lonely without my family, but then realized I did in fact have one of the most important family members by my side, my mentor.
It was Janet who had orchestrated my first college visiting trip when I was only a sophomore in high school. The Fulfillment Fund would sponsor a weeklong trip to the East Coast so high school juniors and seniors could visit several colleges. At the time, I wasn't eligible to apply based on my age but Janet made a call and my application was considered and then later selected. Before meeting her, I never really considered going very far for college since I knew California had some excellent schools. She and the college counseling staff at the Fulfillment Fund helped me see the value in a liberal arts education and in going really far away to college. If I hadn't met her I would have probably gone to UCLA or USC, which are great schools in their own right, but no Smith College. My college education in an all-women's institution continues to be one of the most significant and influential parts of who I am.
There are two main reasons why I chose to come back to work with the Fulfillment Fund. The first was because my mentor made me promise to never forget to give back. She was extremely generous and caring with me, and all she expected in return was for me to be successful in the field I chose and to give back in way of service. Secondly, no matter where I went in my educational or professional career, I could always find a link to the Fulfillment Fund or my mentor, who led me there or supported me on that path. I knew first-hand the impact the work on my life. If I could influence youth in a similar way, I knew I'd feel like I was giving back.
One of my favorite parts of my job today is "matching" our students with mentors. When I notify middle and high school students that we've found a "match" for them, when I share their future mentor profile with them, it feels like I'm telling them they've won the Lotto. I feel the anxiousness of the student when I show up with their mentor at their doorstep for the first time, because I remember how intimidating it was to have adults meet with my parents in regards to me. On the mentor side, I also identify with their anxiousness in wanting to not fail in this well-intentioned endeavor. My advice to both is the same, just focus on having fun, trust will build with consistency, and rewards for both will come in the long run.
My relationship with my mentor today is stronger than ever. She continues to be my biggest cheerleader and guide whenever I need her, challenging me so I continue to grow professionally and personally. Mentoring is important because it helps kids realize their potential and expand their world.
Xiomara Iraheta, a Fulfillment Fund alumna and graduate of Smith College, now works for the Fulfillment Fund, helping students to find mentors who can guide them on the path to college.
Calling all HuffPost superfans!
Sign up for membership to become a founding member and help shape HuffPost's next chapter