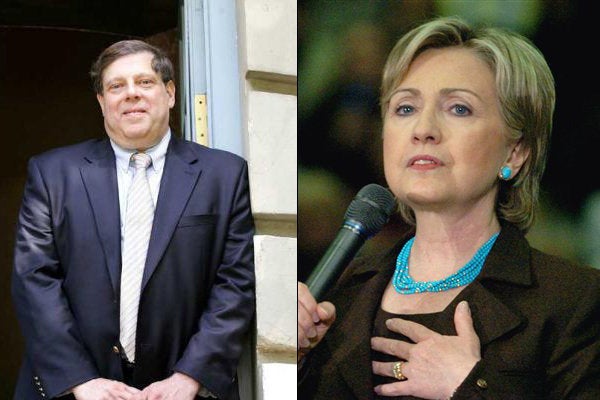 Mark Penn, Sen. Hillary Clinton's chief strategist and longtime confidant stepped down from the presidential campaign late Sunday night.
His resignation came after a politically embarrassing week during which it was reported that he met with Colombia's ambassador to the U.S. to discuss passage of a bilateral free-trade agreement -- a pact Clinton opposes.
Howard Wolfson, a spokesman for the campaign who will now coordinate Clinton's "strategic message" told the Huffington Post that Penn offered up his resignation to the Senator on Sunday and that she accepted. Penn's firm, however, will continue to be involved in the campaign's polling.
In a separate statement issued from the Clinton's office, campaign manager Maggie Williams wrote:
"After the events of the last few days, Mark Penn has asked to give up his role as Chief Strategist of the Clinton Campaign; Mark, and Penn, Schoen and Berland Associates, Inc. will continue to provide polling and advice to the campaign."
Penn and Clinton have a lengthy history dating back to her time as first lady. In 1996, the strategist famously targeted "soccer moms" to help then President Clinton get reelected. Penn took the reigns of Hillary Clinton's 2000 Senate campaign in New York and was credited with helping her overcome high negative ratings to win in a state where she had no geographic roots.
His continued work with the firm Burson-Marsteller has proved particularly problematic. At the time he was criticizing Sen. Barack Obama for ties to the energy-giant Exelon, Penn, it was reported, was also representing that company. In addition, he has been involved with a list of businesses embroiled in deep-seated labor disputes including, as the Huffington Post reported, New Era Cap.
After meeting with Colombia's ambassador this past week, Penn tried his hand at damage control, calling the move an error in judgment. The next day, Colombia fired him and his firm. This weekend, seven labor unions representing the "Change to Win" coalition called for Clinton to fire Penn. And On Meet the Press this morning, another Clinton surrogate, Pennsylvania Gov. Ed Rendell, hinted that Penn's time with Clinton was nearing an end. Asked whether, in the wake of the Colombia mess, the campaign should considering Penn's firing, Rendell said, in essence: there were more, equally egregious offenses?
"Well there are a lot of issues in which you can raise that question, Tim," Rendell told host Tim Russert. "I think you've got to make it very clear for someone who is a consultant, who you are rep and who you are not rep. and I would hope that Mr. Penn when he talked to the Colombian's made that clear. And it doesn't sound to me like he did and that's something the campaign should take into question."
Popular in the Community