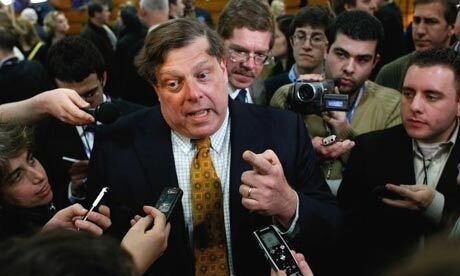 Undaunted by the defeat of his most prominent client, Hillary Clinton, Mark Penn and his wife, Nancy Jacobson, have moved quickly to cash in on their notoriety.
Jacobson has raised eyebrows in Democratic circles by starting a new profit-making venture capitalizing on all the rich folks who will be wandering around Denver for the four day convention with little or nothing to do while waiting for official activities at the Pepsi Center, and a swirl of parties across the city, to begin.
Penn's wife, a professional fundraiser, is trying to round up as many as 75 people willing to fork over $10,000 each for a Monday-through-Thursday "convention summit" at the Ritz Carlton in late August where they can meet and greet the powerful, the wealthy, and such Democratic "thought leaders" as Drew Westen, author of the The Political Brain: The Role of Emotion in Deciding the Fate of the Nation.
"This is not your typical sort of thing," Jacobson said in an interview. Instead, it will provide a kind of exclusive home-base for the affluent. "It's really a private thing I am doing."
In fact, just that - "a private thing" - is what has privately raised concerns among some fellow Democrats, including fundraisers for Barack Obama and the Denver host committee, when they first learned of the event in a somewhat elliptical item in the New York Times.
The article left ambiguous exactly where any profits from the "summit" would go, noting in passing, "The conference is not a Democratic fund-raiser."
A former Democratic officeholder who asked that his name not be used sent the following email to the Huffington Post: "Essentially she's charging $10,000 for donor gatherings where 'access' will be provided. Who pockets the money? Some Obama people are angry that they've inherited a convention in serious deficit from overspending, are being solicited by Hillary people to pay off her debt, and along come the Penns' business-as-usual."
In fact, any leftover cash will go directly into Nancy Jacobson's pocket with zilch going to Obama, the Democratic Party committees, or to Democratic candidates.
"It's an entrepreneurial thing," Jacobson said. The New York Times story accurately quoted a draft the paper obtained of plans for the summit. In it, Jacobson said among the draws for the lonely wealthy folks would be Kevin Spacey and Laura Dern, stars of HBO's television movie, Recount. Unfortunately, the draft was written before any commitments were obtained, and neither Spacey nor Dern will be in attendance.
Despite that, Jacobson said over half the 75 potential sales have been made. If she sells out, the total gross take will be $750,000, with an undetermined amount left over for Jacobson.
While Jacobson is developing new revenue sources, her husband, Mark Penn, is hiring a prominent Bush aide - indeed the ghost writer of the president's autobiography - who can be expected to generate revenues from different sources for Penn's firm.
Those who questioned the propriety of Clinton's decision to appoint as chief campaign strategist Penn, CEO of Burson Marsteller -- the premier public relations and lobbying shop in Washington -- have received further confirmation of their jaundiced views: the announcement that Burson Marsteller has signed up former Bush communications honcho Karen Hughes as Global Vice Chair. In doing so, Penn is further extending the long and proud tradition in the nation's capitol of bipartisan profiteering.
"Karen is one of the leading communications strategists working today," Penn declared in the announcement. "She brings enormous strategic insights coupled with the ability to drive successful campaigns at the highest levels of the political, governmental and corporate arenas. I cannot think of anyone better suited to counsel our clients."
In the world of corporate Washington, there is nothing strange about Hughes, a top strategist for the party of Wall Street, going to work for a key operative for the "party of working men and women" in a company that describes itself as:
"A leading global public relations and communications firm whose knowledge, strategic insights and innovative programs help drive strong corporate and brand reputations for its clients. We provide our clients with strategic thinking and program execution across a complete range of public relations, public affairs, advertising and other communications services."
There is no way to measure the damage inflicted on the Clinton campaign both by Penn's strategic advice and by the degree to which his own background conflicted with an electorate clearly sick of the insider dealings of Washington, D.C.
Animosity toward Penn among Obama supporters has reportedly led to a reluctance to help Hillary Clinton pay off her $22.5 million debt, because nearly a quarter of what she owes, $4.6 million are backed up bills from Penn's polling company, Penn and Schoen.
Until Penn gets paid off, the cash Karen Hughes and Nancy Jacobson bring in may help relieve the pain.