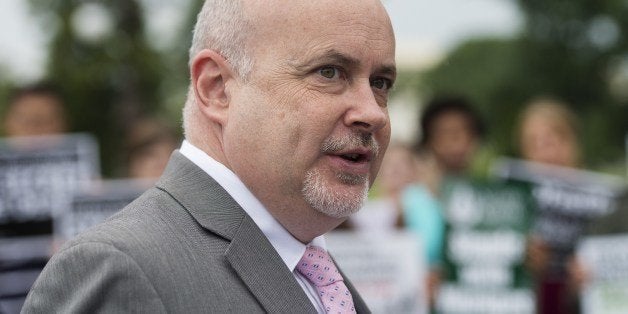 Openly gay Congressman Mark Pocan (D-Wis.) weighed in on the Employment Non-Discrimination Act (ENDA), at the center of controversy since major LGBT groups pulled their support of the bill in the wake of the Supreme Court's Hobby Lobby decision because of its broad religious exemption.
While not saying he is pulling support of the current bill (he is a co-sponsor), Pocan expressed his belief that, for a future ENDA, in the next Congress, "where it's going is what the president just did." Pocan was referring to President Obama's signing of an executive order earlier this month banning discrimination based on sexual orientation and gender identity among federal contractors and not including the broad religious exemption that is part of ENDA.
But Pocan, in an interview with me on SiriusXM Progress, several times expressed his frustration about disputes among activists and politicians over the bill, and the split among LGBT groups. Lambda Legal, the ACLU, the National Center for Lesbian Rights and other groups pulled support of ENDA while the Human Rights Campaign and Freedom to Work still back the current bill. ENDA passed the Senate last fall and, while it doesn't appear to have a chance of getting a vote in the Republican-controlled House, some activists are still lobbying for it, while openly lesbian Sen. Tammy Baldwin (D-Wis.) expressed strong support for the bill and House Minority Leader Nancy Pelosi (D-Calif.) recently hinted at having "a plan" to still get it passed.
"Actually, I think much of the debate is misguided, to be perfectly honest," Pocan said in response to a question as to whether he supported the current bill or not, while scoffing at the idea that ENDA will get a vote in the House, what he called an "imaginary 'if we could get a bill on the floor'" discussion.
"I think where it's going is what the president just did," he said, referring to the executive order. "That's the direction it's going. It's clear, as we've seen so much in the fight for equality, once the president does things and there's other things like the Supreme Court case that came out, you're moving in a direction. So for us to kind of have a fight among ourselves around what pace or what best bill does it, I mean, the society is moving us in a direction regardless of all our internal debates and it's moving us in the direction of what the president did. I think sometimes we spend unfortunate amounts of energy in a misguided attempt to have this debate fixed now, when it's not what's actually before us as a real measure to actually pass."
Pocan reiterated his frustration and urged a shift in focus right now among LGBT activists to this fall's mid-term elections.
"My belief is, where the direction is going is where the president had, and where the energy should be, that we're not going to, is to the November elections, to change the majority in Congress and keep the Senate, where you can actually have the very best bill out there," he said. "I think I've been more than clear where I stand on the exemption. I think that's where we should go, I've said that. The problem is, I think the movement is right now somewhat disorganized around this. I have to admit I'm a little frustrated watching the fight happening among people who basically agree on it all, rather than focusing on how we get to the point that we actually get this passed."

REAL LIFE. REAL NEWS. REAL VOICES.
Help us tell more of the stories that matter from voices that too often remain unheard.
BEFORE YOU GO
PHOTO GALLERY
Politicians React To Hobby Lobby Decision