 Rep. Mark Pocan (D-Wis.), an openly gay representative, made history on Capitol Hill Thursday when he announced that he'd been able to secure a congressional ID for his spouse.
The Wisconsin Gazette reported that Philip Frank, whom Pocan married in Canada in 2006, had gotten a new ID officially labeling him a congressional spouse. The title gives him access to certain areas of the Capitol and allows him to attend congressional delegations with his spouse, among other privileges.
It's largely a symbolic victory, as the spouses of gay federal employees -- including lawmakers -- still aren't afforded equal benefits thanks to the Defense of Marriage Act. But Pocan hailed it as key progress for gay lawmakers in Washington.
"I think it's an important step toward recognizing equality and we're very proud of receiving it," Pocan told the Washington Blade. "We also realize there's still a lot more work to do for same-sex couples that work for the federal government."
There are currently seven openly gay or bisexual members in Congress; six in the House and one, Sen. Tammy Baldwin (D-Wis.), in the Senate.
In 2009, Marlon Reis, the spouse of Rep. Jared Polis (D-Colo.) nearly broke the barrier when he was issued a congressional spouse ID. He later encountered trouble, however, when card services told him that he had been given the designation accidentally, and that he should have received the Designee ID given to unmarried partners of members of Congress.
Before You Go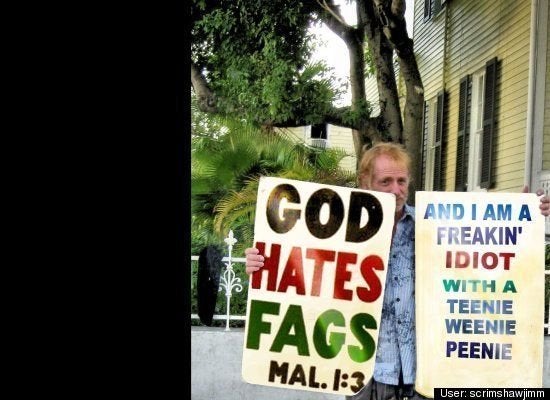 Anti-Gay Protesters Getting Owned
Popular in the Community