An Al Jazeera host had an extremely contentious conversation with a spokesman for the Israeli prime minister over a series of attacks on a media building in Gaza over the past two days.
Israeli missiles hit the building twice, injuring at least six journalists in the process. The strikes were condemned by press freedom groups, though Israel said it was aiming for Hamas communications equipment on the roof of the buildings. On Monday, it killed a member of the Islamic Jihad group in one of the buildings, along with one other person. Two children were also wounded.
Speaking to Al Jazeera's Darren Jordon, Israeli spokesman Mark Regev defended the strikes.
"We don't target journalists," he said. "We target Hamas."
"Rockets don't stop at a roof," Jordon said in response. "You've got the intelligence that journalists were all over that building. It's never going to be precise enough that you can't stop injuring people below the roof."
"As far as I know, no foreign journalists were hurt whatsoever," Regev said. "We were surgical, we took out the target that we wanted to take out."
"You can't sit there and say no journalists were injured," Jordon replied sharply. "One person had their leg blown off. That is a fact."
"Maybe we have a discussion about who is a journalist," Regev said. He called Al-Aqsa, one of the outlets targeted in the strikes, a "Hamas command and control facility," adding, "Just as in other totalitarian regimes, the media is used by the regime for command and control and also for security purposes. From our point of view, that's not a legitimate journalist."
Even if one accepted the notion that reporters for Al-Aqsa are not "legitimate" journalists — which press freedom groups like Reporters Without Borders do not — there were still several journalists from other Palestinian agencies who were injured. Many international outlets, including Reuters, Al-Arabiya and Russia Today, had their offices damaged.
"There were foreign journalists in that building," Jordon said. "There were foreign journalists near to that building."
"None of whom were hurt," Regev said.
"What are you saying, that a local Arab journalist's life is any less than an international journalist?" Jordon asked.
"Unconditionally, no. We see all journalists as legitimate people," Regev responded, after prodding from Jordon. "We respect the free press ... if you can bring me someone who is a bona fide journalist who was injured, I want to know about it."
"You seem to be saying that Palestinians can't have a free press too," Jordon shot back. "Will Israel apologize for the injuries caused in this attack?"
"Israel does not target journalists, and I think there are very legitimate questions about Hamas using journalists as human shields," Regev said.
"Let me remind you, journalists are not armed combatants," Jordon said. "Those journalists have a job to get the story out ... you clearly are targeting the media, aren't you? You're shooting the messenger."
"Not true at all," Regev replied.
Related
Before You Go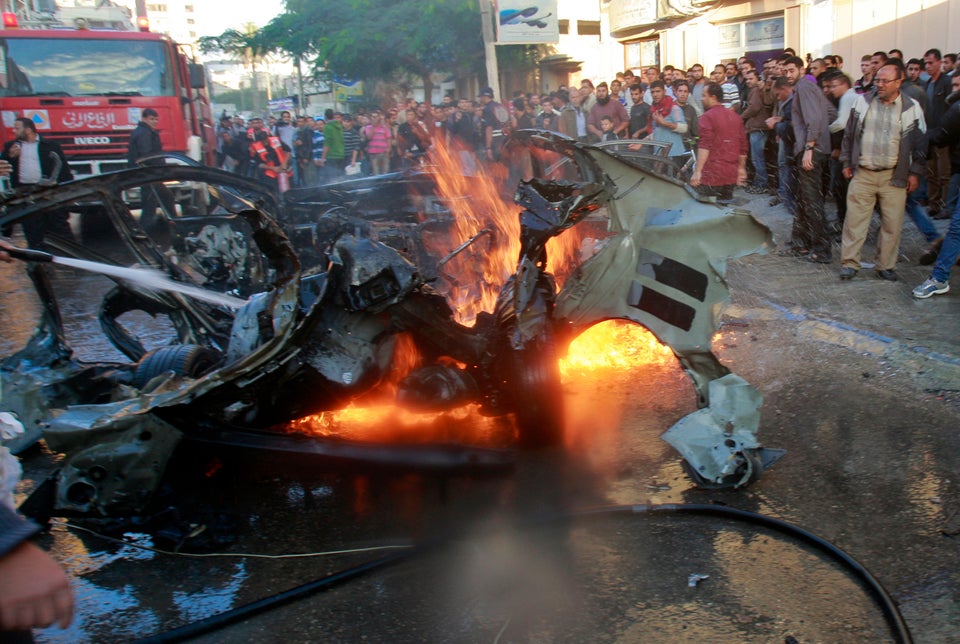 Israeli Strike Hits Gaza
Popular in the Community