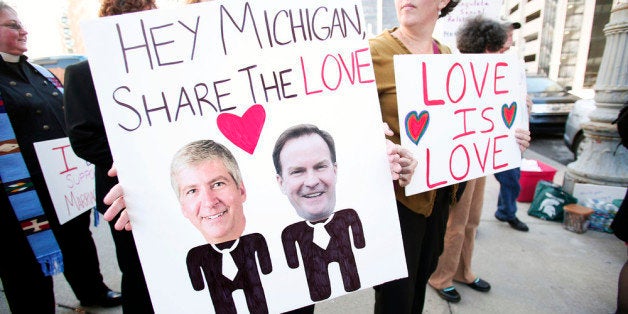 An expert witness in the federal trial on Michigan's gay marriage ban who found that same-sex relationships have a negative effect on children was denounced by his own university.
Sociologist Mark Regnerus was a witness for the state of Michigan, which is being challenged on its gay marriage ban. The author of a controversial 2012 study, Regnerus found that children who grew up in a house where a parent eventually had a same-sex relationship had more difficulties and said that the lack of evidence on the effects of same-sex relationships is a reason for the state to proceed with caution when it comes to legalizing gay marriage.
"Until we get more evidence, we should be skeptical. ... It's prudent for the state to retain its definition of marriage to one man, one woman," Regnerus said during his testimony in the case Monday, according to the Associated Press.
Like all faculty, Dr. Regnerus has the right to pursue his areas of research and express his point of view. However, Dr. Regnerus' opinions are his own. They do not reflect the views of the Sociology Department of The University of Texas at Austin. Nor do they reflect the views of the American Sociological Association, which takes the position that the conclusions he draws from his study of gay parenting are fundamentally flawed on conceptual and methodological grounds and that findings from Dr. Regnerus' work have been cited inappropriately in efforts to diminish the civil rights and legitimacy of LBGTQ partners and their families. We encourage society as a whole to evaluate his claims.
Regnerus was the leader of a study that screened thousands of people, ages 18 to 39, and found roughly 250 who said they grew up in a house where a mom or dad eventually had a same-sex relationship.

He found they were more likely to have problems — welfare dependence, less education, marijuana use — than young adults from stable families led by heterosexuals. But he later acknowledged that his study didn't include children raised by same-sex couples in a stable relationship...

The study was financed by the New Jersey-based Witherspoon Institute, which says its mission is to help the public understand the "moral foundations" of democratic societies.

Regnerus has been widely criticized, both for his study and other remarks. While speaking at the Catholic Franciscan University in Steubenville, Ohio last year, he claimed that if gay marriage becomes common, it will lead to more men in heterosexual relationships demanding open relationships as well as anal sex from their partners.
The blow to Regnerus' research was not the only stumbling block for Michigan's defense of its gay marriage ban. On Monday, the state's first witness, philosophy doctoral student Sherif Girgis, was deemed unqualified to testify as an expert by U.S. District Judge Bernard Friedman.
Regnerus' testimony came in the second week of the hearing in U.S. District Court in Detroit. It is scheduled to end Friday, though Friedman may take more time before making a ruling.
Couple Jayne Rowse and April DeBoer, both nurses from Hazel Park, Mich., are challenging the constitutionality of the ban. Their lawsuit began as a challenge to the state's adoption laws, but at the invitation of Friedman, they expanded their suit to challenge the gay marriage ban.
"We just want our children to have the same protections all other children have, so that our kids know they can never be taken from either of us," Rowse said when they filed their initial lawsuit more than two years ago.
Michigan voters approved the gay marriage ban in 2004 with 54 percent approval, though surveys in the last couple years suggest that public opinion may have shifted. Michigan State University's State of the State survey, completed last month, found 54 percent of residents support gay marriage while 36 percent oppose it. Conducted by phone, the survey of 1,008 adults had a margin of error of about 3.1 percent. In a March 5, 2013 photo, April DeBoer, second from left, sits with her adopted daughter Ryanne, 3, left, and Jayne Rowse, fourth from left, and her adopted sons Jacob, 3, middle, and Nolan, 4, right, at their home in Hazel Park, Mich. (AP Photo/Paul Sancya)
Calling all HuffPost superfans!
Sign up for membership to become a founding member and help shape HuffPost's next chapter
BEFORE YOU GO
PHOTO GALLERY
SCOTUS Decisions On Prop 8, Defense Of Marriage Act