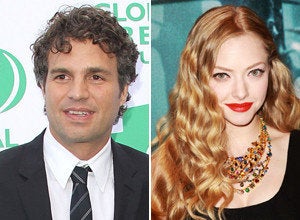 Mark Ruffalo's retirement rolls on.
Following his quitting the film business in 2009, Ruffalo's career has been hotter than ever: he was nominated for an Oscar last year for "The Kids Are All Right," Ruffalo directed his first feature film this year in "Sympathy for Delicious," and is currently filming the Marvel ultimate teamup flick, "The Avengers," in which he plays The Incredible Hulk. After that, he'll shoot sex addict movie, "Thank You For Sharing" with Tim Robbins, and then, according to Variety, he'll go FBI agent in "Now You See Me."
The daily trade paper reports that Ruffalo has signed on to the Jesse Eisenberg-starring thriller about a team of illusionists who pull off enormous bank heists. Ruffalo will lead an FBI team that works to take them down, meaning he'll be playing a different kind of good guy to the one he will portray in "The Avengers" (this one will be less massive and green, presumably).
All this for a man who told Details Magazine that in 2009, he, "had it with L.A., and I'd really had it with the business side of acting, the machinery of it all. You're an artist, but then all of a sudden you're a product at the same time, and there's this company that's sprung up around you. I got depressed. I was losing my love for it. So I said, 'I'm done.' I fired everybody and moved my family out here. I had to make a radical move."
Also joining the pic is Amanda Seyfried, who is making a habit out of thriller films; she'll also co-star with Justin Timberlake in "In Time."
Popular in the Community