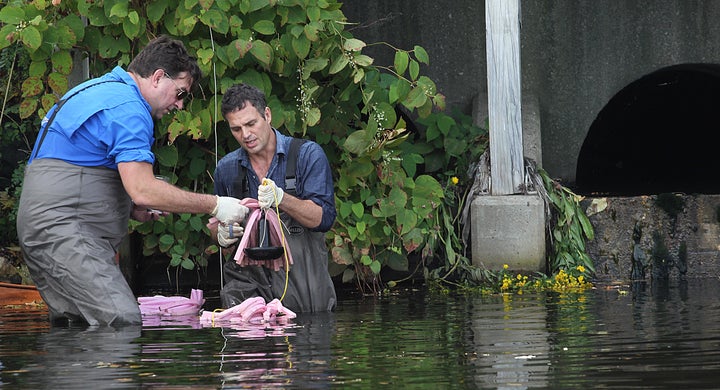 Ever since oil giant BP used his product as part of the cleanup after the Deepwater Horizon oil spill in 2010, Scott Smith has traveled the world pitching his special sponge technology.
He brought it to disasters in China, Arkansas, Virginia, Canada and even Italy, where in 2012 he tried to convince Italian officials to use his plastic foam for mopping up any olive oil that might leak from the wrecked Costa Concordia cruise ship.
Now Smith has brought his absorbent foam stylings to Flint, Michigan, where a negligent government let residents drink lead-tainted water for more than a year. He's there not as a businessman but as the chief technology officer for Water Defense, an environmental nonprofit actor Mark Ruffalo founded in 2010. Smith says his "WaterBug" technology can detect contaminants better than the government can.
And Water Defense says their analysis shows Flint's water is not only unsafe for drinking, but it might be unsafe for bathing ― contrary to a heap of assurances from state and federal government officials.
"This material, it attracts the contaminants and the metals like a magnet and it repels clear water," Smith explained in a February video of himself using a WaterBug to take samples from a Flint bathtub. The device looks like a green pom-pom with foam tentacles.
Water Defense is a nonprofit, but Smith is not completely disconnected from the business world. Opflex Environmental Technologies, his former company, manufactures the materials used for the WaterBug and Smith gets royalties on sales of those materials, according to a company spokesman. The spokesman confirmed Water Defense purchased Opflex materials to create the WaterBug.
"[Smith] gets a royalty payment, so it's in his and our interest if he can find end uses and promote the product," said the spokesman. "We'd make more and sell more, then his royalty payments go up."
Marc Edwards, a Virginia Tech civil engineering professor who helped expose dangerous levels of lead in Flint's water last year, has harshly criticized Water Defense's work, saying their shower warnings are contrary to all available research, including their own.
"The introduction of the WaterBug proprietary technology into the Flint disaster now appears to be nothing more than an opportunistic attempt to jump start a business under the disguise of a humanitarian non-profit mission," Edwards said in an email.
Smith, Ruffalo and other Water Defense officials declined requests for interviews. Jessica Kolstad, Ruffalo's publicist in Beverly Hills, California, acknowledged that Smith has a licensing agreement with Opflex but said WaterBugs are made from materials not covered under the agreement.
"The foam used in WaterBugs is a different formula," Kolstad wrote. "The foam has a separate cell structure and additive package. [Smith] has never and will never receive any money from sales of WaterBugs."
The Opflex spokesman didn't respond to requests for comment on Kolstad's claim that WaterBugs are made from a version of Opflex that doesn't bring royalties to Smith.
Kolstad said Water Defense hadn't sold WaterBugs to anyone in Flint, though the group clearly sees a future for the product.
"We'd make more and sell more, then his royalty payments go up."
In a statement on the nonprofit's website recapping its work in 2015, Ruffalo said Water Defense would "release a new product" that would empower ordinary citizens to take water quality testing into their own hands.
"As water contamination becomes an increasingly problematic issue, the Waterbug [sic] will empower individuals and groups to address their own local water concerns," Ruffalo wrote, adding that the group would create a new website that could serve as a clearinghouse for water quality information.
"By publishing all of the data we have collected to date, as well as soliciting the participation of our partners and users of the Waterbug, we will create the most comprehensive independent source of water quality data available to the public," Ruffalo wrote.
Though Ruffalo tapped Smith as Water Defense's "chief scientist" in 2013, it's unclear what scientific credentials Smith holds. At some point his official title changed to "chief technology officer." He has been frequently described as a scientist in news stories this year.
Smith does have an MBA from Harvard. He's said he got the idea for a special absorbent material after observing the cleanup when a flood devastated his New York plastic foam factory in 2006. (The Small Business Administration gave Smith an award in 2008 for subsequently righting the business and taking good care of his employees by helping them get unemployment insurance, among other things.)
He eventually developed a product called Opflex, and soon found a huge opportunity for promotion when the oil giant BP asked the public for ideas on how to clean up its mess following the 2010 spill in the Gulf of Mexico. Oil-blocking booms made from Oplex were one of 45 alternative cleanup methods the company used, according to a report by BP. That year, the Environmental Protection Agency also listed Opflex as a useful product for absorbing oil from water as part of an emergency response.
USA Today prominently featured Smith in a story about the alternative cleanup methods, and Smith told Plastics News in 2011 that demand for Opflex could grow into a $50 million market. Somehow, it didn't work out -- Smith filed for personal bankruptcy protection at the end of 2012. The firm is now owned by NWS Holdings, whose spokesman said Smith currently has no role in the company.
In Flint, Smith touts the WaterBug as an alternative to the traditional method of collecting a water sample by filling up a liter bottle. He argues that letting the foam soak in water for a longer period of time is better because it's more similar to how people are exposed to water -- especially in a bathtub or shower.
Dangerous levels of lead have poisoned Flint's water since April 2014, when the city switched its source to the Flint River and failed to control the corrosiveness of the water. Lead from the city's aging pipes wound up leaching into the water, and ultimately into the blood of Flint kids.
Edwards, along with a team of Flint volunteers and Virginia Tech grad students, conducted his own independent sampling of Flint's water last summer. The results prompted Edwards to warn residents not to drink the water weeks before the government admitted its horrible error. His record requests helped expose the state and federal governments' failures to heed numerous red flags.
Lead is a deadly neurotoxin that can permanently damage the developing brains of young children. Dissolved in water, it has no taste or smell.
Even after switching back to its prior water source in October, Flint's water still has dangerous lead levels -- though federal and state officials have insisted it's safe for bathing, since skin isn't much of a risk for exposure. Flint residents have complained, however, that the water has other problems that are causing rashes and hair loss. Some even brought clumps of hair to a congressional hearing in February.
"[Smith] has never and will never receive any money from sales of WaterBugs."
Water Defense has been less focused on lead than on other contaminants in Flint's water, particularly byproducts of disinfectants such as trihalomethanes. Federal standards do require water systems to test for a range of potential contaminants, though hundreds of others go unmonitored.
Water Defense says it does a better job of testing because it looks for a wider range of chemicals and at more sources inside a home, especially bathtubs and showers. In February, the group reported it had found dangerous levels of contaminants in four Flint homes it had sampled with both the WaterBug and the traditional method. The sponge was better at catching some contaminants than a bottle was, finding 78 parts per billion of chloroform in one Flint bathtub, for instance, compared with 13 parts via the bottle. The EPA's "maximum contaminant level" for trihalomethanes like chloroform is 80 parts per billion.
Ruffalo said on CNN that Water Defense's research showed nobody -- not the government, nor an outside expert like Edwards, whom he specifically named -- "can tell the people of Flint it's safe to bathe in that water."
Edwards called Water Defense's claim it had found "dangerous levels" of contaminants false, and challenged the group to demonstrate Flint's water had more contaminants than the water in other cities.
David Reckhow, a water contamination expert at the University of Massachusetts Amherst, agreed with Edwards' assessment of Flint's contaminant levels.
"They're not out of the ordinary at all," Reckhow told HuffPost, referring to the chemical levels Water Defense reported. "In fact, in many respects they're not finding as much as I see in the water in my own home."
Through Ruffalo's publicist, Water Defense denied it said Flint's water had more disinfectant byproducts, or DBPs, than water in other cities.
"Water Defense has never claimed that Flint water has worse DBP levels than other cities," the publicist said. "Water Defense has not tested other cities for DBP."
In a March event in Flint, Smith said the city had the worst water he'd seen. It's on YouTube.
"I have been to 62 contamination disasters," Smith said then. "I have never seen the levels of contamination or chloroform in water like it is here."
The EPA, for its part, has undertaken a study of water samples at 95 homes where residents complained of skin problems. The agency said it would unveil its findings in late April or early May, but it hasn't yet. Nevertheless, the agency has said that "current analysis of the water in Flint does not indicate health concerns for bathing or showering." An EPA spokeswoman didn't respond to a request for information about the study.
For some Flint residents, words of reassurance from officialdom are hard to believe -- after all, the state and federal government let them drink lead-tainted water.
"Experts also told us [the water] was safe to drink for 18 months with lead in it," Flint resident Melissa Mays said in an interview. Mays, 37, is an activist who helped publicize the city's water woes. She said she and her three sons have had skin and even breathing problems because of the water. She deeply appreciates what Ruffalo and his group are doing.
Mays said she no longer trusts Edwards, since the EPA gave him a grant to carry out water lead sampling in Flint this year -- even though Edwards has been one of the harshest critics of the agency.
"We have to rely on outside experts," Mays said.
Popular in the Community