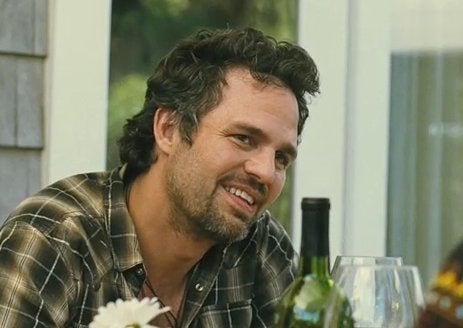 Mark Ruffalo plays a sperm donor for a lesbian couple (Julianne Moore and Annette Bening) in 'The Kids are All Right.' He gets drawn into their family after the teenage kids search for their biological dad, and in the process he and Moore have a sexual encounter, which he described to UInterview.com.
The movie premiered at Sundance and comes out in limited release Friday. Here are some excerpts from the interview, read the whole thing here.
On going naked with Julianne Moore:
"Those scenes are never as fun as they look. That's a real acting part of it. You also never get to really check the girl out either because she's so close to you you never get a good look at her. I can put anyone in this situation. Think of yourself walking into a room naked with a sock on your cork with a room full of people that you don't really know and then having to simulate sex with the director telling you how to do it. A guy doesn't want to get direction in any regard and all of a sudden you're doing it in front of 15 people. At best it's like being on that nude beach that you don't want to be on. You succumb to your fate."
On his wife's reaction to the sex scenes:
"It's very costly for me to do these movies. It's an expensive trip to the jewelry store."
On his wife's friendship with Julianne Moore:
"Oddly enough that makes it easier because she trusts Julianne. She doesn't always trust the girls I'm working with. She's like, 'I trust you- it's them.' But she loves Julianne and she trusts her and we're friends so it's a little bit better than a total stranger."
Calling all HuffPost superfans!
Sign up for membership to become a founding member and help shape HuffPost's next chapter