WASHINGTON –- Americans, journalist David Halberstam once wrote, are "remarkably tolerant of error, particularly if it is self-confessed."
Mark Sanford is thanking his lucky stars that's the case. The former South Carolina governor won his old seat in Congress back on Tuesday, after voters in the state's coastal 1st Congressional District decided to overlook his many misadventures since he first admitted an extramarital affair in 2009.
Sanford, 52, a Republican, defeated Democrat Elizabeth Colbert Busch, a 58-year-old businesswoman best known nationally as comedian Stephen Colbert's older sister, in a special election to fill a seat vacated by former Rep. Tim Scott (R-S.C.). Scott was appointed by the state's Republican governor to the U.S. Senate after Jim DeMint left his seat early to lead The Heritage Foundation, a D.C. think tank.
"It would be the most obvious of obviouses to say that I thought politics was forever over for me," Sanford told The Huffington Post in an interview last week. "But something happened that never happened in our state, which is, you know, a United States senator retired early. I mean that just doesn't happen in South Carolina."
Two weeks ago, Sanford was in "free fall," as he described it. His past indiscretions -– which played out in front of a national audience four years ago -– were dredged back up by news of trespassing complaints that had been lodged against him by his ex-wife, Jenny Sanford, for showing up at her home uninvited.
"I said to my guys at the time, 'Look, this thing's over with if people think that I'm the kind of guy that would go, you know, creeping through the hedge of my ex's house,'" Sanford said.
Sanford told the public that he was at the house to watch the Super Bowl with his youngest son, who is 14. But the national Republican Party quickly announced it would not spend money on Sanford's behalf, and a poll at the time showed Colbert Busch jumping out to a nine-point lead.
A national Democratic official in Washington on Tuesday said that the Public Policy Polling survey showing Colbert Busch up by such a large margin was "aberrant," and that the party's internal polls had always shown the race to be neck and neck.
After polls closed at 7 p.m., returns showed a close race for the first hour, but then Sanford began to pull away when numbers came in from Beaufort County, where there are large numbers of military families that live near a Marine air base and the Marines' Parris Island training depot. The Associated Press called the race for Sanford around 8:30 p.m., and with 100 percent of the vote in, he had won by nine percentage points, 77,251 votes to 64,413.
Democrats were eager to steal a congressional seat from Republicans in a deep-red state. This was a congressional district that voted for Republican presidential candidate Mitt Romney by an 18-point margin over President Barack Obama.
And even as the National Republican Congressional Committee sat on its hands, the Democratic Congressional Campaign Committee poured money and manpower into the Palmetto State. Sanford was outspent by an estimated four to one on the airwaves, and the DCCC had around 100 field staff or canvassers on the ground in the days before voters went to the polls.
The conventional wisdom until about a week ago was that Sanford was actually going to find a way to give the Democrats a congressional seat that was thought to be unloseable. Many thought that Colbert Busch would have a hard time holding on to the seat during the 2014 midterm elections, but Republicans who spoke with HuffPost in South Carolina were nonetheless nervous about losing it.
Yet over the past several days, a few things happened.
Colbert Busch became a focal point in the race in a way she had not been before. She had run a campaign that intentionally kept her public appearances to a minimum, hoping to keep the spotlight on Sanford and his ongoing gaffes as long as possible. This frustrated Sanford, and his campaign pushed hard on the notion that his opponent was hiding from the press and from tough questions.
Colbert Busch decided to go on a four-day bus tour over the last few days of the campaign, and as she did so, her positions on issues came under scrutiny. She had trouble answering questions about whether she supports President Barack Obama's health care law. Campaign contributions to her campaign from labor unions also became an issue, particularly since South Carolina is a right to work state and organized labor has tried to force Boeing to move a massive airplane factory that provided thousands of jobs out of the state.
Finally, in the campaign's last days, the focus was not entirely on Sanford.
"As this last week or so has gone by, finally there's begun to be a little bit of conversation about, 'Wait a minute, where is she on some of these issues?'" Sanford told HuffPost.
And as Sanford campaigned hard over the last week, national reporters who descended on the state saw repeatedly that while some voters viewed him unfavorably because of his past behavior, many were willing to overlook his missteps, especially if they shared his political views. And the increasing focus on Colbert Busch in the closing days only enhanced this dynamic, as Republicans were reminded of the political stakes.
Additionally, Sanford drew generally positive press attention for his unorthodox but genial embrace of conversation with any and all voters and his eagerness to take as many questions as possible from any reporter who wanted to talk.
During a 45-minute interview with HuffPost, he paused at the 35 minute-mark, when this reporter was getting ready to get up and end the conversation. Sanford didn't want to stop. "Any other questions for me?" he asked, expectantly.
The question now is whether Sanford's baggage will be a problem for his party nationally. Democrats certainly intend to try to make it one.
"The House Republican caucus has added yet another ethically challenged embarrassment who will be an albatross around the neck of every Republican forced to answer for Mark Sanford's embarrassing and reckless behavior," said Alixandria Lapp, whose super PAC House Majority PAC supports Democrats and ran TV ads against Sanford.
Republican National Committee Chairman Reince Priebus called Sanford's victory "a clear win for the principles of limited government and freedom and a rejection of the Obama-Pelosi agenda of intrusive top-down government."
Sanford himself has said he is stronger for having lost his political career, only to see it reborn.
"I'm going to have scar tissue til the day I die that's affiliated with events of one chapter of my life," Sanford told HuffPost a few days ago. "And I'll go back to what a minister said in our church a couple of weeks ago which was, 'Do the events of your life refine or define your life?'
"And his point was, what the events of life ought to do is refine, that if you don't watch out, you can let an event define your life, and some people check out with alcohol or drugs or a gun, or whatever else and just say, 'I'm out of here,' or they give up on life or they give up on the dreams of life," he said.

Before You Go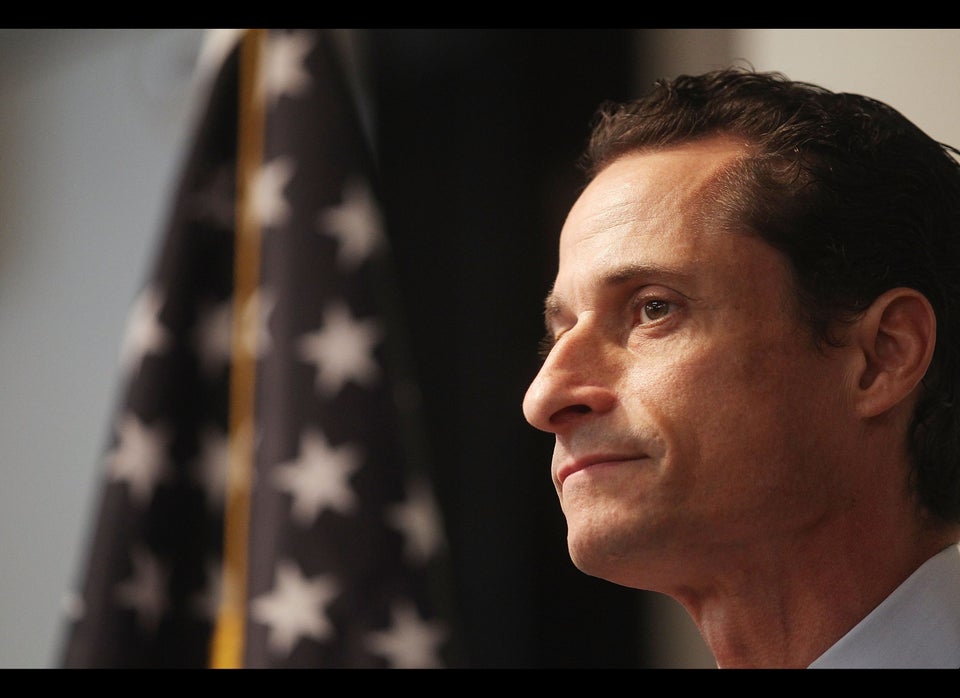 Political Sex Scandals
Popular in the Community