Former South Carolina Gov. Mark Sanford (R) was endorsed by the Tea Party Express in the special election for South Carolina's 1st Congressional District.
The endorsement came Saturday, three days before voting in the special election.
"While Elizabeth Colbert Busch attempts to portray herself as a moderate who wants to rein in spending and give lip-service to attacking Obamacare, we know this is not the case," Tea Party Express Chairman Amy Kremer said in a statement. "As the old saying goes 'you are who you surround yourself with.' In the case of Colbert Busch, that is Nancy Pelosi, Big Labor, and progressive Super PACs.
"We need leaders like Governor Mark Sanford in office if we are ever going to grow our economy and end the reckless spending and debt that plagues Washington," Kremer continued.
The special election is turning into an unusual match-up, the AP reports.
One congressional candidate is a former Republican governor seeking redemption after his career imploded in a public saga involving lies, the Appalachian Trail and an Argentine mistress. His Democratic opponent is a famous comedian's sister who's trying to benefit from her rival's damaged reputation.
In a bizarre campaign that has roiled South Carolina, Sanford and Elizabeth Colbert Busch are in a surprisingly contentious contest for a U.S. House seat in a solidly Republican district that GOP presidential nominee Mitt Romney carried by 18 percentage points last year.
Tuesday's special election is for the seat that Republican Tim Scott held until he was appointed to the Senate. The race has been jumbled by expected low turnout, Sanford's past and an aggressive late-in-the-game Democratic ad campaign to exploit it.
If Colbert Busch wins, she instantly will become one of the most endangered Democrats in the 2014 elections. If Sanford wins, it could mark a career turnaround.
Early on, Sanford, a third-term congressman before he was governor, appeared to have a significant edge in the district along the Atlantic coast. He beat back primary challengers with an apology-focused campaign and a plea that voters give him a second chance. But all that changed a few weeks ago with the revelations that his ex-wife had accused him in court documents of trespassing at her home on Super Bowl Sunday.
Sanford disputes that, but has struggled to explain the alleged episode that reminded voters of the 2009 scandal in which he used a story about hiking on the Appalachian Trail to cover up a visit to his then-mistress in Argentina. Sanford avoided impeachment but was censured by the Legislature over state travel expenses he used as part of the affair, and he paid a record ethics fine.
Sanford's campaign has slid since the trespassing allegations surfaced.
National Republicans, already struggling with a poor showing among women voters in last year's presidential election, quickly pulled advertising dollars. In doing that, they abandoned the race and made clear that they didn't think the Republican could recover.
Democrats have tried to take advantage of the moment, sensing an opportunity to gain a seat on GOP turf.
The fundraising arm of House Democrats and Democratic-leaning outside groups aired TV ads assailing Sanford for betraying their trust. After initially declining to make Sanford's dalliance an issue, Colbert Busch changed course last week, telling voters during a televised debate that Sanford used taxpayer money to "leave the country for personal purpose."
Sanford's past has generated more than your run-of-the-mill political interest.
A website that promotes adulterous affairs slapped Sanford's image on a highway billboard outside the district, urging people to seek their own "running mate." Hustler magazine publisher Larry Flynt endorsed Sanford, calling him "America's great sex pioneer." Flynt later complained when the ex-governor refused to accept the endorsement or a $2,600 donation.
South Carolina Republicans are worried.
"The thing that concerns me the most is the outside money that's coming in," said Katon Dawson, a former state Republican chairman. "He doesn't have the heavyweights he's used to having backing him up in the campaign and she does. He's never been in that position before."
Sanford, once considered a potential presidential candidate, twice won the state by leveraging both strategic help from his now ex-wife, Jenny, and a huge bank account that swamped opponents on TV.
Now, he's accusing Democrats of trying to buy the district and complaining about "a million dollars' worth of spending dumped on my head." He's also trying to tie his opponent to U.S. House Democratic leader Nancy Pelosi of California, appearing at events with a cardboard cutout of the former speaker.
"I think Mark's goal was to nationalize the race," said the state's senior senator, Republican Lindsey Graham. "If it's a personality contest, then we could be in trouble. If it's about the direction of the country, who controls the House, I think we'll win."
Despite the spending and his past, Sanford still could win.
He is well-known in the Charleston-area district, having represented most of it for three terms in Congress during the 1990s. In his two races for governor, he won the region by a wide margin and has never lost a political race. A tea party favorite, Kentucky Sen. Rand Paul, endorsed him last week.
On his final sprint, Sanford is pressing a conservative message.
In Beaufort, where he attended high school, Sanford pledged last week to pare spending. He also projected a command of local issues during a visit to the Chamber of Commerce. He went out of his way to praise hometown hero Candice Glover, a St. Helena Island native who is a contestant on "American Idol."
Sanford made no direct mention of the scandal, and none of his potential constituents asked him about it during a question-and-answer session. He did respond to a question asking him to compare the "Greatest Generation" of World War II with younger Americans today: "I think we can always learn from life – period. Life is a great teacher – the ups and the downs of life."
But he directly addressed the scandal only when reporters asked about it.
"Do I have blemishes? Yes. Do we all have blemishes? Yes," he told reporters. "It goes back to what our minister said ... `Do the events of your life refine or define your life?'"
Colbert (KOHL'-buhrt) Busch is the sister of comedian Stephen Colbert (kohl-BEHR'), the star of Comedy Central's "The Colbert Report." She took a leave of absence from her position as the director of business development for Clemson University's Wind Turbine Drive Testing Facility to run for Congress.
She largely has stuck to issues such as job creation and debt reduction while ads from outside groups pound the former governor.
"We're staying focused on what the district wants," she told reporters after knocking on doors Thursday in a Charleston neighborhood.
Colbert Busch rejected the notion that Pelosi would play a factor in how she would represent the district and said she would be solely focused on the economic needs of the region.
"No one tells me what to do except the people of the 1st Congressional District. That's it," she said.
The race probably will be decided by which side can get more of their core supporters to the polls, which is a difficult feat in a special election.
Republicans note that in a 16-way race in the March 19 GOP primary, Sanford received about 20,000 votes and then picked up about 26,000 votes in a runoff against Curtis Bostic two weeks later. Colbert Busch collected about 16,000 votes in the primary to secure the nomination.
"She's just got a huge challenge," said Andy Brack, a onetime aide to former U.S. Sen. Ernest "Fritz" Hollings, D-S.C., and an unsuccessful candidate himself for the 1st District seat as a Democrat in 2000.
To win, Brack estimated that Colbert Busch would need to get most of the non-Sanford Republican primary vote – "a Herculean task. But there are some people who are going to vote against Sanford – and they're just going to come out of the woodwork because of his past troubles."
Dawson said the tough ads could suppress turnout among Republicans disenchanted with Sanford's past.
"Voter turnout is going to be everything," he said.
Associated Press writer Bruce Smith in Charleston, S.C., contributed to this report.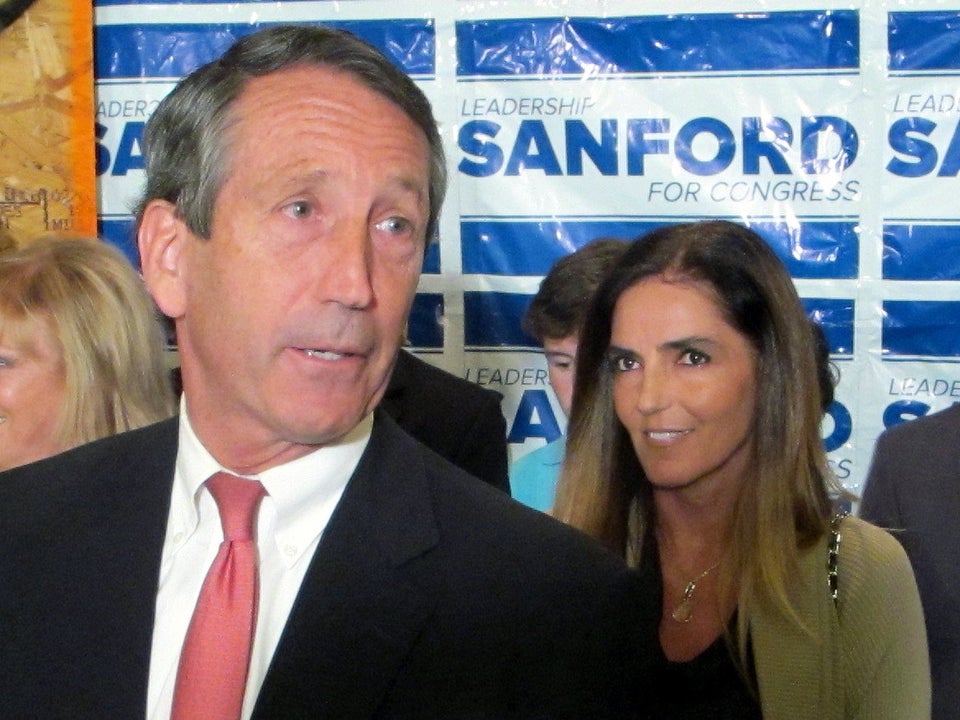 Politicians Who Wanted A Second Chance