DETROIT -- A videographer who reportedly had once worked on a campaign video for Michigan Gov. Rick Snyder (R) posed as a CNN staffer to record footage of Snyder challenger Mark Schauer, the Democratic candidate's campaign alleges.
Schauer, a former U.S. House member who is running against Snyder in this year's gubernatorial election, held a meet-and-greet event Saturday in Coldwater, Mich. The campaign's volunteer coordinator, Jack Petroskey, told The Huffington Post that when they arrived at the coffee shop, a man with professional video equipment was already there. Petroskey asked him what outlet he was representing, and the man allegedly pointed to his orange hat, which read "CNN."
Petroskey said he responded, "You're with CNN?" The man allegedly said yes and identified himself as Jeff Steinborn. According to Petroskey, Steinborn said, "We're just trying to keep an eye on the race."
Petroskey then spoke to fellow staffer Eli Isaguirre, who approached Steinborn to request identification. The videographer said he didn't have a business card and instead supplied a generic media badge.
Steinborn later told MIRS, the subscription-based Michigan news service that first reported on the incident, that he travels around and takes video so "it's available for whoever needs it." His website indicates that he has a long resume of music videos, TV commercials and longer projects.
CNN Political Editor Paul Steinhauser told MIRS that the network had no one assigned to cover Schauer's event. Edie Emery, senior director for public relations at Turner Broadcasting, confirmed that to HuffPost and added, "We've never heard of this person."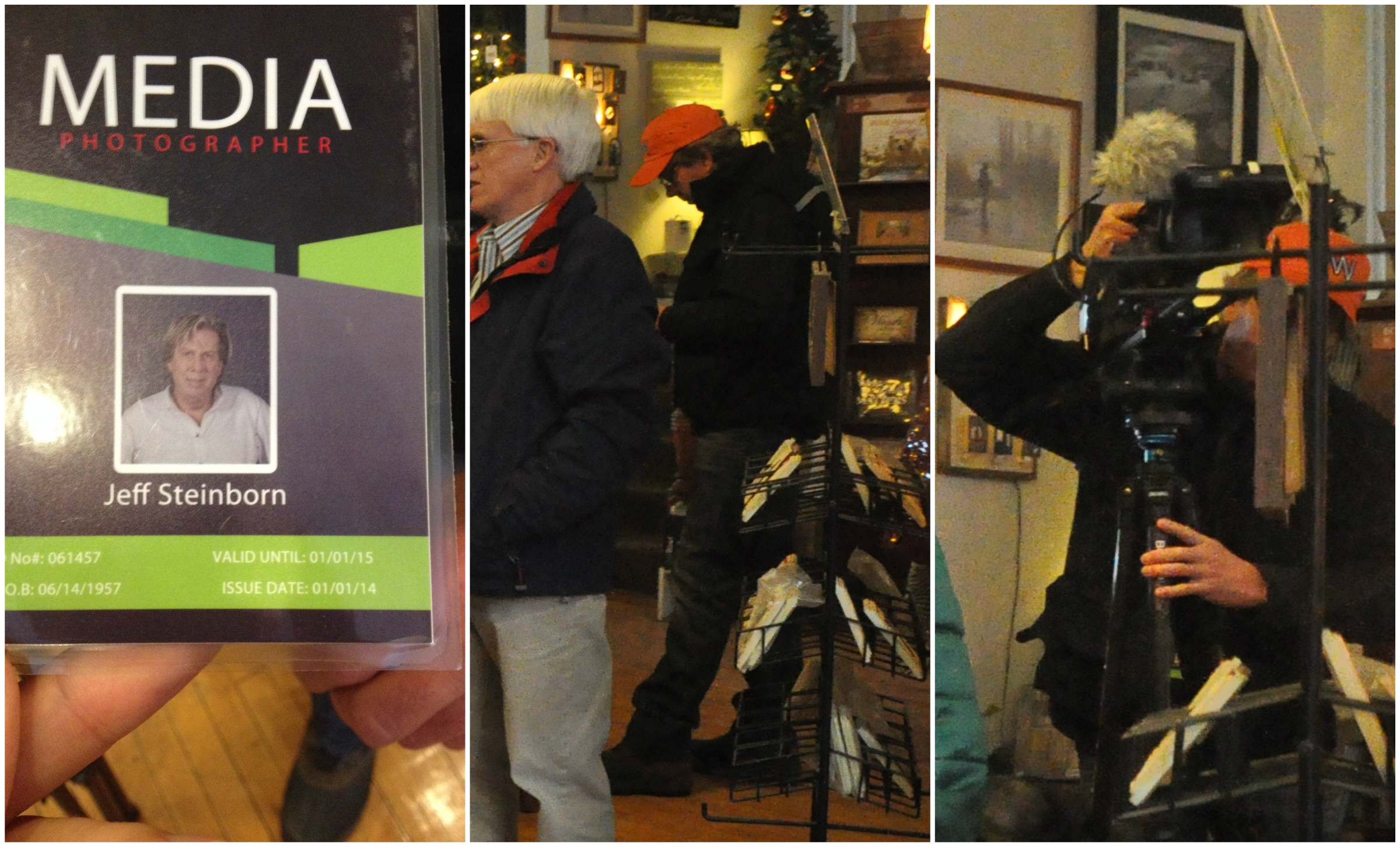 Photos of Steinborn's badge and Steinborn filming, provided by Mark Schauer's campaign.
Steinborn filmed Schauer speaking and having one-on-one conversations with voters, but did not ask for an interview. Zack Pohl, Schauer's communications director, said Isaguirre texted him about the encounter because they were not expecting CNN coverage and the media badge appeared "somewhat phony-looking." Pohl then found that Steinborn was listed as director of photography for a 2013 Snyder campaign film hosted on Vimeo.
Steinborn told MIRS that he didn't work on the Snyder video.
But another freelancer who works in film, Daniel Russel, told HuffPost that they had worked together on the Snyder film. Russel posted the video to his professional Vimeo account and lists it, and Steinborn's role, on his website.
Pohl said the Schauer campaign's policy is to let anyone film at a public event, including people known to be working for the opposition. He suggested that Snyder's campaign was behind Steinborn's actions and characterized them as a "desperate and Nixonian move from a governor who knows he's in trouble after cutting education and taxing seniors' retirement."
Snyder's campaign manager, Kyle Robertson, denied the accusation.
"Mr. Steinborn was not working for the campaign," Robertson told HuffPost. "This is just an attempt to distract voters from the real issues of Michigan's comeback and the fact that 255,000 private sector jobs have been created since Governor Snyder took office."
Calls to Steinborn and Strategic Perception, the company that produced the 2013 film for Snyder's campaign, were not immediately returned.
REAL LIFE. REAL NEWS. REAL VOICES.
Help us tell more of the stories that matter from voices that too often remain unheard.
BEFORE YOU GO
PHOTO GALLERY
United States Governors