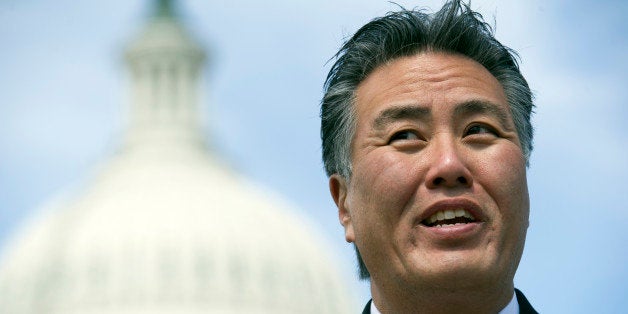 WASHINGTON -- Tuesday was California Democratic Rep. Mark Takano's first time watching oral arguments at the Supreme Court.
Takano also wanted to be there because it's personal for him. He is one of only seven openly LGBT members of Congress.
"In the hands of these nine people is the ability to determine what it is we can and can't do," he said in an interview after the arguments. "It affected me in a very personal way because I'm in this class of people, what we call LGBT Americans."
Takano isn't married or engaged, although he's been on Out.com's list of "100 Most Eligible Bachelors" for the past three years. He joked in an interview Monday that it gets "a little embarrassing" to still be single after being on the list three times. "Maybe they got it wrong and I shouldn't be on that list," he said.
He laughed when asked if he would invite to a wedding the Republican presidential candidates who have been pressed over whether they would attend a same-sex wedding.
"I haven't even thought of who I'd invite to a wedding," he said. "That's a bridge I'll cross when I get to it. If I ever get there. You can come, though."
Takano has seen firsthand how the country's response to gay people has changed. He was outed while running for Congress in 1994, and his opponent distributed pink and purple mailers asking whether Takano would rather be the congressman for San Francisco than Riverside, which he represents. It was a dog whistle that he doesn't blame for his loss -- many Democrats lost that year -- but it wasn't repeated during his next bid for Congress in 2012.
When he won that year, he became the first LGBT person of color to serve in Congress.
"By 2012, America had changed, because people and local and state governments had all sort of wrestled with the questions of freedom and equality for LGBT people," Takano said.
He said he thinks more Republicans are open to same-sex marriage than are willing to say so, but that they feel obligated to stick to the party line. He said some Republicans seem to be "tired of being the uncool kids" by being out of step with what most younger voters support.
But there's still outspoken opposition to same-sex marriage from his Republican colleagues in Congress. Rep. Steve King (R-Iowa), for instance, introduced a bill last week aimed at keeping the courts from overturning bans on same-sex marriage.
Takano said he believes King and other hardline opponents of same-sex marriage will be looked at in a negative light in the future for being on the wrong side of history.
"Depending on what day it is, I may get mad for a moment, but the bottom line is, I've still got to work with people in Congress," Takano said. "Ultimately, at the end of the day I feel a little sad for them. I feel sorry for them."
Calling all HuffPost superfans!
Sign up for membership to become a founding member and help shape HuffPost's next chapter