"You can't throw too much style into a miracle. It costs trouble, and work, and sometimes money; but it pays in the end." So said Hank Morgan in Mark Twain's A Connecticut Yankee in King Arthur's Court.
Museums serve an important role in society by preserving and conveying culture, both past and present. Art and artifacts, exhibits and interpretation, collections and performances, trash and treasure. They preserve and curate our collective stories, reveal juicy details, challenge our beliefs, introduce new perspectives, and prompt thoughtful critique: My four-year old can draw better than that!
Despite their importance, museum visitation is on a decline. Perhaps it's the gas prices. Or the ease and acceptance of the virtual world, where we can wander the halls of the Louvre and use Photoshop to add a mustache to the "Mona Lisa." Yet there is no doubt that housing and preserving treasured cultural artifacts is important to most of us. Just ask anyone who has seen Bill Monroe's mandolin at the Country Music Hall of Fame Museum or Van Gogh's teeny-tiny-larger-than-life The Starry Night at MoMA. Must. Preserve. Culture.
But with attendance dwindling and the economy uncertain, museums -- especially those without a healthy endowment -- are getting creative. And proactive.
Mark Twain Words & Music is a new double-CD that tells Twain's life in spoken word and song. It was created as a benefit for the Mark Twain Boyhood Home & Museum in Hannibal, Missouri, a non-profit foundation that maintains nine historical properties related to Samuel Langhorne Clemens, the boy who lived there from the age of 4 to 17. The home is a stone's throw from Sam's beloved Mississippi River, and despite its inconvenient location 100 miles north of St. Louis, visitors from all 50 states and some 60 countries make their way to this literary mecca each year.
This museum, like many others, suffers from endowment envy. And this CD is an effort to assuage that envy.
Jimmy Buffett voiced Huck Finn for the project. Garrison Keillor narrated. Clint Eastwood stepped in as Mark Twain, and Angela Lovell performed as Susy Clemens. The story is told sequentially -- comet to comet -- in fourteen spoken word segments, which are complemented by thirteen accompanying songs.
Emmylou Harris, Doyle Lawson & Quicksilver, Rhonda Vincent, Bradley Walker, Carl Jackson, The Church Sisters, Sheryl Crow, Brad Paisley, Marty Raybon, Val Storey, Vince Gill, Joe Diffie, and Ricky Skaggs performed the songs, several of which were written especially for the project. The convergence of so much talent on a project honoring America's most beloved author was no accident. In fact, you might just call it a miracle, and here's how it happened.
Miracle One: Grammy award-winning artist/producer Carl Jackson is my friend from childhood. We hadn't communicated in 30+ years, but when I tracked him down and pitched the idea, he said yes, he'd be happy to produce the project. I started writing the narrative and thinking about songs.
Miracle Two: Jimmy Buffett came aboard the raft as Huck Finn. He even put the project on his label, Mailboat Records. (Yes, make that Miracle Three.)
Meanwhile, back in Nashville, Carl was fashioning more miracles. He brought in Emmylou, Brad Paisley, Vince Gill and the others. And Brad brought Clint Eastwood. (Miracle! Miracle! Miracle!)
Garrison Keillor is America's storyteller. He read the script and agreed to narrate. (Somewhere on an NPR tote board someone tallied another miracle.)
Jackson assembled a first-rate group of award-winning musicians and went to work. Planned as a benefit for the museum, the project would have the potential to help a troubled budget in trying times. As a work of art it would inspire, uplift, and even inform. Friends -- darn good friends - stepped up and wrote checks to cover production expenses such as studio time and engineering. Artists donated their time and talent. The project became a labor of love -- heavy on both. And along the way miracle upon miracle piled up to the finished product that is now available to the public.
Early reviews have been positive, sales are steady, and hopes are high. Radio stations from Australia to New Zealand (that's meant to be alphabetical, not geographical) have downloaded the tracks from AirPlay Direct to share with an international audience. A professor in Japan emailed to say he's requiring the CD as a text in his college class on Twain. And two of the new tunes made it to the top of the bluegrass charts ("Run Mississippi" by Rhonda Vincent at #2 and "Comet Ride" by Ricky Skaggs at #7 in the same week) -- and with no marketing to speak of. Remember, the original problem was best stated by Twain: The lack of money is the root of all evil.
An L.A. Times review affirmed our efforts, saying we "showed deep respect and affection for Twain's estimable place in American culture." That was our intent.
The project includes a 40-page booklet of liner notes and photos and includes a shameless shout-out to Stephen Colbert. (Yes, we'd love the bump!)
This little CD weighs a few ounces but carries a world of hope on its musical shoulders. Hope for sales and much-needed cash, and hope that those who hear it will feel compelled to pluck a volume of Twain off the shelf and get reacquainted, maybe even make their way to Hannibal -- and that boyhood home -- where the stories started.
Hank Morgan, the Connecticut Yankee, was right about everything. Carl Jackson and the gang threw plenty of style into this project. It created a little trouble, required a lot of work, and funding was certainly an issue. But, when it pays off, we'll have our miracle.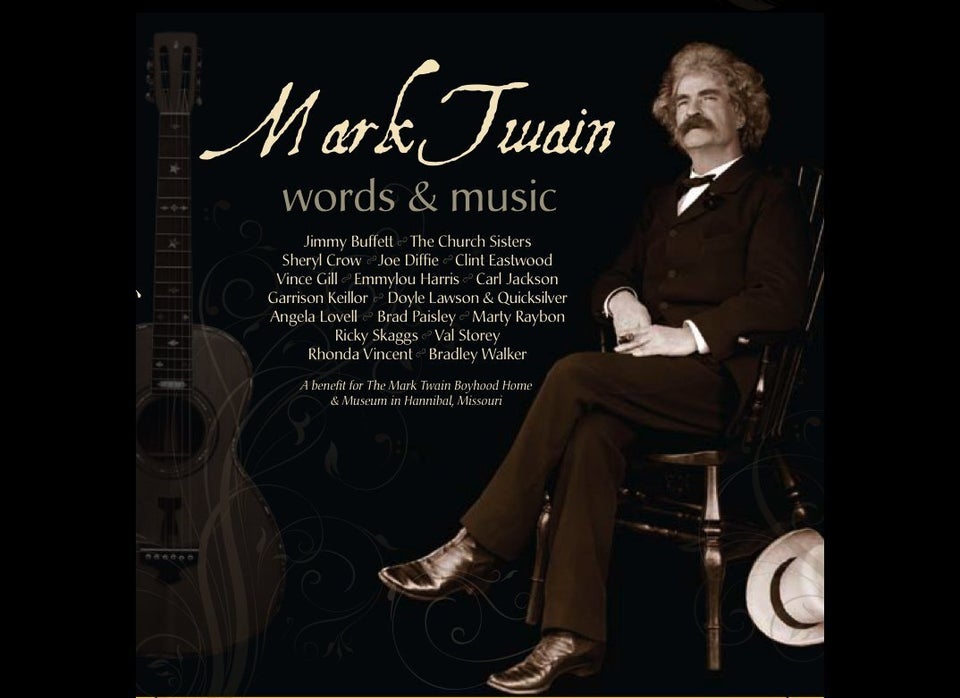 A peek at "Mark Twain: Words & Music"
Related
Popular in the Community