"You have heard the challenge. Take it, or I proclaim you recreant knights and vanquished, every one!" - Mark Twain, A Connecticut Yankee in King Arthur's Court, 1889
Fans of Mark Twain will recognize that scene from Connecticut Yankee and may be glad to know there is a new challenge brewing in Twain-Land, this time between the two homes where he lived longest: the Mark Twain Boyhood Home & Museum in Hannibal, Missouri, and the Mark Twain House & Museum in Hartford, Connecticut.
Samuel Clemens grew up in Hannibal and lived there from the age of 4 to 17 (1839-1853). He lived with his family in a white clapboard affair before being farmed out as a typesetter's apprentice after his father's death. Years later, after adopting the pen name "Mark Twain" and gaining fame as a writer, he and his wife Olivia built the mansion in the Nook Farm area of Hartford. They resided there from 1874 to 1891 and raised their three daughters - Susy, Clara, and Jean. In 1896, Susy died of spinal meningitis in the home while Sam, Livy and Clara were on a round-the-world lecture tour. They found it impossible to return, selling the house in 1903.
Both homes tell important stories about America's most iconic author. The one is where he experienced the adventures he later immortalized in his most famous books, The Adventures of Tom Sawyer and Adventures of Huckleberry Finn; the other is where he remembered his childhood, recounted it for his children, and wrote it down for a global audience.
In pre-Civil War Hannibal, young Sam indulged in shenanigans and hijinks with his boyhood pals. He also witnessed the atrocities of slavery, its inherent evil and the hypocrisy that preserved its existence. In Hartford, during and immediately following Reconstruction, this world traveler's views had broadened significantly as evidenced by his pen - a pen he put to work in the third-floor billiards room that doubled as his office.
Whether drawn to Twain by a certain nostalgia that includes fishing and hooky-playing or because of his fiery social criticism, readers can't seem to put the books down. Tom and Huck remain best-sellers on Amazon, and Twain's works are still translated into dozens of languages. But copyrights have expired, which means neither home-museum derives revenue from the sales of his books unless the transaction occurs in one of their respective gift shops.
What's a Mark Twain museum to do?
Better yet, what would Tom Sawyer do?

How about a friendly competition between the two homes to generate some interest and revenue? And why not throw in a dash of Twain for good measure?
First, a bit of backstory: I served as executive director of the Boyhood Home from October 2008 through February 2013. Now my friend and former director/curator Henry Sweets is back at the helm in Hannibal. In March 2013, I became executive director of the Twain House in Hartford. The two museums are not affiliated in any official way, but since both have the same boss (Sam Clemens), it makes sense to collaborate whenever possible. Last year, for instance, we were successful in overseeing the passage of the Mark Twain Commemorative Coin Act. Go, Team Twain!

Both homes need to establish healthy endowments to ensure the preservation of these important historic properties. The Hannibal site includes nine properties, one of which is the Boyhood Home, a National Historic Landmark. Hartford includes the 15,000-square-foot mansion (also a National Historic Landmark), the Clemenses' carriage house, and a museum center. Both are non-profit entities, so all donations are fully tax-deductible.
While in Hannibal, I launched a "dollar at the door" initiative, similar to the charitable donations we are all asked to make during checkout at our local grocery store. Museum visitors don't pop in daily to buy milk and bread, so it's a program that can continue indefinitely. When visitors purchase tickets, they are asked if they would like to donate a dollar to the endowment fund. Most say yes.
Hartford has raised more than $2,500 since launching the fundraiser in April. Hannibal has raised nearly ten times that since its program began in October 2009. But where's the excitement in donating a dollar? Now we get to the fun part.

During July, the two homes are competing to see who can raise the most for their respective endowments. The rivalry will be fair, taking into account actual numbers of visitors and transactions. And there will be a pay-off besides the money raised.
Most readers know the story of how Tom Sawyer tricked his friends into whitewashing Aunt Polly's fence by turning it into a privilege. ("Does a boy get a chance to whitewash a fence every day?") The fence next to the Hannibal home has long been identified with that literary fence.
There is no such fence story in Hartford, but there were still tales of chores to be done. One famous account is that of the Clemens butler George Griffin's arrival. Griffin, waiter at a local hotel, "came to wash some windows and stayed for a generation," Twain recalled. He was also known to play billiards with Clemens into the wee hours and provide piggy-back rides to the Clemens daughters.

So here's the payoff: If Hannibal wins, I will travel back to Sam's boyhood haunts and whitewash a particular fence. If Hartford wins, Henry Sweets will arrive with a healthy supply of Windex to wash the ground floor windows. (Henry has not agreed to giving piggyback rides should Hannibal lose the wager - just the windows.)
So, if you are considering a visit to either of Twain's homes in July, plan on leaving an extra dollar at the door -- or more -- and then stay tuned to see who gets stuck with the chores. But be mindful: if you're in the vicinity during the pay-off, someone just might place a whitewashing brush -- or a Windex bottle -- in your hand.

The spirit of Tom Sawyer lives on.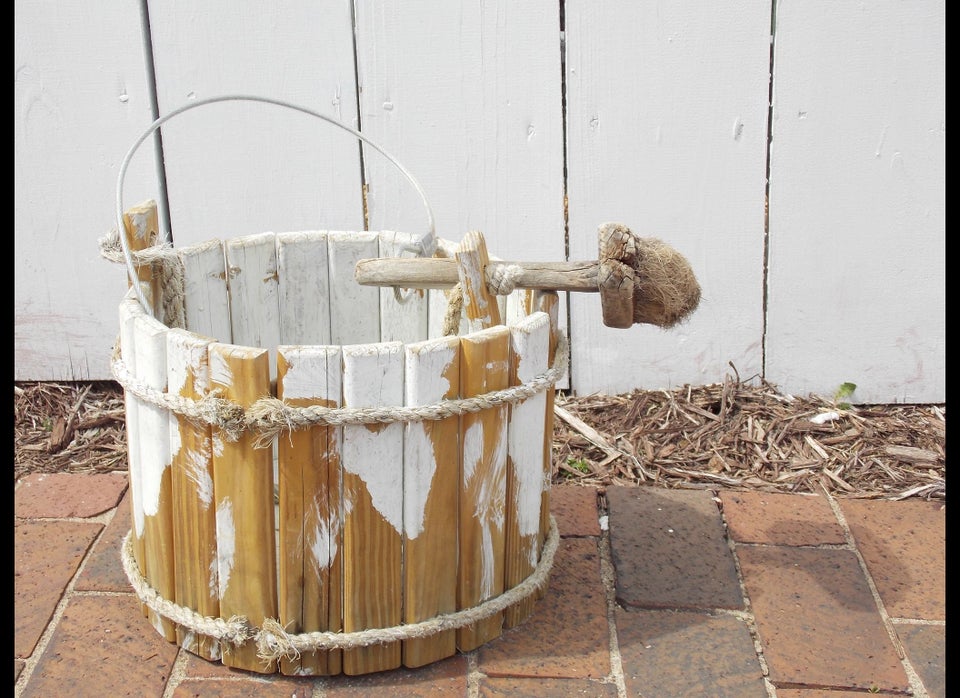 Mark Twains House Challenges Mark Twains House
Related