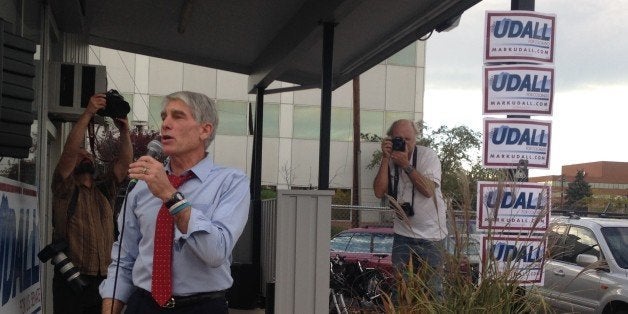 DENVER -- With a major newspaper endorsing his opponent last week and multiple polls showing him trailing less than three weeks before Election Day, Sen. Mark Udall's (D-Colo.) re-election campaign might seem to be flagging. But at a campaign rally and debate Wednesday evening, Udall fired back defiantly against the skeptics.
"We're going to shock a lot of the pundits out there saying, 'Oh, Colorado's going to slip away, it's not really a nice light blue color,'" Udall told the hundred or so supporters who attended his rally. "Can we prove them wrong? Let's prove them wrong!"
In recent days, Udall's race against Republican challenger Rep. Cory Gardner has encountered some difficult obstacles. A series of polls from earlier this month all show Udall behind by anywhere from two to six points. And last week, The Denver Post's editorial board endorsed Gardner, saying that Udall had run an "obnoxious, one-issue campaign" focused on attacking Gardner's views on reproductive rights.
At the rally, Udall pushed back against the paper's argument. "Rallies are important, debates are important, television ads are important ... editorial boards, they're not so important," he said, to cheers from the crowd. "If the Denver Post doesn't think reproductive rights are important, that's their choice, right?"
Udall then mentioned, as candidates tend to do when they lose out on newspaper endorsements, that he won his first bid for the House of Representatives without the paper's backing.
"In 1998 I wasn't endorsed by The Denver Post, and guess what? I won."
At the rally, which took place across the street from the studio where Udall and Gardner later met for their fifth and final debate, Udall staff and volunteers gathered to cheer on the senator, wave signs at passing cars, listen to tunes from a local bluegrass band and munch on burgers from a food truck. The atmosphere was upbeat, despite the night's high stakes.
This reporter was approached and asked to volunteer multiple times, because Udall's campaign is hoping to make up the polling deficit with an unprecedented get-out-the-vote effort. For the first time, this yearevery Colorado voter will receive a mail-in ballot. The Udall campaign hopes this will encourage turnout by Democratic-leaning "drop-off" voters who voted for President Barack Obama but aren't inclined to vote in an off year.
Reproductive rights have played a prominent role in the Colorado Senate race. Udall has hammered Gardner's previous advocacy for personhood amendments, which would grant legal rights to zygotes from the moment of fertilization, as well as his current co-sponsorship of the federal Life At Conception Act, which Gardner says he no longer supports.
In the wake of The Denver Post's critique of Udall's singular focus on reproductive rights, some reporters have speculated that the campaign may transition to talking about other issues.
But the senator didn't hesitate to discuss reproductive health Wednesday night, at one point invoking former Secretary of State Hillary Clinton to make his case.
"Congressman Gardner doesn't want to talk about reproductive rights because he's built his entire career trying to limit those reproductive rights," Udall said. "We're going to talk about that at the debate tonight, by the way, we're going to have an extended conversation about why Congressman Gardner would limit women's reproductive rights. That's the frontier of freedom, as Senator Clinton said just three days ago when she was here with us."
"Nobody, and I mean nobody, oughta have control over those decisions, starting with Congressman Gardner," Udall added.
Recent polls show Udall leading Gardner among women voters by about seven to nine percentage points. But election experts say that to win, he will need to boost that number to a double-digit margin, since Gardner has a bigger lead among men. This explains why a number of high-profile female politicians have either campaigned with Udall or are planning to do so in the coming days, including Clinton, First Lady Michelle Obama and Sens. Elizabeth Warren (D-Mass.), Kirsten Gillibrand (D-N.Y.) and Amy Klobuchar (D-Minn.).
The discussion about reproductive issues continued at the debate that followed the rally Wednesday evening. Udall was helped by the moderators' tough questions to his opponent about whether Gardner's evolved stance on fetal personhood meant that he was "willingly" suspending the facts.
"I do not support the personhood amendment," Gardner said, repeating verbatim the same answer he has given in past interviews. "The bill that you are referring to is simply a statement that I support life."
Udall retorted that the legislation Gardner co-sponsored was "a bill, not a statement."
"If it became law it would ban all abortions and some forms of birth control," Udall said to Gardner. "Coloradans deserve the truth from you."
Later, the moderators turned to Udall and asked him whether abortion, contraception and other reproductive issues should rank as the most important in the election, pointing out that half of all the ads from Udall's campaign and his allies have mentioned those issues. Udall responded by noting that reproductive rights were a key issue in Colorado politics as well as across the nation.
"Personhood is on the ballot for the third time," Udall said, referring to Amendment 67, a measure on Colorado's ballot this cycle that would expand the definition of a person under the state's criminal code to include "unborn human beings." Colorado voters overwhelmingly rejected similar ballot measures in 2008 and 2010.
"The Supreme Court balance is obvious here -- the next senator will vote for one, perhaps two Supreme Court justices," Udall continued.
Chris Harris, communications director for the Udall campaign, told HuffPost at the rally that The Denver Post, in arguing that Gardner would pose no threat to reproductive rights as a senator, had failed to consider the Supreme Court's balance and how that could affect access to abortion.
Asked about recent speculation that the campaign's strategy of elevating reproductive rights issues was proving ineffective, Harris said, with a smile, "It's a free country and people are free to be wrong."
Before You Go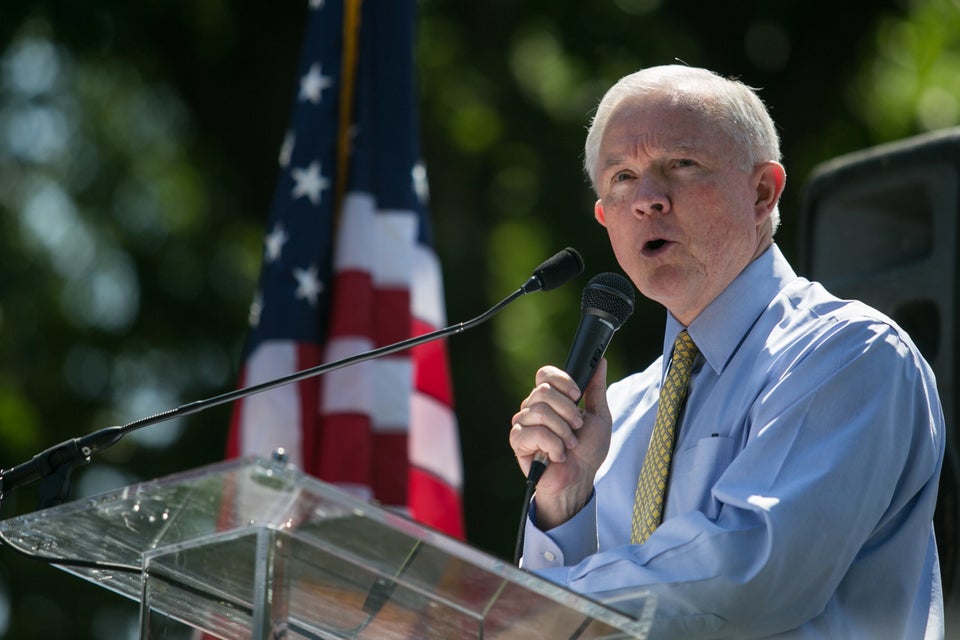 Senate Seats Up For Grabs In 2014
Popular in the Community