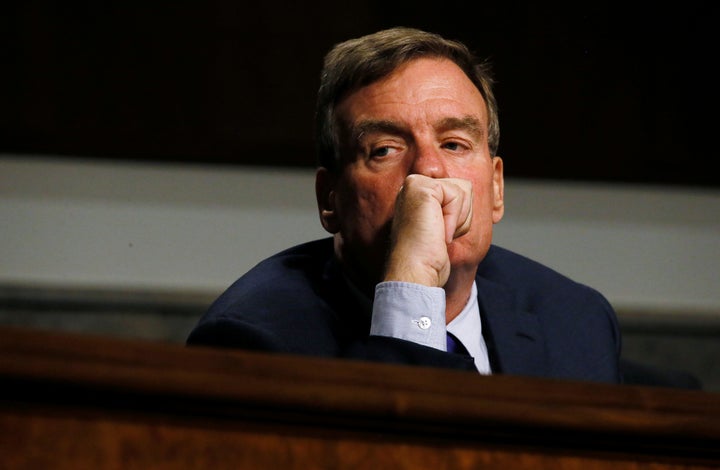 Virginia Sen. Mark Warner (D) reaffirmed Monday that he had changed his mind about a nationwide ban on assault weapons and called for such legislation to be enacted on the anniversary of last year's mass shooting in Las Vegas.
Warner, a Democrat who has long championed himself as a supporter of the Second Amendment, signaled earlier this year that he had reversed course on an assault weapons ban after voting against such a law in 2013. In an op-ed in The Washington Post on Monday, Warner said he had signed on as a sponsor of a new assault weapons ban bill after observing Congress take little action to help combat a spate of mass shootings in America.
"In the years since the Senate last had a meaningful debate about gun-violence legislation, we've seen assault rifles and high-capacity magazines repeatedly used in mass shootings, with ever-higher body counts," he wrote. "Though I remain convinced that strengthening our background-check system is critical, I also believe we must do more to end mass shootings. So today I am signing on as a sponsor of the assault weapons ban."
He continued: "I do this as a gun owner and a proud supporter of the Second Amendment."
His support for the proposal came one year after a gunman opened fire on a music festival in Las Vegas, killing 58 people and injuring 850. The act prompted widespread calls for gun control at the time, but little has been done to address the issue.
Hundreds of survivors from the shooting gathered around the site of the event on Monday to mark the anniversary as officials held a dedication ceremony for a memorial to honor those killed.
Warner opposed the bill's revival at the time, one of 15 Democrats to do so. In his piece in the Post on Monday, the lawmaker said he had "wrestled with that 'no' vote ever since."
"We have cultural divisions that must be bridged, but we should not allow these differences to become excuses for inaction. No American wants criminals, terrorists or dangerously ill teenagers to get their hands on a weapon capable of so much destruction," Warner wrote. "There is room for common ground here, and I believe it is this: Americans of all backgrounds can and should refuse to accept periodic mass shootings as the new normal."
Popular in the Community