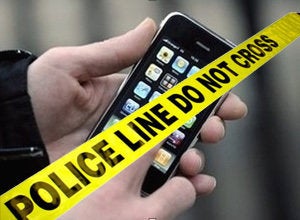 *See update below* Phoenix resident Mark Woodland, 54, was found beaten and stabbed to death in his apartment last week. Police believe he may have been murdered by 19-year-old Tommy Reed, whom Woodland met over a social network.
Detective James R. Holmes from the Phoenix police told the Huffington Post that witnesses initially reported the suspect had made contact with the victim via an iPhone app used by gay men to set up dates and "hookups." However, Holmes says that police later found that an iPhone app was not involved, but that Woodland and the suspect had met over an as-yet-unnamed social network.
Police apprehended Woodland's date, Tommy Reed, 19, using the digital trail left by the two men's correspondence. CBSNews.com details the search:
The police used Woodland's phone to track Reed's user name, which they say matched the name he used to arrange the date with Woodland. Reed also matched a neighbor's description of a man he reportedly saw with Woodland around 6pm.
During questioning, Reed "made certain admissions," giving police probable cause for his arrest, Detective James Holmes told the New Times.
The Phoenix New Times originally reported that Woodland was "murdered by a 19-year-old fellow he met using a social networking iPhone app often used by gay men to hook up. "
The Phoenix police has issued a statement clarifying that Grindr, an iPhone app, was not involved in the Woodland case.
Detective James Holmes wrote,
Our detectives have learned through this continuing investigation that it was not the "Grinder" IPHONE application that was used by the victim to make contact with the suspect, it was in fact a different social network. Because this investigation is continuing, I do not have the information regarding the actual site that was used. I would ask that, as you continue to report this grizzly crime to your viewers readers and listeners, you use "unknown social network" in regards to how the victim and suspect were connected.
Reed remains in custody and faces charges of second-degree murder.
Calling all HuffPost superfans!
Sign up for membership to become a founding member and help shape HuffPost's next chapter