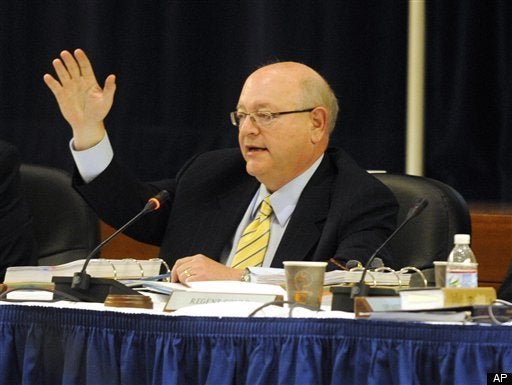 An website pretending to be that of University of California President Mark Yudof claimed the figurehead had resigned today.
Shortly after the website went live, Yudof wrote on his Twitter: "Imposter website claims I have resigned. Complete nonsense. Reports of my resignation have been greatly exaggerated."
Hoaxsters also sent an e-mail to UC students. It is unclear how many received the email.
Yudof has been the subject of much scrutiny as California students prepare for Thursday's Statewide Day of Action in protest of higher education budget cuts and racial tension within the UC system.
A screenshot of the website and the text of the email follow.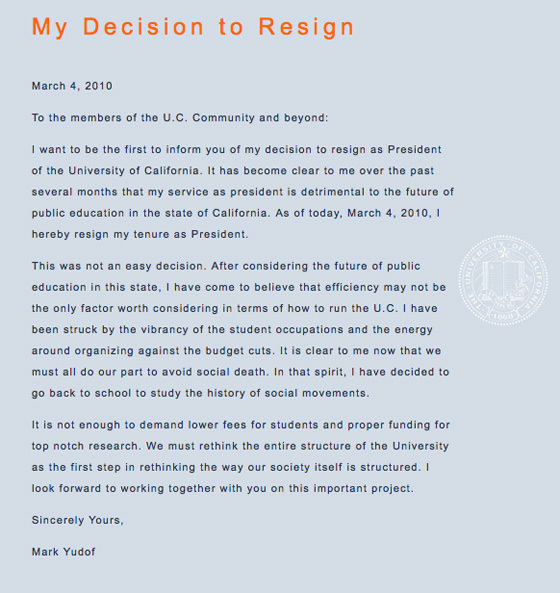 Date: 2010-03-02
Contact: University of California Office of the President
Phone: (510) 987-9200
Email: president@ucop.edu
Statement of UC President Mark Yudof regarding the future of public education in California, March 3, 2010

Today I am publicly announcing my resignation as president of the University of California. A letter to the U.C. community is posted at my website: http://markyudof.com/

I first would like to express my heartfelt gratitude to the members of my staff who have worked tirelessly on behalf of public education. It has been a privilege to work with such an exceptional group of individuals. I would also like to thank the Board of Regents for allowing me to serve the University of California and the staff, faculty and students of the entire University system for their dedication, perseverance and commitment to the ideals of excellence in higher education.

There are no doubt many questions about my decision to step down. I would simply refer people to the letter I have posted on my website and urge the public to respect my decision. I should say that this decision was entirely my own and I was not pressured by any individual or
institution.

The crisis we are facing is not only a budget crisis. This much is clear. It is a structural and systemic crisis. It is my hope that outside of my role as president of the U.C. that I will be able to do more to address the systemic nature of the crisis we are all facing.

Respectfully yours,

Mark Yudof, ex-president, University of California

Calling all HuffPost superfans!
Sign up for membership to become a founding member and help shape HuffPost's next chapter