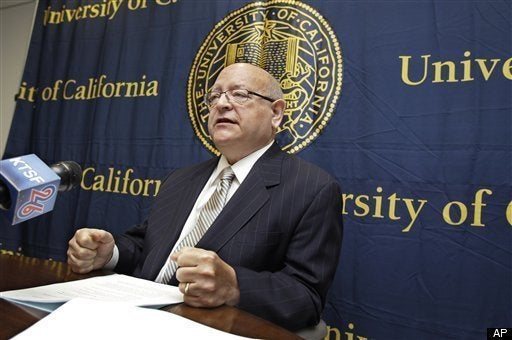 OAKLAND -- Salary notwithstanding, Mark Yudof has had a tough couple of years.
Yudof, the president of the vast University of California system, walked into a spectacular mess when he started his job there almost three years ago, and it hasn't gotten better.
Accustomed to being revered on other campuses, he's now been dubbed the most hated public official in California. After unblemished decades as a college administrator, he is mired in the most profound challenge of his career: restoring luster to the beleaguered University of California system.
With nearly 200,000 students spread across 10 universities statewide, the UC system is one of the country's largest public university networks. It's also long been considered the best, including multiple top-ranked research schools. UC-Berkeley, its crown jewel, was ranked first in the nation among national public universities by U.S. News and World Report and second by Washington Monthly last year (UC-San Diego topped the latter list).
But the university system has been a chief victim of California's financial crisis, enduring massive budget cuts, tuition hikes, layoffs and program eliminations. In 2009 alone, the system saw a mandated budget cut of $813 million, or 20 percent of its total budget. This year, the university has been charged to slash spending by $500 million, a 16.4 percent decrease.
The cutbacks have spurred student unrest in the state, prompting campus building occupations, teach-ins, protest dance parties and public dumpster burnings. On March 4 of last year, thousands of students in California and throughout the country mobilized for the Day of Action to Defend Public Education, during which "fascist" was one of the kinder terms used to describe Yudof.
If such vitriol bothers him, the 66-year-old president doesn't show it. Stout and self-deprecating, Yudof still looked like the bookish law professor he once was as he talked women's basketball and drinks from a vintage Coca-Cola glass during an interview in his immaculate Oakland office. On his desk among various knickknacks was a book of poetry by Wallace Stevens and "Radioactive," a graphic novel about Marie Curie. A prolific reader, he posts book reviews on his Facebook page. "It keeps me sane," he says.
Though he plays off the often-harsh criticisms of his administration as rebellion against an available authority figure, such judgment is a relatively new phenomenon for Yudof, who has had an illustrious career for a college administrator. After a decade as the law school dean at the University of Texas-Austin, followed by a three-year stint as the UT system's second-in-command, he served from 1997 to 2002 as the president of the University of Minnesota, where he was lauded for championing fundraising and campus beautification efforts. A campus dormitory and a pancake cookoff are now named for him there -- known for his love of pancakes, Yudof once had the largest private collection of maple syrup in America.
From Minnesota, Yudof returned to UT as its chancellor. He achieved national prominence among college administrators as a staunch supporter of tuition deregulation, which changed the way universities set fees, giving them a sense of sovereignty from the often-restrictive state government.
This made him an ideal-sounding choice for the UC Board of Regents, who were looking for a calming influence after a scandal-plagued five years under Robert Dynes, who resigned from his post amid an executive compensation fiasco. Then-Regents Chairman Richard Blum told the Los Angeles Times that he had never heard anything negative about Yudof, and later said he would have "jumped off the bridge" if Yudof didn't accept the position. Then-Gov. Arnold Schwarzenegger also had kind words for the president, calling him a "world-class selection for a world-class university system" with a "proven record of great achievements."
But while the UC system's scandals and budget crisis were hardly secret, Yudof was still surprised by myriad challenges in his new presidential position, especially when it came to navigating California's byzantine state government, according to Peter Schrag of San Francisco Magazine. When Schrag asked Yudof a year ago if he would reconsider taking the California job if he knew just how dire the system's straits were, a day passed before Yudof provided a confident response. His immediate reply was more telling: "No answer."
Within a little more than a year of his inauguration, the man known for rejuvenating universities was charged with the task of closing the UC system's massive budget deficit. Dramatic directives followed, including thousands of layoffs, mandatory unpaid faculty furloughs, a 32-percent tuition increase and cutbacks in everything from classes to library hours. The UC system as it had been known emerged as an extremely pared-down version of itself, to much chagrin.
In addition to the challenges of remaking the system, personal controversies have marred Yudof's short California tenure. A Bay Citizen investigation last summer revealed that incidents related to Yudof's housing -- including damages to a $13,365-a-month mansion in the Oakland hills -- cost the university more than $600,000. A year earlier, in a widely publicized New York Times Magazine interview, Yudof infamously compared his job to managing a cemetery -- "There are many people under you, but no one is listening," he said -- and defended his $540,000 annual salary.
In a subsequent interview with Inside Higher Ed, the notoriously deadpan president was defiant. "I still think [the critics] lacked a sense of humor," he said. "I'll just tell you my honest view: I've never apologized for it. You tell a self-deprecating joke and someone says, 'You're treating us like cadavers.' Give me a break."
Yudof's dry sense of humor seems to be lost on students and faculty, with whom he remains unpopular. In September 2009, 14 students chanting "Lay off Yudof" were arrested in front of the president at a Board of Regents meeting. Facebook groups with names like "Vote 'No Confidence' In Mark Yudof" and "Mark Yudof needs to be fired" have hundreds of members, and a group titled "Can this broken picnic table get more fans than UC President Mark G. Yudof" does, in fact, have more fans than the president.
A UC-Berkeley graduate student told The Huffington Post that it's difficult to find students who hold the president in high regard. "He's kind of like everybody's punching bag," the student, Ricardo Gomez, said. "He's the one who people target their anger towards."
For his part, Yudof says that hostility is misdirected. "No one likes rising prices," he says. "It's always a temptation to protest the nearest authority." Cloistered in his Oakland office, however, Yudof is more or less protected from angry students, like the torch-wielding mob that stormed Berkeley Chancellor Robert Birgeneau's campus mansion in December 2009.
But Yudof says being removed from campus can make his job less satisfying than his former posts. There are no students milling about, no Nobel laureates in the cafeteria. Even the government is an hour and half away in Sacramento.
The president seems more comfortable being closer to the action. In Austin, he could caucus with students and legislators on a regular basis. Now, he says, his meetings with student leaders are often contentious, and though his office is deeply involved in politics, his distance from the capital can make things difficult there, too.
Yudof has said he supports Gov. Jerry Brown, but the complex nature of his job requires him to interact with -- and persuade -- many different groups of people, from legislators to academics. "Sometimes I feel like I'm telling people what to do and they aren't listening," he told the University of California-Irvine's student newspaper. "The powers of a president are very indirect. You can't do anything without the support of the chancellors, the faculty and the students."
Yudof's principal outlets remain his sense of humor and his social-media presence. As one of the few collegiate figureheads active on those channels, however, he has taken heat for tweeting and Facebooking through the system's problems. "There was some criticism when he first started ... that it was a flip thing to be doing when the UC was in such dire straits," spokeswoman Karen Breslau told the Daily Californian last year. Yudof jokes that one can tell when he doesn't write his own tweets because "they're boring."
Some of his public musings are more personal: a recent tweet links to a New York Times article about how UCLA researchers have discovered a treatment for baldness in mice. The bare-headed Yudof wrote "Strongly interested in this research," appending the hashtags "#baldness" and "#missmyhair."
That sort of thing may buy Yudof more credibility when he tries to use those accounts to quell university unrest. In a video posted earlier this month on his Facebook page, titled "Why President Yudof is upbeat," the less-than-upbeat president sought to reassure viewers that the UC system will survive its latest financial crisis. "We're going to get through this," he said. "I have every confidence that this, the greatest public university system, will persevere through this period as it has for the last 143 years."
It won't survive without pain, though, he admits. UC, which spends $20 billion per year, used to receive $3 billion of its annual budget from the state. That's now down to $2.5 billion. The system has less than half as much to spend per student as they did 20 years ago -- in current dollars, it had $15,860 to spend per student in the 1990-'91 school year; today, it has just $7,730.
Yudof says he will "take the hit" to raise faculty salaries and keep UC competitive. "I'm looking for a new deal that's a fair deal," he says. It remains unclear what, exactly, that deal will look like, though he says the system has "fabulous efficiency initiatives" in place.
In January, though Yudof was less optimistic in an interview with the Los Angeles Times. "This is where we've been heading for a very long time, so it's sadness more than shock," he said of further budget restrictions. "In spite of all we've done to save money, raise fees, restructure our debt, this is going to cut into the muscle and sinew. A lot of people think there's a lot of fat. We don't have enough fat left to absorb a budget cut like this."
Yudof says the system needs a long-range arrangement with the state to recognize the fundamental role it plays in the California's economy. In the future, he aims to reduce the speed at which tuition is increasing and ensure that the system's schools are accessible to low-income students. He even talks of expanding the system's population. For now, however, the system "needs stability," Yudof says. "I'm trying to knock off problems one at a time."
Regent Richard Blum still thinks Yudof is the one to deliver that stability, he said in an interview with The Huffington Post. "Mark has my support as much today as the day he walked in the door," he said. And that's not the only plaudit the UC president has received in the past couple years: In 2009, Time magazine named him one of the best college presidents in America. "Mark Yudof tools around dilapidated campuses and fixes them," the blurb about him read. UC spokesman Pete King told City on a Hill Press that Yudof "has a way of making universities better places when leaves than when he got there ... he makes decisions based on what he thinks is right for the university, even if it makes him unpopular."
But while his demeanor can be almost unflinchingly stoic, Yudof told The Huffington Post that his time in California has proved too dramatic for his tastes. "This has been too much of a roller coaster," he said.