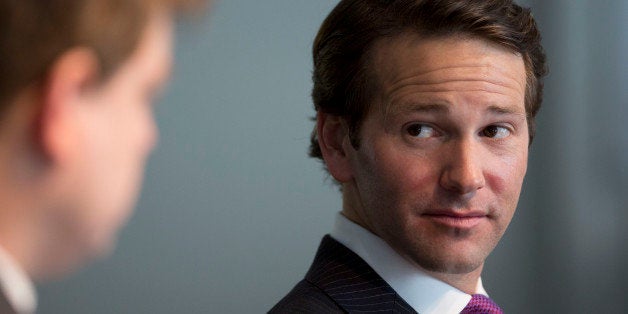 In addition to a growing pile of ethics complaints, Congressman Aaron Schock (R-Ill.) is now facing a challenger from his own party for the 2016 election.
On Monday, Republican Mark Zalcman, an attorney based in Peoria, Illinois, announced he would challenge the 33-year-old representative for his seat in the state's 18th Congressional District.
"I don't think he represents the values of the district very well," Zalcman told The Huffington Post by phone Tuesday. "People [in the 18th District] are strong Christians, people of faith; I think his recent troubles speak for themselves."
"All Mr. Schock does is raise money and doesn't help the people here," Zalcman said. "I think people just want to be heard. Aaron doesn't come out to meet people: I see him at his fundraisers and meeting with local politicians, but as far as hanging out with average people, I don't see it."
National Review's Charles C. Cooke called Schock a "crook" and said, "Time to go, Aaron. Politics isn't for you." Erickson, meanwhile, wrote: "He should resign. Perhaps Downton Abbey needs someone else to fill the role of an American playboy chasing a Crawley."
A representative for Schock told HuffPost via email Tuesday:
In just the past two years, Congressman Schock has hosted more than a dozen townhall meetings and attended countless other meetings and events that are open to the public throughout his district. He regularly speaks at civic organizations, public schools and community events, and his constituents have rewarded his hard work with overwhelming re-election.
Though Schock has been popular among voters in his district, Zalcman said "hardworking farm people are a big chunk of the population" and reports of their congressman's lavish spending don't square with their values.
"That shocks the average person," Zalcman said. "Some here are barely getting by. Manufacturing has slowed. The haves are getting by and have nots are struggling."
A self-described Messianic Jew-turned-born-again Christian, Zalcman said he would run on a platform of Christian values, with the campaign slogan, "Because Washington needs the Gospel."
Though Zalcman said he is anti-abortion, he said he "wouldn't look to be a leader in that area." He also said he would not address issues like same-sex marriage, which Illinois legalized in 2014. Instead, he said, he supports immigration reform, defense spending and term limits for politicians.
Zalcman previously ran for a state House seat in Peoria but failed to make it past the Republican primary "following a challenge that determined he didn't have enough valid signatures on his candidate petitions," the Peoria Journal-Star reports.
Zalman said that unlike other politicians who appear to be motivated by money and power, he "answers to God" and is unconcerned with amassing personal wealth through politics.
"I've been an honest man my whole life and never cut corners with any of my clients," Zalman said. "I think those are the people we need in Washington. It's become too much abut money, not abut serving the American people. It's not about feathering your nest."
This post has been updated to include comment from a Schock representative.
Calling all HuffPost superfans!
Sign up for membership to become a founding member and help shape HuffPost's next chapter
BEFORE YOU GO
PHOTO GALLERY
New Congress Members