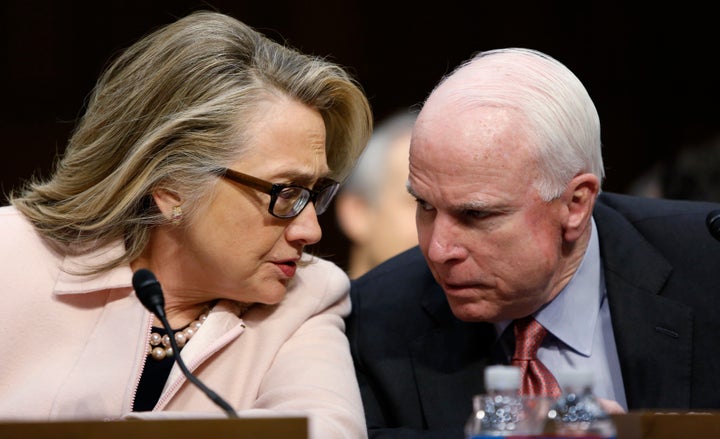 WASHINGTON ― Mark Zandi is an accomplished economist with expertise in financial markets who conducts research on the macroeconomic effects of public policies. Also, he once gave Sen. John McCain (R-Ariz.) policy advice. Democrats won't let you forget that. Ever.
Over the past two weeks, Hillary Clinton's campaign has repeatedly cited Zandi's work to make the case that Donald Trump's economic policies would be an abject disaster while hers would produce robust growth. And like many other Democratic politicians seeking to validate their own agendas, they made sure everyone knew which Republican presidential nominee Zandi advised roughly eight years ago.
"One of John McCain's former economic advisers actually calculated what would happen to our country if Trump gets his way," Clinton said in June. "He described the results of a Trump recession. We would lose 3.5 million jobs. Incomes would stagnate. Debt would explode. And stock prices would plummet."
"Don't take it from me," said Democratic vice presidential nominee Tim Kaine at another speech. "Take it from ... John McCain's chief economic adviser during the '08 race."
"A former economic advisor to John McCain ... claims more than 10 million jobs would be created in her first term if her plans were implemented," reads the Clinton campaign website.
Politics is inherently exploitive, and Clinton's camp isn't the first to make note of that detail on Zandi's resume. President Barack Obama used it early in his administration when trumpeting Zandi's support for stimulus spending and then, years later, in touting the impacts of the Recovery Act. Zandi's views were often brought up during the 2012 election to make the case against GOP nominee Mitt Romney's tax plan. Back then, Sen. Bernie Sanders (I-Vt.) cited Zandi's stint with McCain to take on GOP vice presidential nominee Paul Ryan's budget plan.
Over time, this has driven Republicans nuts. Veterans of the McCain campaign say that Zandi, who is a registered Democrat, was never a member of the inner circle, but rather someone who served as a sounding board for the senator's closest aides on economic issues.
"I'm sure he was one of these guys who was on a list on a call," said one former McCain campaign aide. "Douglas Holtz-Eakin and Patrick Durkin and Meg Whitman ― who was in the campaign headquarters ― and even Carly [Fiorina] ― who was on the calls ― were the main advisers. Doug and Durkin ran a little crew, and that's my guess about where Zandi existed."
Holtz-Eakin declined to comment.
As the labeling of Zandi as a "former McCain adviser" persisted through the Obama years, Hill Republicans found it more and more unbearable. Then-Speaker John Boehner (R-Ohio) described Zandi as the "pet economist" of House Minority Leader Nancy Pelosi (D-Calif.). One former aide to GOP House leaders said he would groan whenever Zandi came on TV.
"You would constantly turn on the TV and see that guy endorsing government spending," the aide said, who recalled being especially chagrined by Zandi's assertion that government spending has a multiplier effect that reverberates throughout the economy (an argument that most economists agree with). "Those aren't conservative positions, but simply because he had some sort of advisory position with Senator McCain's campaign, the chyron would read 'Republican economist' or 'McCain adviser.'"
None of this is Zandi's fault, mind you. Zandi, who is chief economist at Moody's Analytics, declined to comment for this article. But there is no evidence to suggest that he goes around encouraging campaigns or the press corps to play up his ties to McCain. Moreover, his ties to that campaign are real, even if occasionally overstated. The fact that he now tends to side with conventional Democratic economic policy isn't necessarily a reflection on him as much as it is on the intellectual drift of Republicans. In 2011 and again in 2013, for example, he felt the need to give GOP leaders the indisputably sane advice not to default on the nation's debt.
"I will leave it to the good people of the Huffington Post/AOL to decide what is a meme," said former top Obama adviser Dan Pfeiffer, when asked if the frequent use of "former McCain adviser" to describe Zandi had reached meme status. "But there is an important point about how far out of the mainstream the current set of Republican economic policies are."
Zandi is hardly the only public official whose past work has been leveraged by one party to bludgeon another. Doug Schoen is a prominent pundit on Fox News who often offers conservative commentary. In Republican circles, he will forever be known as Bill Clinton's former pollster.
Reached by email, Schoen said he had "no idea" if Republicans have tried to capitalize on his ties to the 42nd president. He did note that he is "frequently also referred to as Mike Bloomberg's pollster as well" ― by both Republicans and Democrats ― and is "happy and proud of those associations. Two high points of my life and career." (Bloomberg, the former New York mayor, has famously identified as a Democrat, a Republican and an independent.)
Democrats, moreover, don't claim that Zandi's prior service for McCain doesn't factor into their desire to play up his analyses. Ben LaBolt, the press secretary for the Obama 2012 campaign, said that Zandi was a "go-to source" precisely because of his time on the other side of the partisan divide.
"He is not a partisan hack and he's willing to praise or hit plans by candidates of both parties," LaBolt said, adding that when Zandi supports a Democratic policy platform, it "looks like a defection."
Zandi has earned a reputation as an adviser more than an ideologue. After the McCain campaign, he said it was his policy to "help any policymaker who asks, whether they be a Republican or a Democrat." For all the groaning his cable hits engender, many Republicans still see him as a straight shooter.
So it's likely that the closing months of this election ― like the past seven years ― will feature a healthy number of citations to the world's most famous "former McCain economic adviser."
"His analysis of Hillary Clinton and Donald Trump's economic plans was a completely independent analysis," said Clinton campaign press secretary Brian Fallon. "If anything, we thought it was a conservative estimate of the job impact of our proposals. The bottom line is, Mark Zandi is someone who is widely respected on both sides of the aisle for his independent approach to economic analysis."