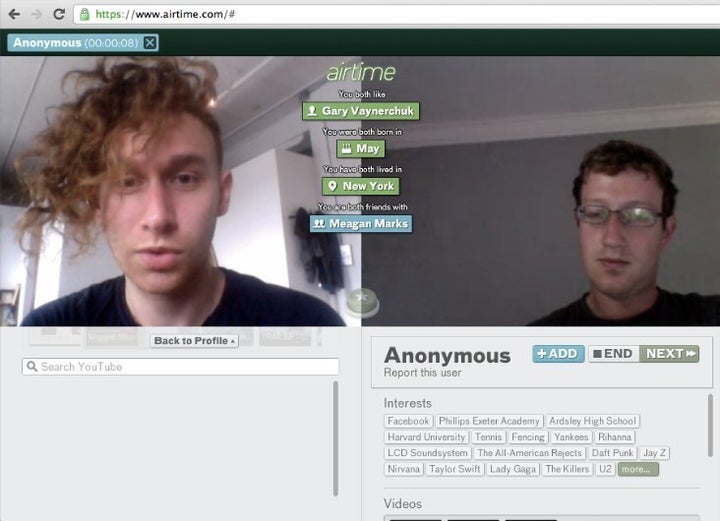 Given its ties to Facebook, who better to test out this new software than Mark Zuckerberg himself?
The founder and CEO of Facebook surprised at least one user by making a cameo on Airtime, which allows people to communicate live with their Facebook friends. The service also lets users connect with strangers through its "Talk To Someone" feature, pairing them with individuals who, according to their Facebook profile information, share similar interests.
Can you imagine trying the chat-a-stranger option, only to share screens with Zuckerberg himself? Well this happened for New York blogger Ronen V who joked he had just enough time to thank Zuck for making Facebook.
"I was still figuring it out, it was my first 'random' airtime chat," V wrote in an email to Betabeat. "Once I realized who he was, I just thanked him for making facebook. After like 30 seconds he NEXTed me."
Have you tried Airtime yet? What do you think? Send your best Airtime screenshots to technology@huffingtonpost.com.
LOOK: (via All.RonenV.com)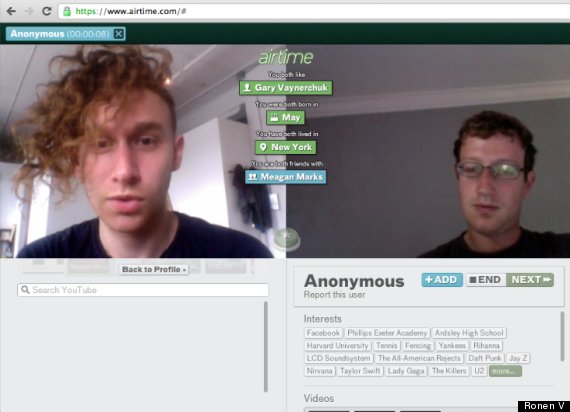 Popular in the Community