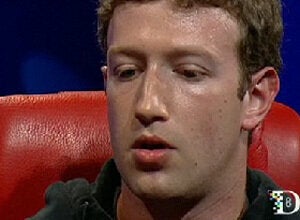 At All Things D's D8 conference, a tense Mark Zuckerberg fielded questions from Walt Mossberg and Kara Swisher about Facebook's privacy controls, his take on privacy, and what's inside his trademark black sweatshirt.
The Facebook CEO seemed ill at ease during the interview. The Wrap notes Zuckerberg "gave a nervous performance" and Forbes' Velocity blog remarks he "seemed like a young man under a lot of pressure, sweating profusely and answering questions about his attitude to privacy with rambling, largely conceptual answers."
Zuckerberg kept many of his answers broad, and sometimes skirted around Mossberg and Swisher's pointed questions. All Things D's John Paczkowski noted in his live blog that early on in the interview, Zuckerberg "dodges" a question about Facebook changing its privacy policy midstream, and then later "dodges again" when asked about giving people the option to opt in to instant personalization.
Zuckerberg was candid about his "stupid" behavior at points when he was first starting Facebook in his dorm room at Harvard.
"When I was in college I did a lot of stupid things and I don't want to make an excuse for that," he said. "Some of the things that people accuse me of are true, some of them aren't. There are pranks. IMs. I started building this when I was around 19 years old, and along the way, a lot of stuff changed. We went from building a service in a dorm room to running a service that 500 million people use." (transcript via the Telegraph)
Despite the controversy Instant Personalization has elicited, Zuckerberg believes it is the future of the web. "A few years from now we'll look back and wonder why there was this time when all these websites weren't personalized," he said, adding, "The world is moving in this direction where everything is designed around people." (transcript via the Wall Street Journal)
There was no word on when Facebook might go public, but Zuckerberg said he intended to remain CEO after an IPO.
Zuckerberg also revealed what's on the inside of his black hoodie (see the bottom video below). (Spoiler alert: It's a large blue Facebook design, with the company's "mission," "Making the world more open and connected." ) "Oh my God. It's like a secret cult!" Swisher joked when she examined the sweatshirt.
WATCH:
Related
Popular in the Community