 PALO ALTO, Calif. -- Dozens of demonstrators gathered outside the home of Facebook founder Mark Zuckerberg Wednesday night to protest the Internet prodigy's first political event -- a fundraiser for New Jersey Gov. Chris Christie.
"Hey, Facebook, shame on you!" shouted protesters. "Christie hurts women and now you do, too." Others carried signs featuring Facebook's signature "like" button in the thumbs-down position.
The funds in question were part of a Christie's sweeping 2010 cuts to close a multibillion-dollar gap in the state budget. Democrats vehemently opposed the plan, arguing that it fell largely on the poor. Christie argued that the plan promoted "a smaller government that lives within its means" and that tax increases would likely "kill a job market already on life support."
Wednesday's protesters were unsympathetic.
"Chris Christie has built his political reputation by attacking Planned Parenthood, which provides all kinds of health services to women and men," Greg Miller, a retired nurse with the California Nurses Association, told The Huffington Post. "And we think that Mark Zuckerberg is contaminating himself by supporting that."
"Mark and [wife] Priscilla [Chan] are smart people, but we're wondering if they thought this through," said CREDO political director Becky Bond. "Clearly he's starting to think about how to spend his billions to help political causes. But by funding Chris Christie, he's funding the war on women."
Bond said she worried that Zuckerberg and his supporters may not know details of Christie's political history.
"People have seen Christie on the news supporting Hurricane Sandy victims and I think they don't know that this is also the guy who defunded Planned Parenthood and shut down six women's clinics," Bond said. "We want them to see what their dollars are supporting."
Confused valets and Facebook employees shepherded guests through the front entrance of Zuckerberg's estate, while Christie slipped past protesters through a back entrance.
Condoleezza Rice wasn't so lucky. Dressed in a smart pantsuit, the former secretary of state walked through a line of protesters shouting, "Shame on Condi" and "torturer." (See video below.)
Guests, mostly young and well dressed, arrived in town cars, SUVs and limousines. Zuckerberg asked each to donate $3,800 to Christie.
Zuckerberg did not comment on the demonstration, but his communication team offered a prepared statement:
Mark and Priscilla have worked closely with Governor Christie on education reform in the Newark school system. They admire his leadership on education reform and other issues and look forward to continuing their important work together on behalf of Newark's school children.
Zuckerberg donated $100 million to the Newark, N.J., school system in 2010.
Christie, running for reelection as governor this year and frequently mentioned as a possible Republican presidential contender in 2016, has been a polarizing figure in California. He aggravated Californians further by calling Gov. Jerry Brown (D) an "old retread" at last summer's Republican National Convention.
See photos of the protest at Mark Zuckerberg's Chris Christie fundraiser and video of Condoleezza Rice arriving in the slideshow below: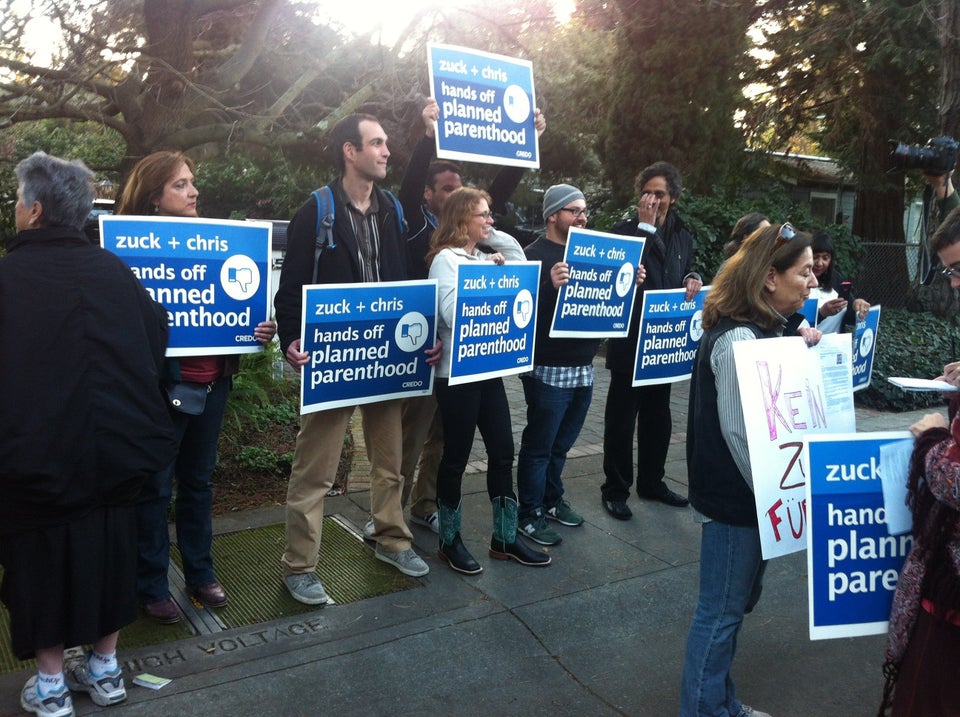 Mark Zuckerberg Chris Christie Fundraiser Protest
Related
Popular in the Community