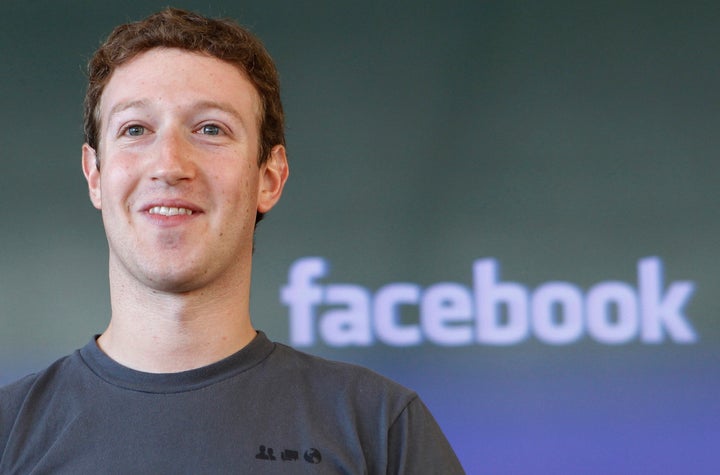 Mark Zuckerberg succeeded because of his ambition, vision, execution, persistence, luck and timing, a TechCrunch contributor wrote recently.This collection of winning qualities glosses over a crucial ingredient of the Facebook co-founder's success: Zuckerberg is a master bricoleur who has systematically cherry-picked and ingested innovations introduced by other social media sites and platforms.
But these analyses overlook how much Facebook stands on the shoulders of other services.
Zuckerberg, 27, has been a brilliant strategist who deserves all the credit he's received for the sea change in how we connect online. He's a pioneer and a visionary leader who's grown Facebook from a dorm room experiment to what promises to be one of Wall Street's biggest IPOs ever. Yet Facebook owes much of its rise to Zuckerberg's abilities as a brilliant curator. With a few exceptions, Facebook didn't pioneer all-new ways of sharing. Instead, Zuckerberg took all the things we were already sharing, and put them into one place -- a place that is (and here's one of Facebook's crucial advantages) civil, policed, and populated by people we know well and know by name.
In other words, Zuckerberg created the Walmart of social networking sites -- an enormous, organized, one-stop-sharing supersite of personal information and communication where we can share, every day, about everything.
Want to post a photo? You can do it on Facebook. Care to send an instant message, pen a blog post, share your location or play a game? Facebook, Facebook, Facebook, Facebook. Whereas most social media sites do one thing or another, Facebook has tried to do it all (and largely succeeded). It wasn't the first with its features, but it presented them in a more personal and seamless way than its rivals. It made navigating to other services, such as Picasa or AOL Instant Messenger, unnecessary and inconvenient, just as big box superstores allow us stock up on everything in one place.
The Facebook Wall, launched in September 2004, borrowed from the Myspace "Comments" section, a place where friends could leave public posts. The following year, Facebook added the ability to upload photos, bringing the functionality of photo-sharing sites like Flickr and Photobucket to Facebook. Next came a "Share on Facebook" button that, Mashable declared at the time, "copies Digg and del.icio.us." Facebook Chat -- the social network's version of AOL Instant Messenger or Google Talk -- came shortly after that, along with Facebook Connect, a feature that allowed users to bring their Facebook identities with them as they browsed the web. Connect followed a similar Myspace service, "Data Availability," and TechCrunch pointed out that the tool "competes directly with what a number of startups are doing -- namely FriendFeed, Plaxo Pulse and the more recently launched Iminta." 2009 was dubbed "the year of no-holds barred FriendFeed emulation on Facebook's part" and included the launch of Facebook's now-iconic like button, which borrowed heavily from FriendFeed's own. Facebook's platform, while groundbreaking for a social network, emulated what Google's Android and Apple's iOS operating system had pioneered before by offering a platform for developers to create and run apps. More recently, Facebook has mimicked Quora, Foursquare, and Twitter with Facebook Questions, Facebook Places, and Subscribe.
Facebook's News Feed, patented in 2010, stands out as one of the site's most original and most important features, one that helped turn Facebook into a more dynamic, more addictive, and timelier content provider. Facebook also gets full credit for pioneering the "poke."
There's nothing wrong with borrowing. Imitation not only is great flattery, as Facebook's success suggests, but a smart business bet, too. Facebook users enjoy the convenience of doing more in one place, just as our all-in-one smartphones allow us to carry a single device that texts, calls, photographs and emails. At the same time, Facebook gets more of our data and more of our time. Everyone wins.
But understanding the curation that contributed to Facebook's rise means rethinking certain assumptions about why the social network has succeeded. "Many companies provide products that let people do things they've done before in better ways," former U.S. Treasury Secretary Larry Summers told The New York Times. "Most important companies, like Ford in its day or IBM. in its, are those that open up whole new capabilities and permit whole new connections. Facebook is such a company." Sort of. There's no doubt Facebook has opened up "whole new capabilities" and permitted "whole new connections," but it did so to a large extent by providing products that "let people do things they've done before in better ways."
In this sense, Facebook resembles Apple, a company that also succeeded not by being first, but by being better, easier to use and offering an integrated solution. Facebook's features stood out because of how they were presented -- they appeared side-by-side with all the other stuff we were already doing on the site and next to all the people we were already connected with -- not when.
Facebook's brilliance at bricolage also holds lessons for future would-be Facebooks and social media startups. First, don't count on being a supplement to Facebook. Be something entirely different, offer a unique social setting, but don't do what Facebook can do. Facebook's ability to ingest what other sites do suggests the social network may copy it outright (of course, you could get lucky, like Foursquare, and watch Facebook fail at its attempts to mimic your business). For the time being, sites like Reddit, which boasts a distinct, well-defined community of users, or Twitter, which presents information more quickly, more directly and more succinctly than Facebook, look safe.
It also suggests Facebook will only get bigger and offer more, expanding into new products and offering new "aisles" in its supersite, while other sharing sites evolve as boutique offerings with niche, highly-specialized services -- a place only for photos, for example, or a site just for neighbors. This risks making Facebook feel generic and impersonal, like a big-box chain.
Popular in the Community