As much as we'd love to slap an Impact font zinger across Zuckerberg's face (#7 on Forbes 400 - Still wears a T-shirt), let's admit that Facebook's Q3 milestone of 1.55 billion users is impressive; quickly trumped by Mark's most recent pledge of 99 percent of his Facebook wealth - even more impressive. While the little blue thumb prepares to beam itself into sub-Saharan Africa, let's take a moment to acknowledge that maybe "the social network" is much, much more than what any of us could have imagined.
Newsfeed is the World's Marketplace
No matter how spirited your holiday is shaping up to be, you'll be pleased to hear e-commerce sales are up 14 percent since last year. Fortune estimates $70.1 Billion to be generated through digital shopping alone this season. Consider that 89 percent of holiday shoppers who shared their experience on a social network did so on Facebook. Brick and Mortar sales are trending towards digital conception as well -- 60 percent of users reported Facebook is extremely influential to their holiday shopping. Even those who purchase in-store are 4.2 times more likely to visit Facebook before hitting the shops, compared to any search engine.
When users in developing countries like Indonesia were asked if they have the Internet, only 15 percent confirmed using it. However, almost 30 percent claimed to be Facebook members. What's more is that 25 percent of users in Indonesia never follow links outside of Facebook; to them the Internet simply "does not exist." 61 percent of Indonesians online agreed with the statement "Facebook IS the Internet."
Whether they know it or not, the majority of the world's consumers can be found in one marketplace - A newsfeed. One of every five people on Earth has an active account, driving one quarter of all web traffic with its 1.39 Billion monthly users. (To add some perspective, Twitter only boasts one-fifth that size.) More than half log in daily, and 727 Million access the platform through mobile phone only. As a matter of fact, one of every five minutes on a smartphone is spent browsing Facebook.
One Tenth of all Digital Ad Revenue, and Growing
Facebook hauled in a whopping $5 billion in ads from small businesses and large corporations alike over the course of 2014, a figure that will triple in 2015 (what??!). With 90 percent targeting accuracy, just take my money. Ideal customers are essentially at your fingertips -- and if you haven't gathered enough emails by the time you're ready to launch a campaign, Facebook is smart enough to create look-a-like audiences that echo your demographic desires.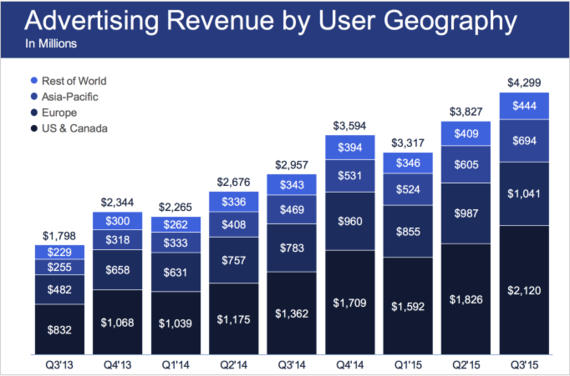 Just like seasons come and go, Facebook is constantly optimizing its ad formats, becoming ever more seamless and camouflaged. Slideshow ads, the latest edition to the family (read: Soprano-style mob), allow brands to reach customers worldwide, regardless of their connection speed. In fact, Coca-Cola has already successfully piloted video ads through Slideshow in Kenya and Nigeria, reaching two million people with limited Internet access. For smaller businesses without video production capabilities, Facebook will even stitch together your photos with dynamic and vivid transitions. Dominating the financial game, Facebook revenue will account for 65.5 percent of the social ad market by January.
See you later, Evening News
Bigger than CNN, bigger than Fox, bigger than Rupert Murdoch himself. According to Mashable, Facebook is the second most popular news source for American politics behind only local television -- but just slightly. 49 percent of citizens with Internet access get their political updates from TV, while 48 percent mine the social network.
When Facebook introduced "Instant Articles" earlier this year, publishers like The New York Times quickly recognized the potential for their content to reach wider audiences instead of puffing up as a defense mechanism. The average visit to The New York Times' website lasts a mere 4.6 minutes; the average American spends 42 minutes a day within Mark Zuckerberg's environment.
But have they jumpstarted their own demise? Is there even a New York Times? Or just New York Times articles? Facebook has conceived a plan so stealthy that newspapers, once prestigious and esteemed, are selling out to the digital aggregator. We are starting to see publishers give up their own channels and act as suppliers to Facebook's more effective distribution platform, walking a fine line between editorial and promotional.
World Domination and Expansion
Forget teenagers and Millennials, Facebook has its eye on a new audience. Over 85 percent of the global population lives within cellular coverage range, yet only 30 percent have access to the Internet. As part of a larger initiative that Zuckerberg calls "Internet.org," Facebook Lite's debut in Bangladesh, Nepal, Sudan, Sri Lanka, and Vietnam was well received, earning a rating of 4.5 out of 5 stars in the app store. The Facebook team continues to increase affordability and efficiency of connectivity in emerging markets, blueprinting a 2016 satellite Amos-6 to beam Internet signals to Africa's most remote locations.
Identifying users without proper access and aggressively pursuing them seems to be the network's specialty. Further down the road but already in development, Facebook is building an artificial intelligence-based object recognition tool, which will aid blind users by providing descriptions of photos. Instead of just "Cameron Jonsson's photo," users will receive audible queues such as "This image contains nature, outdoor, cloud, foliage, grass, tree." While Image Alt tags are nothing new, an algorithm will analyze the image instead of requiring the photo owner to manually log adjectives. Regardless of where you may be in the world and what your impairment level is, Facebook is fostering the premise of information technology as a human right.
Zuckerberg and wife Priscilla Chan wrote an open letter to daughter Max at the beginning of the month detailing the platform (and humanity's) ultimate mission -
advancing human potential and promoting equality. If Zuckerberg is successful in providing Internet access to those in secluded areas, he'll essentially create a lifeline for more than four billion people who live without it. As a matter of fact, he claims that for every 10 people gaining access, one job is created and one person is saved from poverty. That's hundreds of millions of children getting an education, or hundreds of millions of lives being saved through disease prevention. The Chan Zuckerberg Initiative, as it's being called, acknowledges that technology alone can't solve the world's problems -- but strong and healthy communities can.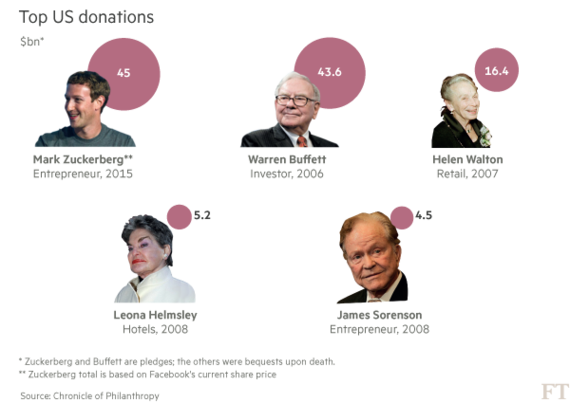 By growing the Facebook community and making the Internet more affordable, Zuckerberg plans to change the very institutions shaping global policies. Reaching those who are currently unconnected is the first step in empowering and understanding the needs and desires of the people served. It may take 25, 50, or even 100 years, but if the world's issues are successfully connected, everything will change. The greatest opportunity for our generation is realizing (and getting institutions to realize) that promoting equality and advancing our potential is directly linked; there cannot be one without the other. And there cannot be either without Facebook. It provides education if a good school isn't within range; health information if physicians are unavailable; financial services if infrastructure is weak; access to jobs if the economy is poor. I bet you didn't see that one coming.
In just a short 11 years, Facebook has revolutionized what it means to be online, connecting areas of the world that were previously isolated. It's transformed the way commerce is transacted, and changed (is still changing) the way we interact socially with one another -- who has real friends anymore anyways? What has the Internet done for you lately?