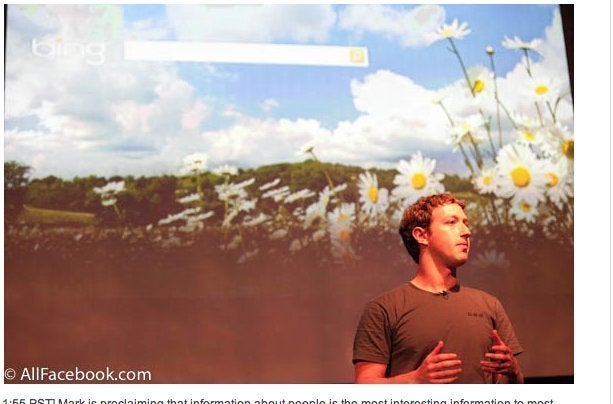 Facebook CEO Mark Zuckerberg took the stage Wednesday to announce a new partnership between Bing and Facebook.
Zuckerberg raised some eyebrows by praising Microsoft, a tech giant and the world's second-largest tech company, as an "underdog."
"What makes Microsoft a great partner is that they're the underdog here," Zuckerberg said according to All Facebook's live blog, with an implicit dig at Google. "They're incentivized to go all out and innovate," he continued, noting that with Bing, Microsoft is "rapidly trying to gain share by doing stuff no one has done before."
"We are really interested in working with companies that are scrappy, that are underdogs," Zuckerberg explained.
Facebook's Dan Rose also extensively praised the social network's relationship with Microsoft (what All Things Digital called the "Microsoft-Facebook bromance"). He noted that in the tech world, "durable, deep, lasting" relationships like Microsoft and Facebook's are hard to find. "Four years is an eternity," he noted, describing the longevity of the two firms' partnership.
Do you think Microsoft is an underdog? If so, in what areas?

Related
Popular in the Community