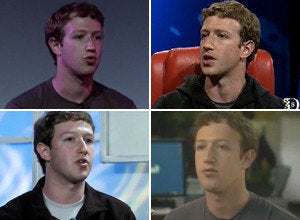 Mark Zuckerberg can look back on 2010 with pride.
He donated $100 million to help Newark schools, was recognized as TIME's Person of the Year, and saw the social network he founded as a student at Harvard swell to 550 million members worldwide.
But 2010 has had its challenges for the young chief executive as well.
Most notably, walking the fine line between encroaching on users' privacy and encouraging Facebook users to open up with each other (and the web) hasn't always been easy for Zuckerberg. Earlier this year, Facebook's Open Graph and revised privacy settings sparked widespread criticism among users, many of whom boycotted the site and threatened to delete their accounts. That was followed by concerns about what information Facebook apps were sharing with advertisers.
Privacy will only continue to be a challenge for Zuckerberg in the year ahead, as the site expands its presence on the web and increases the number of services it offers.
We've compiled a video that offers a look--all the way back to 2008--at Zuckerberg's evolving stance on privacy.
His catchphrase when it comes to the issue? Control.
See what Zuckerberg has had to say about privacy in the video below, then let us know what you find most striking about his stance.
WATCH:
<1--3727--hh>1--3727--hh>
Video produced by Ben Craw
Calling all HuffPost superfans!
Sign up for membership to become a founding member and help shape HuffPost's next chapter