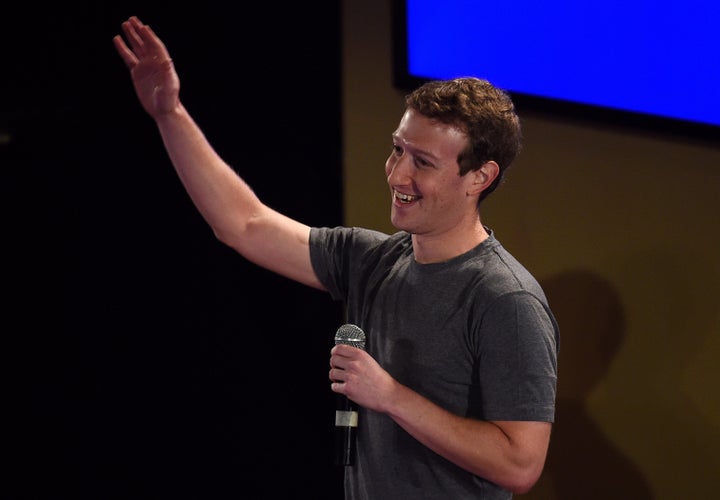 For many parents, going back to work after taking parental leave is fraught with emotion and anxiety -- from making sure child care is arranged to getting back in the work flow to simply feeling sad to be leaving your little baby just as you were getting to know him or her.
But, as Mark Zuckerberg demonstrates, there could be at least one way to minimize some of the stress: Don't sweat your outfit.
The Facebook founder and chief executive is returning to work after a well-publicized two-month paternity leave following the birth of his daughter, Max.
And he won't be wasting a minute thinking about what to wear.
Zuckerberg is known for always wearing a gray T-shirt. "I really want to clear my life to make it so that I have to make as few decisions as possible about anything, except how to best serve this community," he reportedly once said after being asked about the shirt during a Q&A session at his company's headquarters.
He's not the only big-shot person to adhere to the same-outfit strategy: Others include President Barack Obama -- he told Vanity Fair he sticks to gray or blue suits for work, which helps him "focus [his] decision-making energy" -- and Apple founder Steve Jobs, who was famously devoted to the black turtleneck. Women are in on it, too. Cultural critic, writer and icon Fran Lebowitz wears the same jacket, men's shirt with cufflinks, jeans, cowboy boots, two gold rings and tortoiseshell glasses on a daily basis. (See also: Wonder Woman, other superheroes.)
The idea is to spend less time making nonwork and noncritical decisions and to keep all your mental energy available for more important stuff (saving the world from doom, inventing iPhones, etc.). There's a body of research showing that your decision-making capabilities actually diminish as you are forced to make more decisions. It's called "decision fatigue." (Charlie Brown and Doug Funnie, also poster children for the one-outfit approach, are clearly exceptions to this theory.)
Still, can mothers -- birth mothers in particular -- returning to work take a page from Zuck's book? They may be dealing with a drastically different post-partum body and stressing over finding the time and space to pump breast milk at work. There's definitely a strategic way to dress to make the pumping take less time.
Nothing in my closet -- except hideous maternity clothes -- even fit me when I returned to work after my son and daughter were born. There were some frantic last-minute shopping expeditions involved in my return.
Still, it would've been cool to just buy multiple versions of one new outfit -- instead of worrying about getting a variety of new things. That would have saved me some mental energy I could've used to play with my kids or plot my triumphant return to the office.